Come to Legends to Kick off the 11th Annual Fiddler's Convention with Sierra Hull
and opening act Chatham Rabbits!
Friday, February 8th. Legends
Doors: 7:00 PM
Opener: 8:00 PM
Show: 9:00 PM
BYOB!!!
18+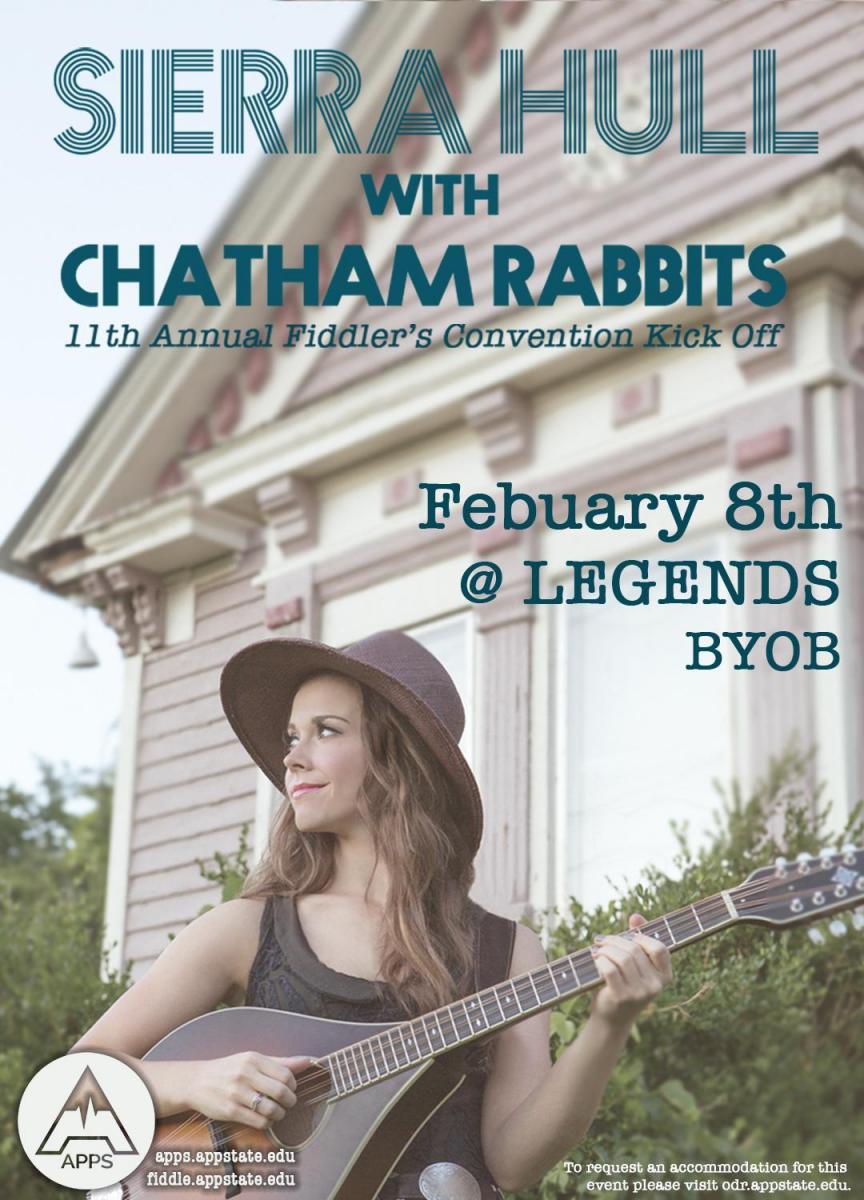 STUDENT TICKETS ON SALE 1/22/19 at 10 AM IN PERSON ONLY AT THE PLEMMONS STUDENT UNION INFORMATION DESK OR AT THE DOOR
Student Presale: $10
Student at doors: $15
Tickets for the public will be on sale at the information desk in the Plemmons Student Union, and online.
Public tickets on sale online 1/24/19 at 12:00 PM
Public tickets $15 (presale & at the door)
Go to apps.appstate.edu for more information!
About Sierra Hull:
Sierra Hull has been recognized from age 11 as a virtuoso mandolin-player, astonishing audiences and fellow-musicians alike. Now a seasoned touring musician nearing her mid-20s, Hull has delivered her most inspired, accomplished, and mature recorded work to date; no small feat. Weighted Mind is a landmark achievement, not just in Sierra Hull's career, but in the world of folk-pop, bluegrass, and acoustic music overall. With instrumentation comprised largely of mandolin, bass, and vocals, this is genre-transcending music at its best, with production by Béla Fleck and special harmony vocal guests Alison Krauss, Abigail Washburn, and Rhiannon Giddens adding to the luster. Hull speaks eloquently, in her challenging and sensitive originals, her heartfelt vocals, and once again breaks new ground on the mandolin. Béla Fleck special guests on banjo on two tracks and duo partner, Ethan Jodziewicz, not only anchors the record on bass, but introduces us to a major new instrumental voice.
About Chatham Rabbits:
It's been about music from the get go. Austin and I crossed paths in 2013 when he spotted me onstage at the Cat's Cradle while opening for Mandolin Orange. He didn't know much about old-time music and I didn't know much about him, but we figured it out. Music is the reason we met. It's our past time and our gift we give to others. Together we've played smokey bars, summer festivals, busked on the streets of Nashville 'til our voices wore out, put a tune to the love at our best friends' wedding, and led churches in old-time hymns way past it was time for Sunday lunch.
This past summer, we decided to leave our corporate careers to take Chatham Rabbits full-time. We knew we would regret it if we never gave our music a shot. We tour full-time in our van with our hound dog Ruby and we're so thankful for the life we're living. It's not always easy, but so far it's been worth it.
If we haven't already, we hope to see you at a show soon.
Sarah + Austin | Chatham Rabbits