Dr. Francene Kirk
Thursday, Sept. 27, 2018
7-8:30PM
Great Hall LLA (Room 205)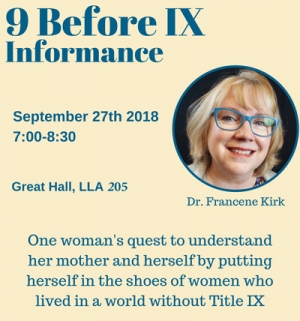 This event is free and open to the public.
Dr. Francene Kirk will be visiting Appalachian State University from Fairmont University, West Virginia to deliver "9 Before IX and Informance" on Sept. 27.
Five years ago, Kirk began interviewing women who were educated before Title IX, the law that bans discrimination based on sex, was implemented in public schools. Her interest in the subject came from a conversation she had with her mother, a smart, talented woman whom Kirk dearly loved but "didn't want to be like." In that conversation, Kirk asked her mother if she ever thought about not marrying. She replied, "No, but I didn't have the options you have."
The culmination of this oral history project is 9 before IX, an "informance." For 90 minutes Kirk inhabits the women she interviewed, weaving together their stories with her story and the information she gleaned while teaching a gender studies course. This show, one woman's quest to understand her mother and herself, is occasionally funny, touching and downright infuriating. It leaves the audience to pondering how far women have come and how far we have to go.
This event is sponsored by the Department of Cultural, Gender and Global Studies, Department of Sociology and Multicultural Student Development.
###
About the Department of Cultural, Gender and Global Studies
The Department of Cultural, Gender and Global Studies offers degrees in global studies, interdisciplinary studies, and gender, women's and sexuality studies. The department is also home to Watauga Residential College, an interdisciplinary, alternative general education program. The department promotes creative and imaginative engagement in cross-disciplinary investigation of complex systems and problems. Learn more at https://cgg.appstate.edu.
About the Department of Sociology
The Department of Sociology offers a Bachelor of Arts and six Bachelor of Science concentrations (applied research methods; criminology; deviance and law; families and intimate relationships; gerontology; social inequalities; and individually designed, which requires departmental approval). The department also offers minors in sociology and gerontology, plus two online graduate certificates in gerontology and sociology. Learn more at https://soc.appstate.edu.
Sept. 18, 2018
Andrew Scott
BOONE, N.C.