Able-achian creative project
Hello,
As one member of the Able-achian project, I am hoping to spread information about what we're trying to do, in order to encourage participation in our survey and in our creative production. We are an independent initiative, unconnected with campus service providers, that hopes to learn about and share the experiences of individuals in the Appalachian State community who rely on these services, and the faculty and staff responsible for delivering them.
Here is a link to our survey. The URL is bit.ly/able-achian.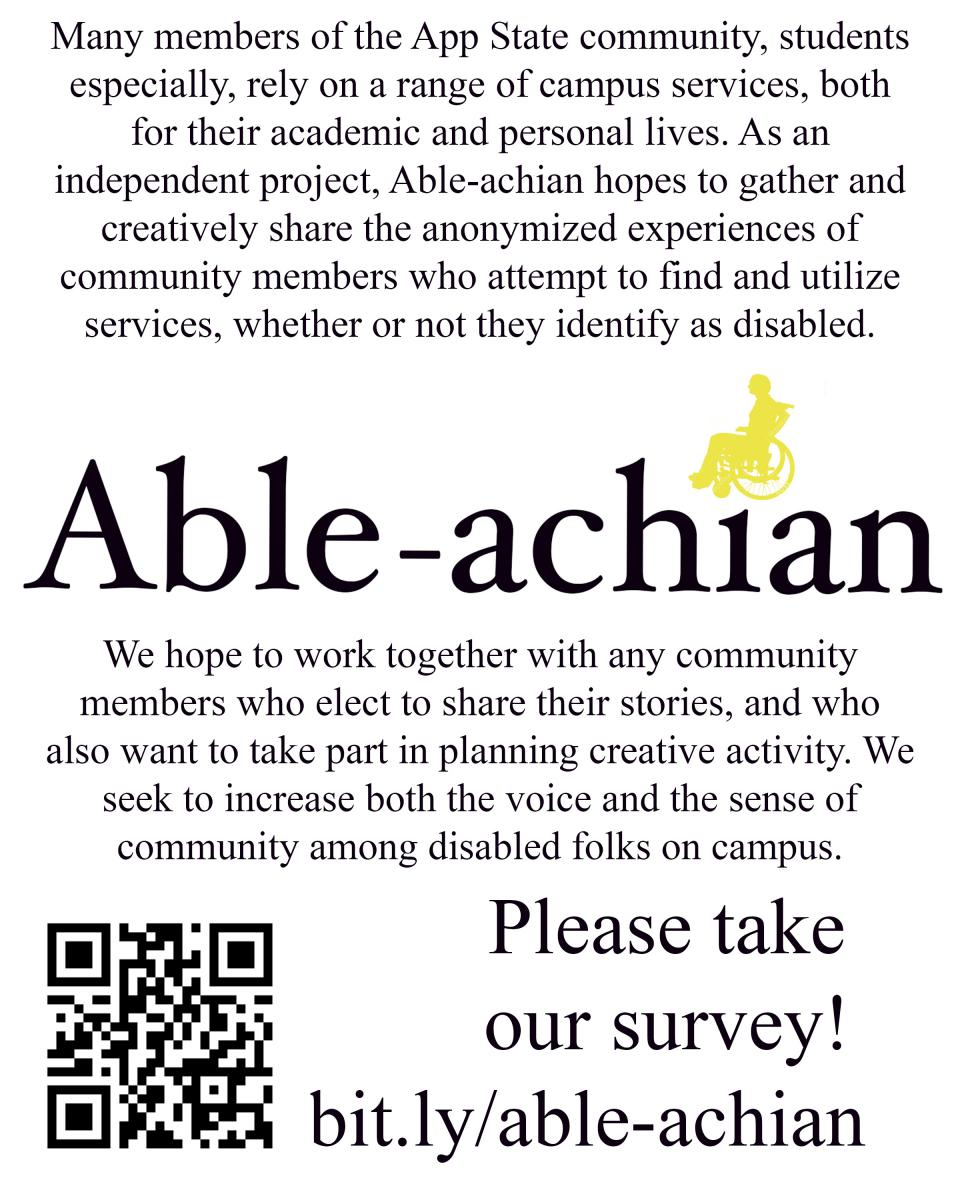 Here is our current statement of purpose:
Able-achian is a creative collective intended to draw attention to the experiences of disabled community members at Appalachian State University. The university enables certain bodyminds, while disabling others, thus not consistently ensuring opportunities for everyone to participate in the university community. While this is endemic to the broader culture of academia, we believe it is time for a change. The goal of this project is to bring disabled people together in community while simultaneously providing an institutional critique of the access barriers on our campus. Such barriers can be physical, or they can involve the way classes are taught or in the attitudes of others about disabled people.
As a starting point, we will anonymously collect stories from members of the Appalachian community about barriers to full participation experienced on the ASU campus by disabled people, as well as by people who don't identify as disabled. We hope to broadcast this information in various ways, perhaps including participatory publications and art interventions. Everyone who takes part has the option to stay updated, and the option to be involved in planning and executing these initiatives.
We define disability broadly, including physical, intellectual, psychiatric, and developmental disabilities. We also include people with invisible disabilities, chronic or temporary health conditions, mental illness, and neurodivergence. You do not need a particular diagnosis to take part in this project. You also do not have to identify yourself as "disabled." Able-bodied accomplices are welcome.

Feel free to spread the word, and to contact me with questions.
Thanks for reading!
--
Albert Stabler, Ph.D
Assistant Professor of Art Education
Faculty Affiliate, Gender, Women's, & Sexuality Studies Program
207 Wey Hall
Appalachian State University
Pronouns: he/him/his