Service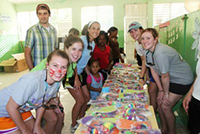 The Honors College is designed to nurture the development of the whole scholar, from person to profession. Through volunteering and/or service-learning courses, students can learn more about critical social and environmental issues that affect their community and apply what they are learning in class in a non-profit, community-based setting. AHA sponsors events throughout the year to help in the community, and partnership with Community-Engaged Leadership allows Honors students to participate in service-learning courses that can earn Honors credit with the Director's approval.
Also check out these new opportunities with Community-Engaged Leadership:
Click here for information about ACT's International Alternative Spring Break Programs for 2014!
Other Ways Honors Students Serve
Appalachian Fresh Produce for Those in Need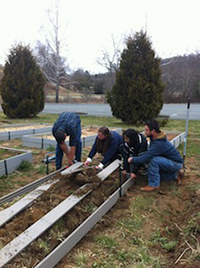 In March 2013, AIM High executed its service commitment based upon a PORTZ Grant award received earlier in the year. The goals of the project were aimed to provide nutritious food for working families in need throughout Watauga County, NC, and included planting fruit trees, constructing raised garden beds, incorporating compost, and planting seeds that would yield fresh fruits and vegetables throughout the summer and fall to provide future harvests for these families.
Honors sophomore, Justin Davis, created and produced the video documentary for the PORTZ Grant, entitled, Appalachian Fresh Produce for Those in Need, and presented it at the 2013 National Collegiate Honors Council meeting in New Orleans, LA on November 9, 2013. The presentation documents AIM High's community service project in March 2013. Click here to watch the video presentation!