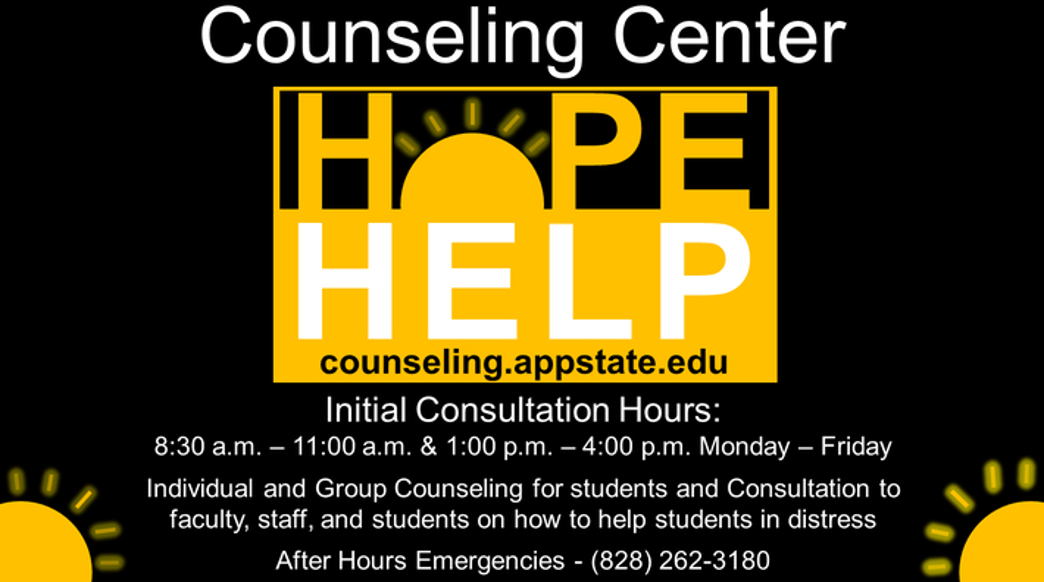 We are passionate about serving App State students and offer an array of free services to meet student needs. As we move into October, keep in mind Counseling and Psychological Services Center resources that can help you move through challenges and toward your values and goals:
Self-Help: Go to counseling.appstate.edu and select "Self-Help and Free Screenings" for free, anonymous online screenings for depression, anxiety, eating concerns, substance use, trauma, etc. as well as up-to-date suggestions on videos, apps, books, and websites that can be helpful for a range of concerns.
Initial Consultations: Get started with one of our services or learn about other resources by coming to an Initial Consultation – no appointment needed. Check-in times are Mon-Fri 8:30-11:00 A.M. and 1:00-4:00 P.M.
Consider our groups:
-Quick access groups: Anxiety Toolbox, RIO, and Sustain are small groups that meet for 2-4 sessions and focus on skills. Come for an Initial Consultation to get started.
-Half-semester groups that will start in October: Yoga for Wellness and Body Positivity, LEMUR (Learning about Emotions, Mindfulness, and Understanding Relationships), and Mindfulness for Mental Health.
You might also consider:
-Short-term individual therapy.
-Referral coordination for getting connected with counseling in the community.
-Single session therapy for students who want to focus intently on one issue for one session.
If you or someone you know is experiencing a mental health emergency, please reach out:
Emergency Services:
-Daytime: Come to the Counseling Center Mon-Fri 8:00-5:00. Let the receptionist know you are experiencing an emergency and we will have you meet with a counselor as soon as possible.
-After Hours and Weekends: For urgent mental health concerns after hours, call the Counseling Center at 828-262-3180 and select the option to speak with the counselor on-call.
For more detailed information on Counseling Center services, visit counseling.appstate.edu