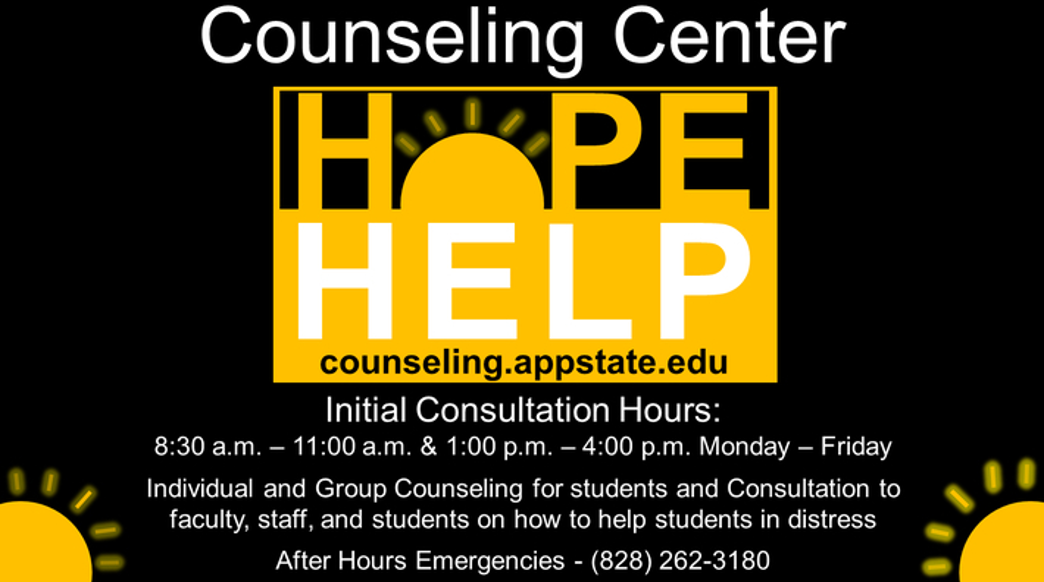 The Counseling and Psychological Services Center serves over 2,500 students a year, and all services are free. We strive to help students overcome obstacles and find the path that allows them to flourish in whatever way fits them. Among the array of services to help students:
-Initial Consultations
-2 to 4 session Quick Access Groups
-Group Therapy
-Short-Term Individual Therapy
-Guidance for Self-Help
-Assistance for Mental Health Emergencies
-Single Session Therapy (focus intently on one main concern and find ways to move forward after one meeting)
-Consultation for learning how to help someone you are concerned about
-Assistance with Referrals in the Community
Getting Started
To get started, come to the Counseling Center for an Initial Consultation. Check-in times are Monday-Friday 8:30-11:00 A.M. and 1:00-4:00 P.M. We are located on the first floor of the Miles Annas Student Support Building, next to the Student Union.
Emergencies During the Day
If you are experiencing an emergency during Counseling Center hours of operation (Mon-Fri 8:00 A.M. to 5:00 P.M.) come to the Counseling Center and let the receptionist know that this is an emergency and we will have you meet with a counselor as soon as possible. Examples of emergencies are recent suicidal thoughts, recent sexual assault, homicidal thoughts, the death of a friend or loved one, having unusual experiences such as hearing voices or seeing things other people do not, and other similar events.
Emergencies After Hours and Weekends
The Counseling Center offers after-hours emergency coverage should you have an urgent mental health issue. Call the Counseling Center at 828-262-3180 and select the option to speak with the counselor on call.
Other Emergency Options
-Local Mental Health Emergencies: (828) 264-HELP (264-4357). Daymark Recovery Services is available for emergency calls and mobile crisis. Call the above number and ask to speak to a mental health counselor. An emergency clinician from Daymark will respond.
-National Suicide Prevention Lifeline: 1-800-273-TALK
-OASIS (sexual assault helpline): 828-264-1532
For more detailed information on Counseling Center services, visit counseling.appstate.edu