Education
Ph.D., Germanic Languages & Literatures, University of Michigan
M.A., German Literature and Philology, University of Michigan
B.A., English and German Literature, University of Michigan
Other University Education
Freie Universität Berlin, 1987­–1988 (Fulbright year)
Johannes-Gutenberg-Universität Mainz, 1982–1983
Eberhard-Karls-Universität Tübingen, 1979–1980
Albert-Ludwigs-Universität Freiburg im Breisgau, 1977–1978
Jeff arrived in Boone in July 2017, after many happy years as professor of German and director of the Honors Program at the University of Wisconsin­–Eau Claire, to take up his life as the inaugural dean of the Honors College at Appalachian.
Jeff firmly believes he has the best job on this campus, having inherited a first-rate Honors College staff and a proud tradition of excellence in Honors education at Appalachian—a tradition built by the creative collaboration of Honors Program and Honors College students, faculty, staff, directors, department chairs, and university administrators since the late 1960s. Our task now? to keep nurturing and improving the Honors College and the innovative opportunities it offers—for diverse students and faculty across the university—to "do undergraduate education as well as it can be done" (Dr. Sam Schuman).
In the few hours each week in which he is not reveling in Honors College initiatives and community-building, Jeff reads widely in German and English, cooks and bakes adventurously, spends time with Dr. Audrey Fessler, his spouse of 34 years, and looks forward, year-round, to winter. Born in Michigan and cold-proofed by nearly two decades in Wisconsin, Jeff is fiercely fond of snow. It makes food and books taste better.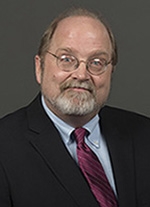 Title:

Dean, Professor
Department:

Honors College, Department of Languages, Literatures, and Cultures

Email address: Email me

Phone: (828) 262-7573

Fax: (828) 262-2734
Office address
284 Appalachian Hall
Mailing address
ASU Box 32073 Boone, NC 28608