Title of Event:
Mediating the Gap: An Anthropological Exploration of the Internet and Tokyo's Commuter Train Network.

Dr. Michael Fisch
Department of Anthropology
University of Chicago
Event date:
Wednesday, April 24, 2019 beginning at 6:15 pm.
Location:
Belk Library 114
Sponsors:
Department of Anthropology, Department of Geography and Planning, Department of Cultural, Gender, and Global Studies, Department of Sociology, Department of Sustainable Development, the Honors College, and the College of Arts & Sciences
Free and Open to the Public
For more information, contact Dr. Christina Verano Sornito at sornitocv@appstate.edu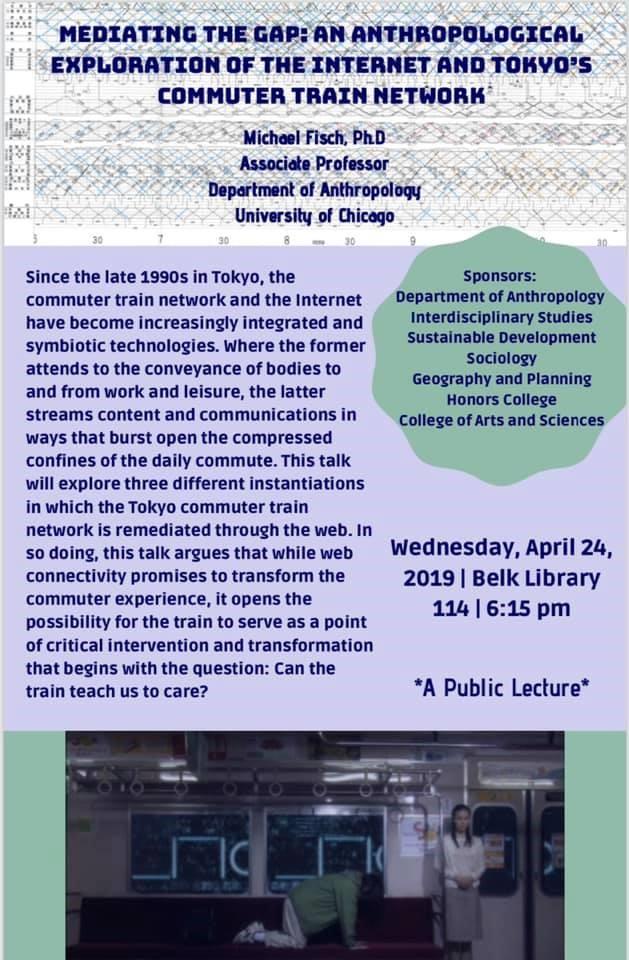 Abstract:
Since the late 1990s in Tokyo, the commuter train network and the Internet have become increasingly integrated and symbiotic technologies. Where the former attends to the conveyance of bodies to and from work and leisure, the latter streams content and communications in ways that burst open the compressed confines of the daily commute. What was once an interval of packed transit disconnection has thus been transformed into a space and time open to hyper-connectivity. This talk will explore three different instantiations in which the Tokyo commuter train network is remediated through the web. In so doing, I argue that while web connectivity promises to transform the commuter experience, it opens the possibility for the train to serve as a point of critical intervention and transformation that begins with the question: Can the train teach us to care?
Link to Bio: https://anthropology.uchicago.edu/people/faculty/michael-fisch
Link to Website: http://www.machinicnatures.net/
About the Speaker:
Michael Fisch's research is situated at the intersection of sociocultural anthropology and science and technology studies and is concerned with the dynamic between changing conceptualizations of nature, culture, and technological innovation that inform experiences of immersive technological mediation. In his work Anthropology of the Machine: Tokyo's Commuter Train Network, he develops an ethnographically performative approach for thinking with the historically inflected practices, experiences, and schemas of operation that emerge within Tokyo's commuter train network. He is currently developing a project that explores the emergence of what he identifies as "experimental ecologies" that work to contest, recast, and re-conceive disaster infrastructure design in post-3.11 Japan. As part of this project, he is looking at locally developed alternatives to the construction of mammoth seawalls to protect against tsunami in northeast Japan.