Faculty-led Study Abroad: Culture and the Arts in Vienna (HON 2515 & HON 3515)

Are you interested in earning six honors credit hours (e. g., the sophomore and junior honors seminars), fulfilling your international honors requirement, and immersing yourself in a vibrant European cultural experience in one study abroad package, please read on! The Honors College Study Abroad Program in 2019: "Culture and the Arts in Vienna" is described in more detail below.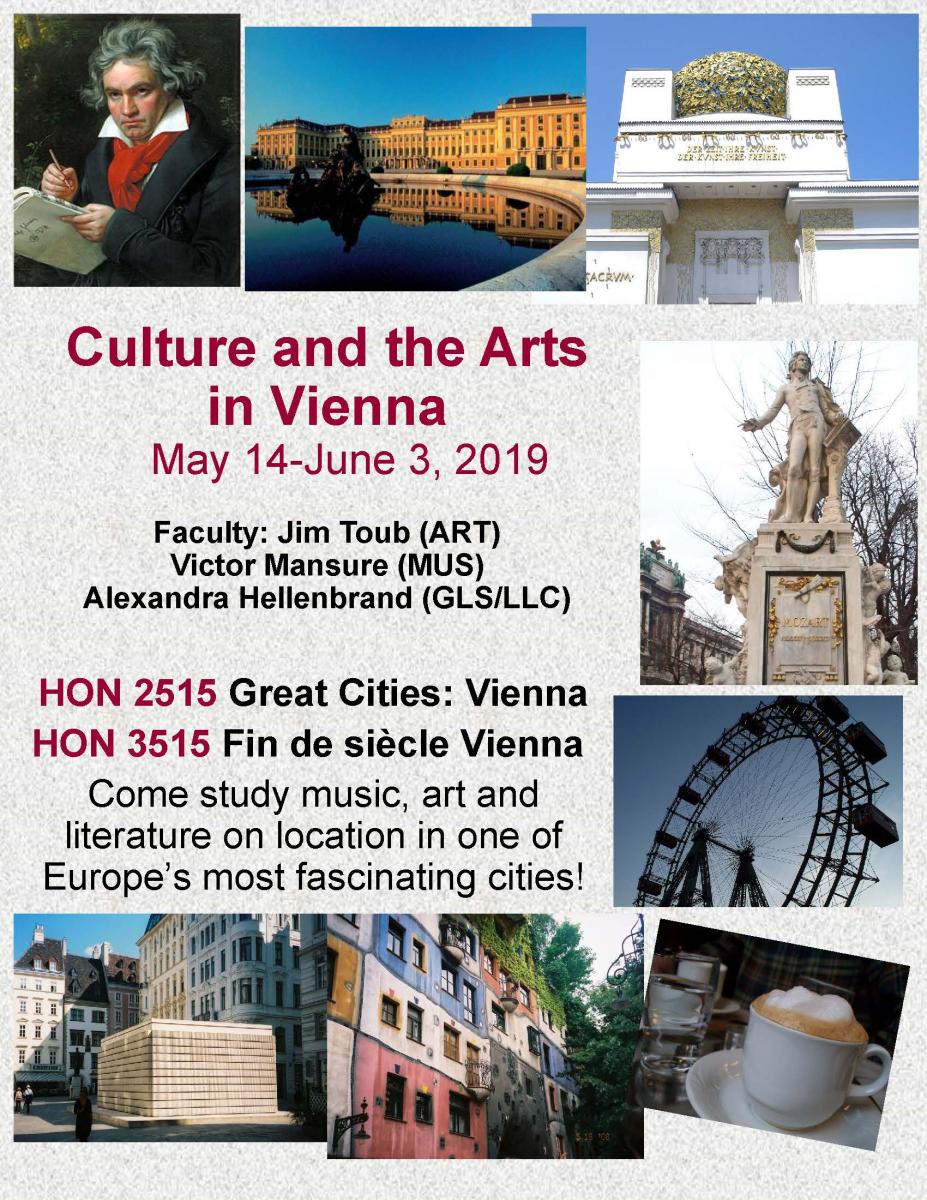 General Description:
This summer study abroad program, Culture and the Arts in Vienna, consists of two interdisciplinary honors courses that study the art, literature, psychology, politics and music of Vienna from around 1700 to the present, with a focus on Fin de Siècle Vienna (1880-1917) and the effects of that time that still shape the cultural life of the modern city. Students will examine Vienna's unique urban landscape as well as its rich artistic, literary, political, and scientific traditions. In addition, students will have several daylong excursions to important monuments outside of Vienna such as the concentration camp memorial Mauthausen, the Baroque Monastery at Melk, and Schloss Esterházy in Eisenstadt.
Honors Credit:
This program is designed to fulfill six hours of honors credit, specifically HON 2515 and HON 3515; however, if a student has already taken one or both of these seminars he/she can talk to an Honors College advisor about the possible substitution for some other class or classes in her/his honors program of study.
Timeframe:
The three-week study abroad in Vienna will start around May 14, 2019 and end around June 3, 2019. (The precise dates will be determined by when we can get better rates for the airline tickets.) In addition there will be five meetings during the spring 2019 semester in preparation for departure, work by the students during the summer on submission of their portfolios, and one final presentation class early in the fall 2019 semester.
Cost:
The official program cost is $3,989 (which includes airfare, lodging, tickets for required events, transportation in Europe, and one meal per day). Added to this should be tuition for 6 hours of credit (in-state summer 2018 = $900), money for other meals (about $400), and personal spending money (about $150). This brings the total cost to around $5,439. We acknowledge the possible "sticker shock" here. However, there is some context here: First of all, flights to Europe continue to hover around $1700 round trip at shoulder or peak times (like May). We have been able to get very good group-rate deals on airfare with our past programs (avg $1200). In addition, for past programs (in 2012, 2014, and 2016) we were able to provide food money for significantly more than the guaranteed one meal per day so we believe we can bring the total cost in under $5,000, but the students should plan on the estimated $5,439 as there is no way to predict this in advance of the trip. When one reviews all that is included in this program it really IS a great deal!
Scholarship Opportunities:
Information on Honors College Study Abroad Scholarships:
https://honors.appstate.edu/scholarships/international-education-scholarship-application.
The Office of International Education and Development (OIED) offers study abroad scholarships ranging from $250 to $2,000. There are three cycles of scholarship consideration, with the deadline for the first cycle being November 1 at 11:59 PM. Click here to learn more!
Or for full information on all Office of International Education and Development and National Study Abroad Scholarships:
https://international.appstate.edu/education-abroad/finances/ea-scholarships
Appointment with Faculty Before Application:
Before applying to the Office of International Education and Development to be accepted into this program, you must meet with one of the faculty who are team-teaching in this program. Please make an appointment with one of the following:
Alexandra Hellenbrand
hellenbranda@appstate.edu
428 Sanford Hall
Victor Mansure
mansurevn@appstate.edu
205 Broyhill Music Center
Jim Toub
toubja@appstate.edu
309 Herbert Wey Hall
Information and Application Website:
http://studyabroad.appstate.edu/?go=AustriaHON