Honors Wednesday Memo
Opportunities and Information for Honors Students
edited by Brad Rentz
Volume 2, Issue 22
February 13, 2019
Message from Dean Jeff Vahlbusch
Dear Honors students:
Every Honors Wednesday Memo bulges with opportunities for you to strengthen you and what you have to offer; to refine and deepen what you know; and to challenge and test yourself to grow intellectually, personally, and professionally at extraordinary levels; to serve.
This memo offers chances to explore careers in art therapy and counseling; chances to become a Mental Health Ambassador or an Upward Bound RA; a nudge on study-abroad and scholarship applications; a "pitch" competition in energy innovation; an upcoming Sustainable Energy Speaker; and online workshops from Belk Library for language learning and the all-important skill of evaluating online sources.
And here are two chances to deepen your understanding of diversity, equity, and inclusion, and of how to help create positive social change for all:
· The Walker College of Business is holding its 3rd Annual Courageous Conversations on confronting race and bias in the workplace on Wednesday, February 20th, from 6:00 to 8:00 p.m. in Peacock Hall in the 4th floor Holland IER, with reception to follow. Please register asap at business.appstate.edu/courageous.
· The annual student-run Equity in Action Conference, to be held this year on April 6th, is seeking presenters and workshop leaders. See Equity in Action Conference: April 6, 2019.
In support always,
Jeff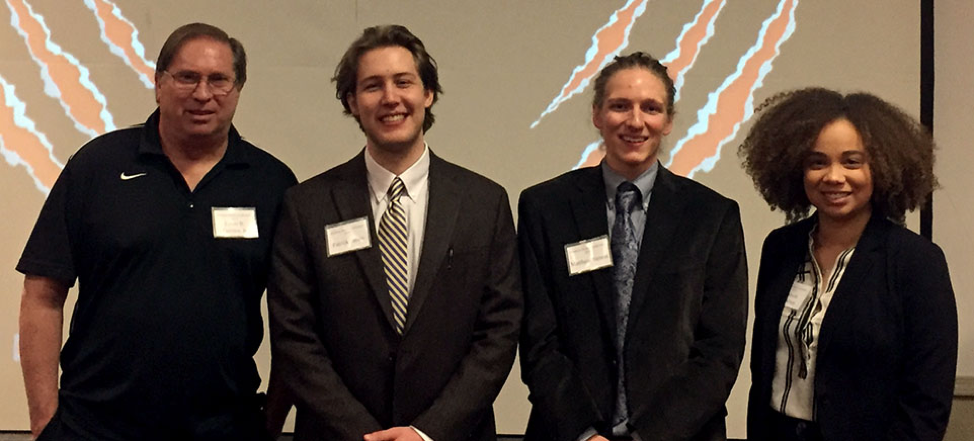 Pictured above (left to right), Honors Academic Mentor Dr. Louis Gallien with Honors students Patrick James, Matthew Streets, and Victoria Anderson attended the annual Southern Studies Conference in Montgomery, Alabama, on February 1, 2019.
Do you have a photo submission for the top of the Memo? Send it to Honors@appstate.edu!
Upcoming Opportunities:
Dr. Vahlbusch will be delighted to assist with applications!
Graduate Art Therapy and Counseling Program
You are invited to apply to the Graduate Art Therapy and Counseling Program at Eastern Virginia Medical School. With 45 years of recognition for excellence, integrity, and innovation in art therapy education to develop world-class art therapists. The next deadline for applications is February 15, apply soon! For more information, please visit our website.
Study Abroad Reminders
The next cycle of OIED Study Abroad Scholarship applications will open on February 15 with a deadline of March 15. Scholarships range from $250 to $2,000. There are also international education scholarships, like the Gilman scholarship, that OIED is willing to assist you in the application process. For more information on the scholarship process, please visit our website.
Upward Bound Resident Advisor Applications
Choose to spend your summer making a difference in the lives of high school students in the Appalachian State University Upward Bound program as a Resident Advisor. To apply, you must be a current ASU sophomore, junior, senior, graduate student, or graduate who is interested in working with high school students and has a strong academic record. The application deadline is February 20 at 2 pm. Pleaseclick here to apply today.
Apply to be a Mental Health Ambassador
MHAs are App State students who are trained by Counseling Center staff to give presentations that raise awareness and fight stigmas about mental health. Applications are due March 1, 2019 and can be found by visiting our website.
Energy Innovation Conference
The First Annual Energy Innovation Student Pitch Competition, will be held in conjunction with the State Energy Conference of North Carolina on April 30 - May 1, 2019. Through generous sponsorships, prizes will be awarded to student teams led by North Carolina-based colleges and universities. The deadline to submit your idea to the conference is March 15. For more information, please visit our website.
AHA Upcoming:
Major Mixer: Our Major Mixer will be held on February 22 in Appalachian Hall. If you would like to participate, please email Jeff! (vahlbuschjb@appstate.edu)
Dance Marathon (Feb 16): Contact Anna Ruth Carmichael (carmichaelar@appstate.edu) to learn how to participate in our Dance Marathon Team. Dance Marathon is presented by Appalachian and the Community Together to support the Western Youth Network and Parent to Parent.
Stay in the Know…
The Schaefer Center Presents…
This month, there are several events coming to the Shaefer center! Tonight, Wednesday, February 13 at 7 pm, Grammy Award winner Herbie Hancock will perform. For a complete list of upcoming events in the Shaefer Center, please visit our website.
Sustainable Energy Speaker: Lisa Poger
On Monday, February 18 from 4 – 5 pm in the Price Lake room of the Student Union (room 201a) Lisa Poger the North Carolina Electric Transportation Manager at Duke University will present "Electric Vehicle Strategies for Election Utilities." For more information on this event, please visit our website.
After Equality: Where Should the LGBTQ Movement Go from Here?
This panel, presented by Gender, Women's & Sexuality Studies, will be held on February 19 from 5 to 6:30 pm in room 114 of Belk Library. For more information on this event, click here.
Language Learning at the Library Online Workshop
Wanting to learn or improve another language? The library has many language learning resources, including Mango, an interactive online resource with over 70 languages available. There will be an online workshop detailing how to use these services on February 19 from 2 to 3 pm. To learn how to register, visit our website.
Evaluating Online Sources Online Workshop
Register for this online workshop to learn how to evaluate online sources. Use this skill to choose appropriate internet sources for your research and to arm yourself against false or biased information shared through social media. This workshop will be held on February 20 from 3:30 to 4:30 pm. To learn more and how to register, please visit our website.
In the Honors Spotlight
Rachel Tapia Explains How Honors Prepared Her for AmeriCorps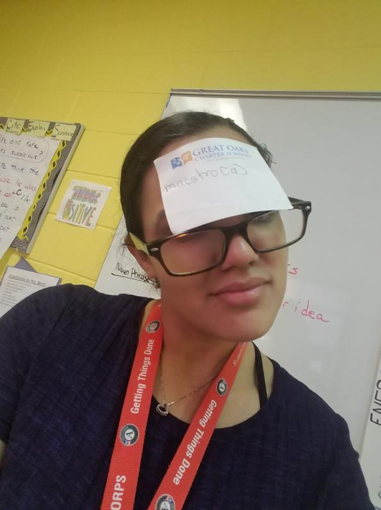 Top photo features Rachel Tapia doing an after-school activity with English Language Learning students. In this activity, Tapia writes things in the room in English on sticky notes, and the students have a time limit to place as many sticky notes as accurately as possible. On this day, the students decided to have Tapia play in Spanish, and one student wrote this sticky note. Tapia stuck it to her forehead and kept it there for the next hour of the lesson. Photo by Rachel Tapia
Honors Alumna and 2014-2018 Chancellor's Scholar Rachel Tapia is spending the year working with AmeriCorps in Bridgeport, Connecticut, at Great Oaks Charter School. As a part of the Great Oat TutorCorps, she is a small group teacher and specialist for 6th grade students, most of whom are around two grade levels behind academic standards.
To read how the Honors College prepared her for this position, click here for the full story by Garrett McDowell.
Honors Ramsey Wyles '17 to Join Peace Corps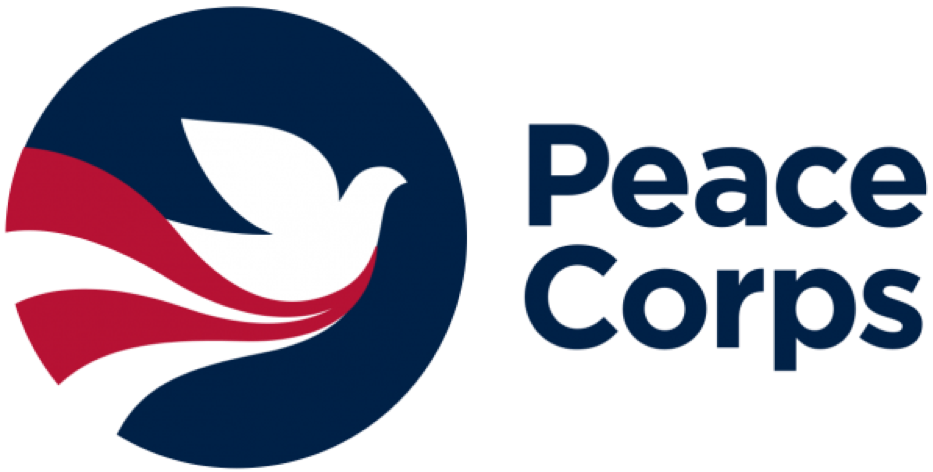 Honors Alumna Ramsey Wyles is one of 12 from Appalachian State University, who have been invited to join the Peace Corps in 2019. In joining the Peace Corps, Wyles will follow in the footsteps of many Honors Alumni like Hailey Pister (Fall '17) who is currently serving the Peace Corps in Albania.
Honors students who are interested in joining the Peace Corps can learn more by clicking here for the full story by Alex Jansen in Appalachian Today.
To Stay in the Know and to Learn About All Opportunities in Honors, please visit https://honors.appstate.edu/announcements
Appalachian State Honors College on Social Media!
Check us out on Instagram also! Find us by searching "Appalachian Honors College"
Don't forget to "like" us on Facebook at Appalachian Honors: https://www.facebook.com/Appalachian-Honors-482157301971520/
Have news to share? Submissions to the Honors Wednesday Memo can be made by emailing honors@appstate.edu. Any content received by 5:00 p.m. on Thursday will be considered for the following week's issue.