The Humanities Council is proud to announce that Dr. Chiara Lepora will be hosting both a book discussion and public lecture on Wednesday, April 24 at Appalachian State University. The book discussion of "On Complicity and Compromise," will take place from 12 - 1:30 p.m. in Belk Library and Information Commons, room 421. To RSVP for the book discussion, please email scottaj4@appstate.edu to receive instructions and a copy of the book while supplies last. Additionally, her public lecture, "Crisis Ethics and Ethics in Crisis" will take place from 7 - 9 p.m. at rooms 124B&C in the Reich College of Education.
Trained as a medical practitioner at the Universities of Pavia and Lisbon and the London School of Hygiene and Tropical Medicine, Lepora has worked in emergency medicine both in Italy and France before joining Doctors Without Borders (MSF), in 2002.
After several missions as a field doctor, in Angola and Democratic Republic of the Congo (DRC), Lepora coordinated Women Health activities in Darfur, Sudan in 2004, and later occupied various emergency coordination and management positions in Liberia, Somalia, Tchad, Cameroon and South Sudan.
Drawing on this research, her book, "On Complicity and Compromise," co-authored with Professor Robert E. Goodin, looks at the many ways individuals and organizations, including doctors and humanitarian aid groups, can become tied up in the wrongdoing of others. That book is the subject of symposia in the Journal of Medical Ethics and Criminal Law and Philosophy.
Lepora taught Global Health and Humanitarian Affairs at the Josef Korbel School of International Studies of the University of Denver for a year before returning to MSF, where she managed MSF's interventions in the Middle East between 2011-15. Partially based on those experiences she co-authored with Goodin a paper on 'Guaranteed Rotation in Office: A "New" Model of Democracy,' Political Quarterly, in September 2015, which was the subject of a symposium in the next issue of that journal.
In 2015, Lepora joined the International Committee of the Red Cross to work as Detention Doctor in Algeria, Israel and the Occupied Territories of Palestine and Morocco.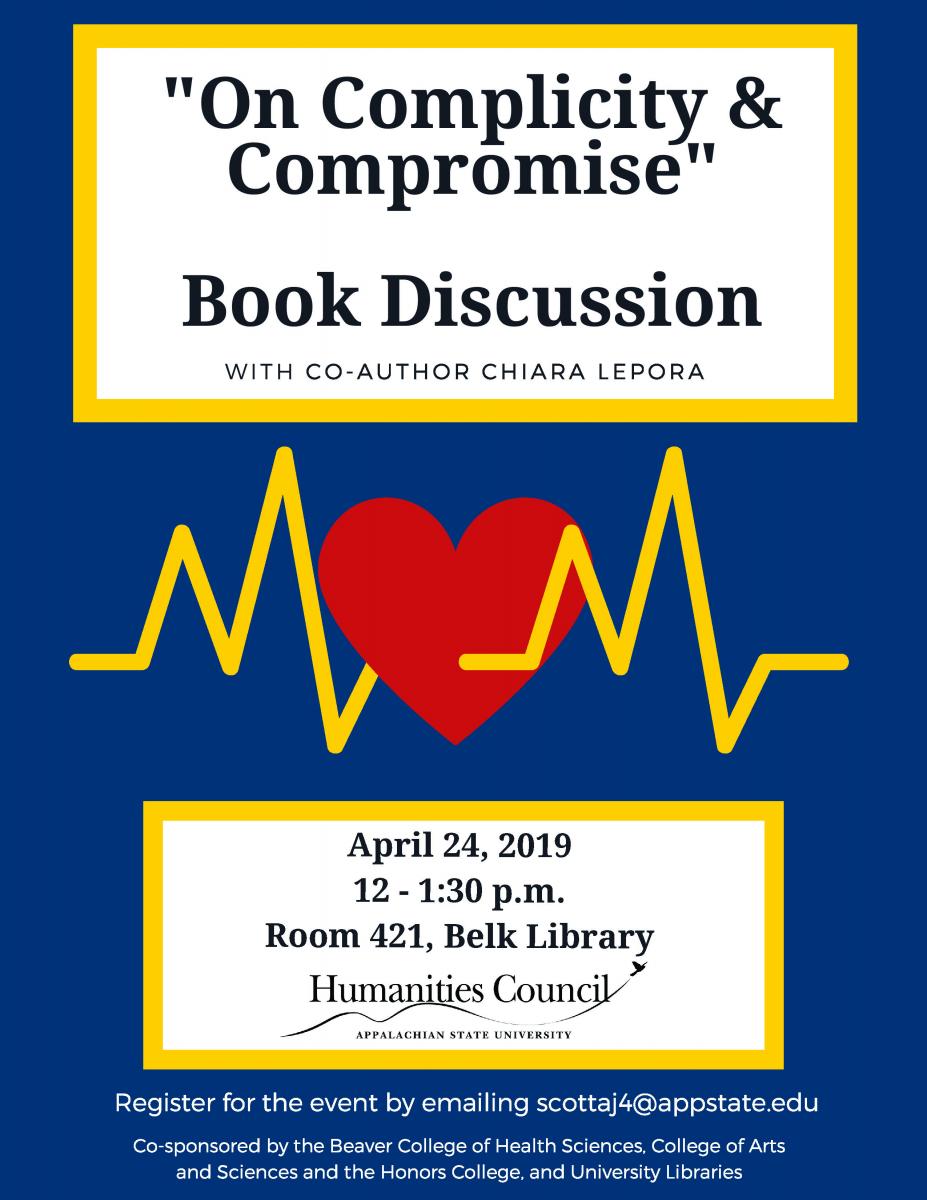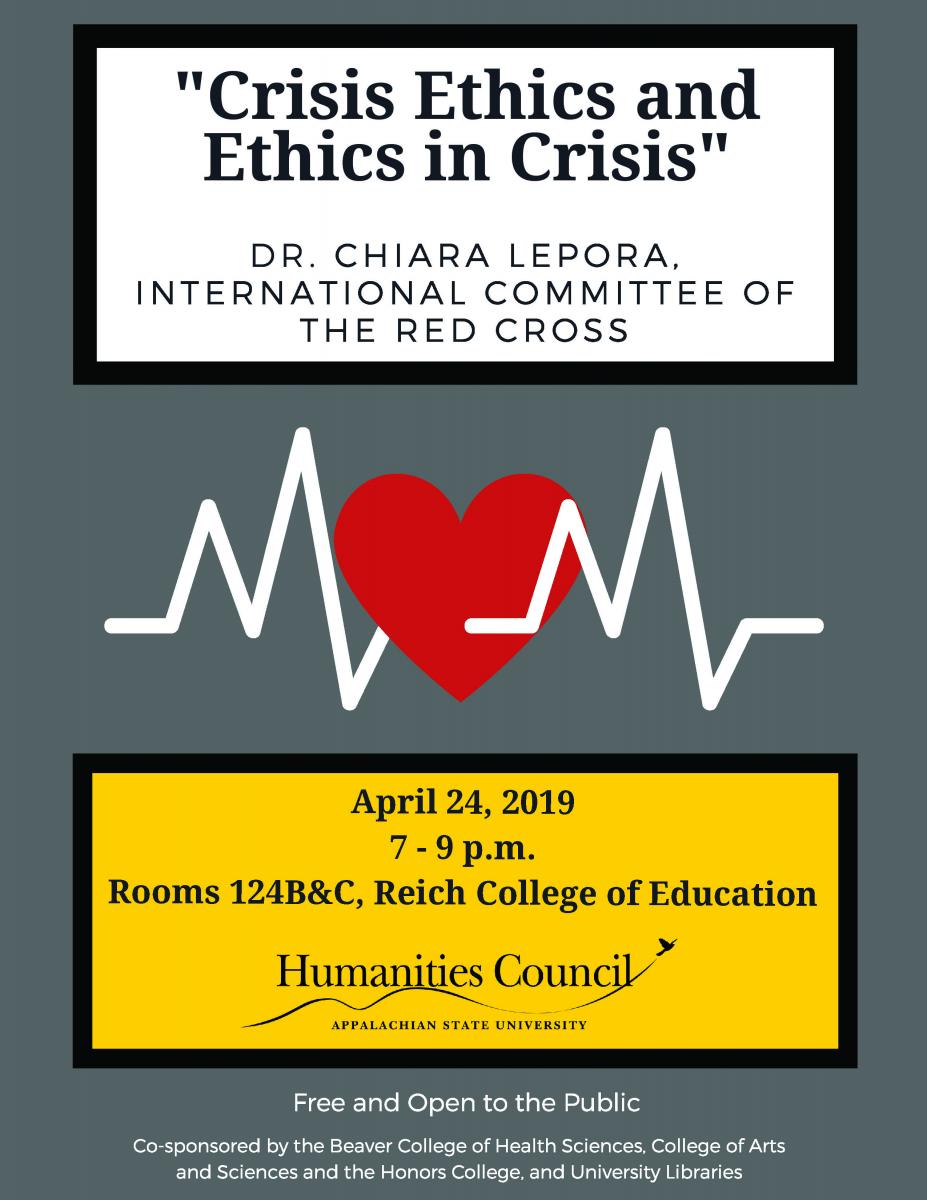 These events are co-sponsored by the Humanities Council, the Beaver College of Health Sciences, the Honors College and University Libraries. The Humanities Council is a part of the College of Arts and Sciences at Appalachian State University.
The purpose of the Humanities Council is to enhance support for and recognition of Humanities scholarship throughout the University and to encourage interdisciplinary research and communication among scholars from different areas of expertise. Through its varied programming initiatives, the Humanities Council aims to promote understanding of work in the Humanities, its relationship to other fields of inquiry and the important role it plays at our university and in our world. The Humanities Council is a site where the values of interdisciplinarity and the liberal arts are promoted to the benefit of students, the College and the University.
###
About the Humanities Council
Appalachian State University's Humanities Council provides interdisciplinary opportunities and events on campus throughout the year, promoting the importance of the humanities in relationship to other fields. For more information visit, https://humanitiescouncil.appstate.edu.
About the Beaver College of Health Sciences
Appalachian's Beaver College of Health Sciences opened in 2010 as the result of a strategic university commitment to significantly enhance the health and quality of life for individuals, families and communities in North Carolina and beyond. In 2015, the college was named for an Appalachian alumnus and pioneer in the healthcare industry — Donald C. Beaver '62 '64 of Conover. The college offers 10 undergraduate degree programs and six graduate degree programs, which are organized into six departments: Communication Sciences and Disorders; Health and Exercise Science; Nursing; Nutrition and Health Care Management; Recreation Management and Physical Education; and Social Work. Learn more at https://healthsciences.appstate.edu.
About the Honors College
More than 500 students are enrolled in Appalachian State University's Honors College, which serves a diverse group of high-achieving, high-potential, highly motivated students from all majors. The Honors College helps students develop independent and creative thinking and high-level research skills; promotes interdisciplinary inquiry; and nurtures cultured and caring exchanges of ideas. The college's enhanced academic experience prepares students for success in graduate or professional school and for leadership roles in their lives, communities and careers.
About University Libraries
University Libraries at Appalachian State University contributes to the campus mission of learning, teaching, advancing knowledge, engagement and effectiveness. Belk Library and Information Commons along with the Nicholas Erneston Music Library provide academic resources for all students and faculty. Within the library, students and faculty find group and quiet study spaces, the Digital Media Studio, the inspire lab, the Idea Factory, digital devices to check out, and special collections such as the W.L. Eury Appalachian Collection and Instructional Materials Center. Learn more at https://library.appstate.edu.