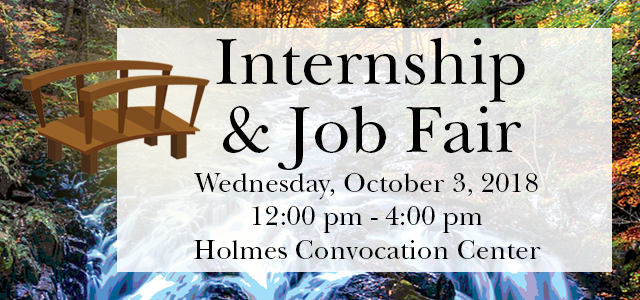 Are you ready for the Internship & Job Fair?
Due to Hurricane Florence, the Appalachian State University Internship and Job Fair scheduled for Wednesday, Sept. 19, has been rescheduled for Wednesday October 3rd from 12-4pm in the Holmes Convocation Center.
All other details for the event have remained the same. The Internship and Job Fair is Appalachian State University's largest and most comprehensive career event. Serving students and alumni of all majors and skills, the Internship and Job Fair hosts 100+ companies, non-profits, healthcare groups, and government agencies that are ready to connect you with various job and internship opportunities. Need a resume review? Stop in and see us Monday-Thursday from 2-4pm for a Drop-In resume review! The Career Development Center is excited to help you prepare for our biggest career event - Internship and Job Fair, less than a week away! Register Today!

With over 120 employers and countless professional opportunities, it is important to put your best foot forward in engaging with a potential future employer. Below, find tips and tricks from our career counseling team to market Yosef!


What to bring?
To put your best foot forward please bring your App Card, copies of your resume, business professional dress and a positive attitude! You will be able to leave your coats and backpacks in a section of the arena seats. Shuttles will run continuously between the Library circle, Peacock circle, and Walker/Broyhill circle.


What is the dress?
The dress for this event is business professional. It is common for students to wear suits, dress pants, blazers, skirts/dresses, etc. Some clothing items that are discouraged include: denim, workout clothing, sweatshirts, etc. Remember: professional dress also includes good hygiene.


Do Your Research!
Knowing information about an employer ahead of time will make you feel more confident and prepared. Discover which employers in your area of interest are attending!


How should you prepare?
We understand the Internship and Job Fair can seem intimidating, but with a few preparation steps you will feel confident and prepared! Prior to the Internship and Job Fair there are a number of opportunities to have your resume reviewed by a member of the career counseling team.

Resume Clinics are from 11:00am - 1:00pm, now until September 18, outside of Cascades
Cup of Brew & Resume Review is from 11:00am - 1:00pm, every Wednesday in Crossroads Cafe
Resume Drop Ins are from 2:00pm - 4:00pm, Monday through Thursday in 369 John E. Thomas Hall
Make an appointment with your career counselor through Handshake. Click here to get started.

Be sure to download our mobile app for more information about the fair. A map of employers will be added in the coming days.


But I am not job searching, should I still go?
Absolutely! This is a great opportunity to meet alumni, seek out future opportunities as well as do research on potential industries or employers.


Career Development Center
John E. Thomas Hall, 369
828-262-2180 • careercenter@appstate.edu





View this email on Handshake
This email is being sent to Matt Belt (beltmr@appstate.edu) on behalf of Appalachian State University
If you do not want to receive these emails, you can unsubscribe from emails from Appalachian State University
If you do not want to receive any mass emails from Handshake, you can unsubscribe from all Handshake emails
P.O. Box 40770, San Francisco, CA 94140