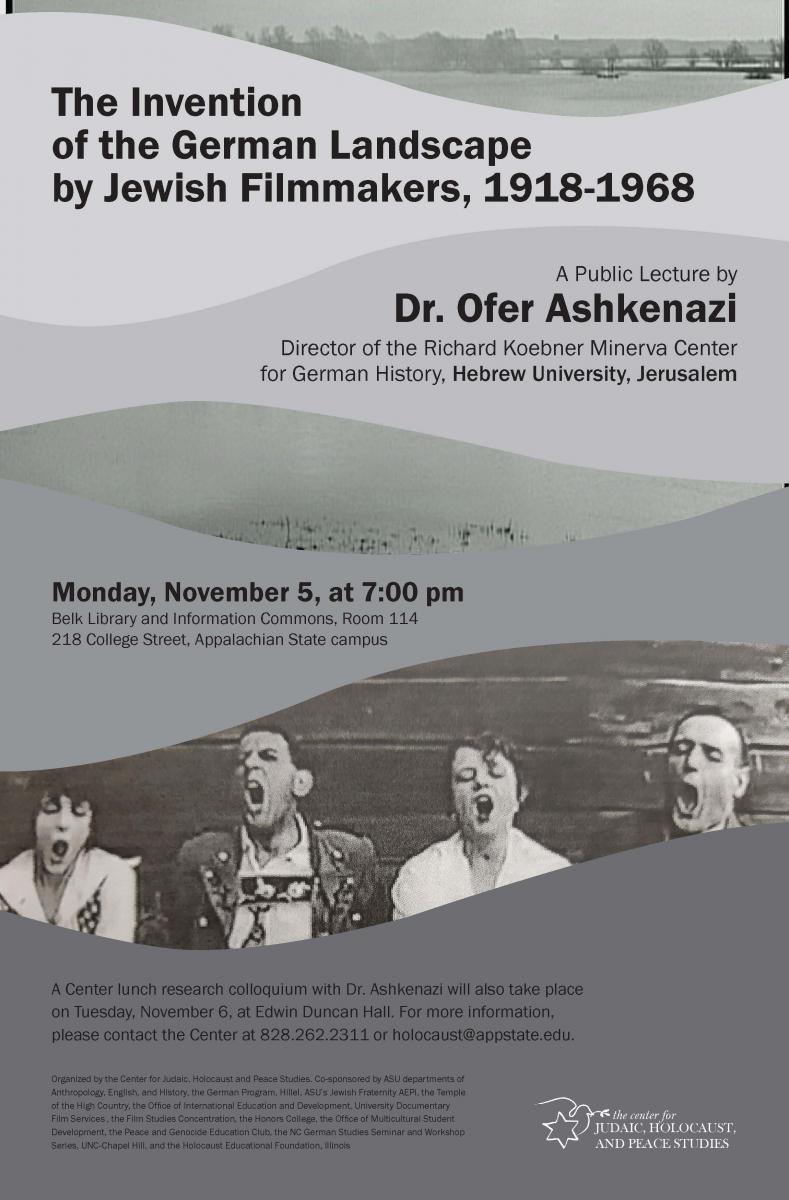 The Center for Judaic, Holocaust and Peace Studies invites the members of the ASU community to its final research colloquium of the fall semester. The event will provide ample opportunities to discuss the insightful work of Dr. Ofer Ashkenazi, the Director of the Richard Koebner Minerva Center for German History and a Senior Lecturer in the History Department of The Hebrew University, Jerusalem, Israel. The colloquium will focus on two pre-circulated contributions by our guest on key questions of Weimar, German-Jewish and Jewish Exile culture, photography and film. The lunch colloquium with Dr. Ashkenazi will take place at the Center on Tuesday, Nov. 6, from 12:30 until 2:00 pm. As always, the colloquium includes a free lunch. RSVP required (see address below).
Dr. Ashkenazi is a specialist in Central European cultural and intellectual history, modern visual culture, and Jewish urban experiences in twentieth-century Europe. He holds a PhD in History from The Hebrew University in Jerusalem, Israel, conducted post-doctoral research at the University of California, Berkeley, and taught at the University of Minnesota. He joined the faculty of Hebrew University in 2013 and took over the directorship of the Richard Koebner Minerva Center for German History, one of Israel's foremost institutions in German Studies that cooperates with major universities in Germany, Europe and around the world and trains Israeli graduate students. Dr. Ashkenazi is the author of Weimar Film and Modern Jewish Identity (Palgrave-McMillan, 2012) and A Walk Into the Night: Reason and Subjectivity in the Films of the Weimar Republic (Am Oved, Hebrew, 2010). He has also penned numerous articles on various topics, ranging from the immigration of German-Jewish athletes to Palestine to comic representations of Nazism and the multivalent politics of Albert Einstein. His third book on Anti-Heimat Cinema: The Jewish Invention of the German Landscape will soon be published.
On Mon., November 5, our guest will also give an evening lecture entitled "The Invention of the German Landscape by Jewish Filmmakers, 1918-1968." It will start at 7:00 pm in Belk Library and Information Commons, Room 114 on the ASU campus. The even is free of charge and no tickets are required.
For more information, contact the Center for Judaic, Holocaust and Peace Studies at holocaust@appstate.edu or call 828.262.2311. Organized by the Center, the visit is co-sponsored by the Departments of Anthropology, English, History, Languages, Literatures and Cultures, the Office of International Student Education and Development, the Office of Multicultural Student Development, the Honors College, the Film Studies Concentration, University Documentary Film Services, the local chapter of Hillel, ASU's Jewish fraternity AEPi, the Temple of the High Country, the Peace and Genocide Education Club, the North Carolina German Studies Seminar and Workshop Series, UNC-Chapel Hill, and the Holocaust Educational Foundation, Illinois.