Lead for America
We believe a single visionary leader rooted in humility can change a community. Many working together can transform our country.
Lead for America recruits, trains, and place our nation's most promising young leaders in two-year paid graduate fellowships in local governments as a means of strengthening America's public institutions, supporting our local communities, and cultivating a new generation of transformational public service leaders.
Lead for North Carolina (LFNC) is the pilot state affiliate program of Lead for America, built with the vision of deepening the bench of transformational public leadership across the state. The pilot is run by the UNC Chapel Hill School of Government (SOG), in partnership with the NC City and County Managers Association (NCCCMA), NC League of Municipalities (NCLM), and NC Association of County Commissioners (NCACC).
Due to a recent large gift, Lead for America is actively sourcing Fellows for an additional seven fellowship positions in North Carolina. Candidates will be reviewed on a rolling basis, with most if not all Fellows confirmed by the end of May. Candidates that apply earlier will be given first priority.
Apply here to learn more and join the Lead for America 2019 Fellowship cohort.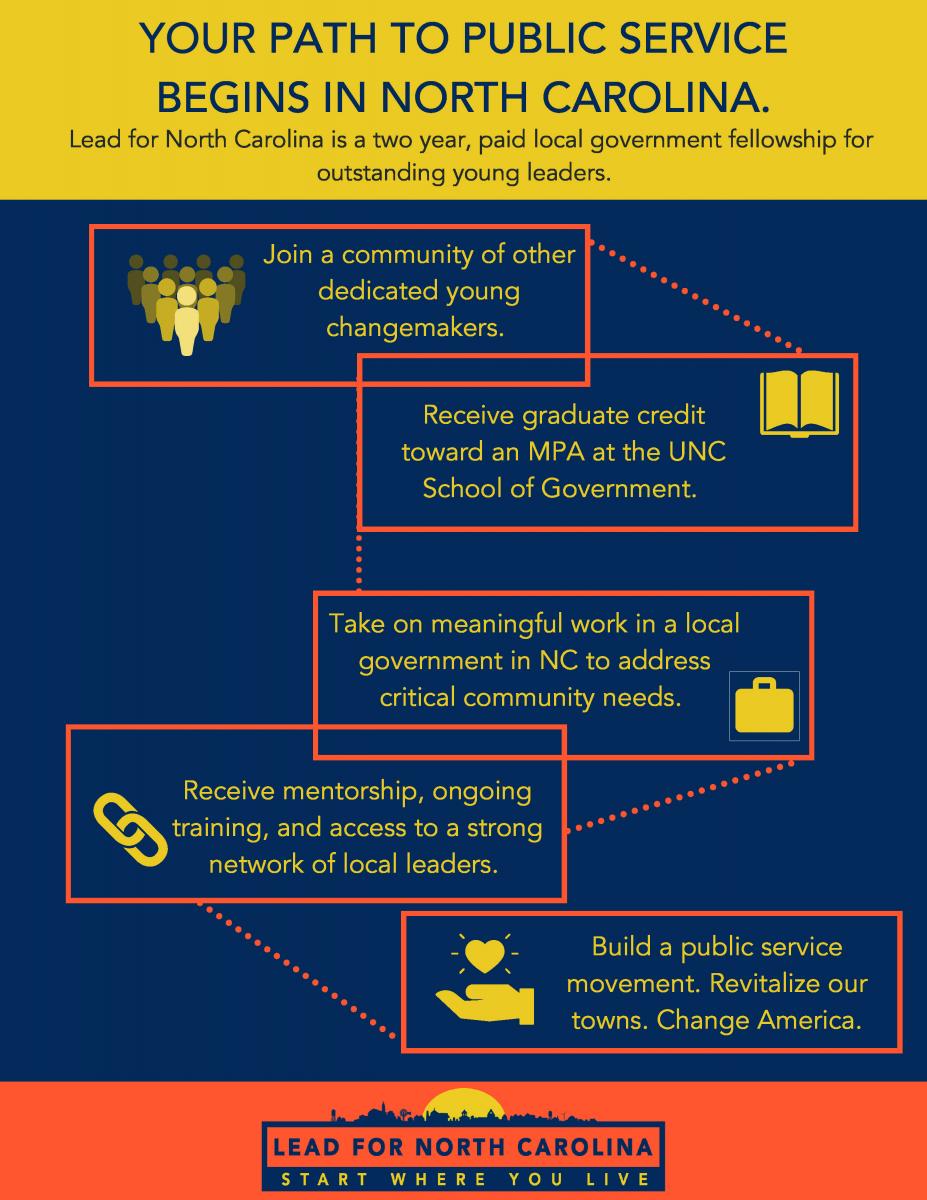 To recap, the fellowship includes:
Two years of paid high-impact work in a North Carolina city or county, focusing on addressing the community's toughest challenges alongside its most dynamic local government and community leaders.
Seven weeks of graduate level training, including one week of leadership development training with the entire fellowship cohort at Georgetown University (June 23-29), and six weeks of public administration training at the UNC School of Government over the two years, earning up to six graduate credits toward a Master of Public Administration degree (starting July 7-31).
A mentor chosen based on the Fellow's interests and aspirations that will provide consistent professional support throughout the fellowship.
Access to graduate school scholarships, skills trainings, and customized job advocacy and placements through our alumni network.
The opportunity to serve alongside other outstanding community and public service leaders from around the state and country, and to be part of the inaugural cohort that will shape the direction of the fellowship for years to come.
Qualified candidates will be notified immediately and invited to interview with host governments in the following weeks. Please note that candidates will be reviewed on a rolling basis, and we aim to have confirmed all remaining placements by the end of May. Thus, students that fill out the form quickly are dramatically more likely to receive an interview.