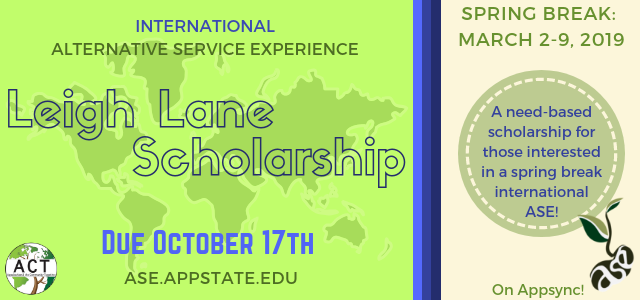 Apply for the Leigh Lane Edwards Scholarship by Wednesday, October 17!
Several international Alternative Service Experience (ASE) programs are scheduled for Spring Break 2019!
Do you want to take your education beyond the classroom? Consider an Alternative Service Experience during Spring Break 2019!You could find yourself in Belize, Costa Rica, or Dominican Republic working with communities focused on rain forest management, eco-tourism or organic farming to name a few options.
Take the next step. Apply for the Leigh Lane Edwards Scholarship by October 17! Then, find out where you'll go by participating in the ASE Sign Up Lottery on Monday, November 5 at 8:00 p.m. in Parkway Ballroom, PSU.
To learn more, click on the links above or stop by the ACT Office PSU, room 134.
With iASE, Spring Break 2019 will be your most memorable yet!