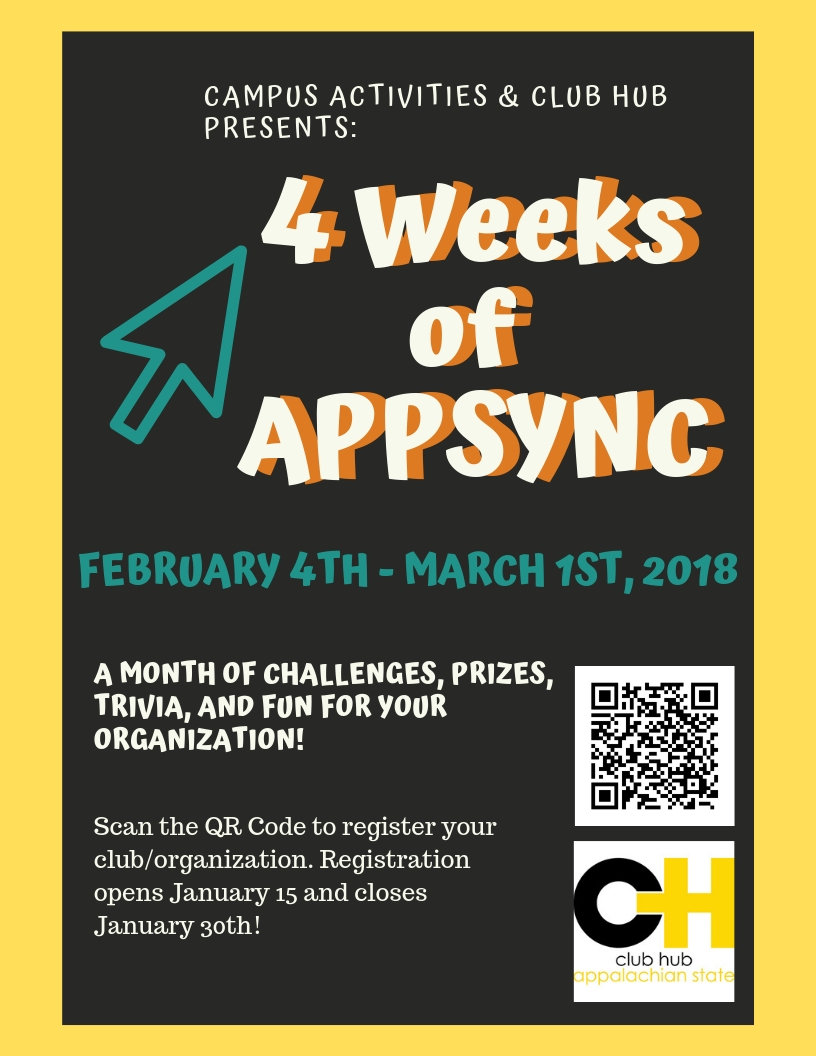 Club Hub invites you to our 3rd annual 4 Weeks of AppSync event! Starting February 4th, clubs and organizations are going to get the opportunity to compete for amazing prizes and perks, as well as get more involved with your beloved Appalachian campus.
4 Weeks of AppSync is a month-long event meant to get our clubs and organizations engaged with the platform they do business on every day. Over the course of a month, clubs and organizations will compete for points through completing tasks on AppSync, submitting jokes for a joke contest, coming into Club Hub to participate in an ugly button making contest, and even a whole night dedicated to trivia in Club Hub! Each week will not only have its own unique tasks to complete that will get your organization familiar with AppSync, but also familiar with other clubs and organizations on campus. At the end of each week, the club or organization with the most points will be rewarded a prize. The prizes then get better and better each week based on what is required that week, and by the last week, we will be hosting a trivia night here in Club Hub!
If your organization is interested in participating this year, we'd love to have you! Registration on AppSync opens January 15th at 10 am and closes January 30th at 5 pm. To register, Click on the following link: https://orgsync.com/92186/forms/347063 . 4 Weeks of AppSync festivities will begin on February 4th and end on March 1st, so there will be plenty of fun-tivities to take part in! We look forward to seeing you all on February 4th!
https://orgsync.com/92186/events/2613552/occurrences/6320378