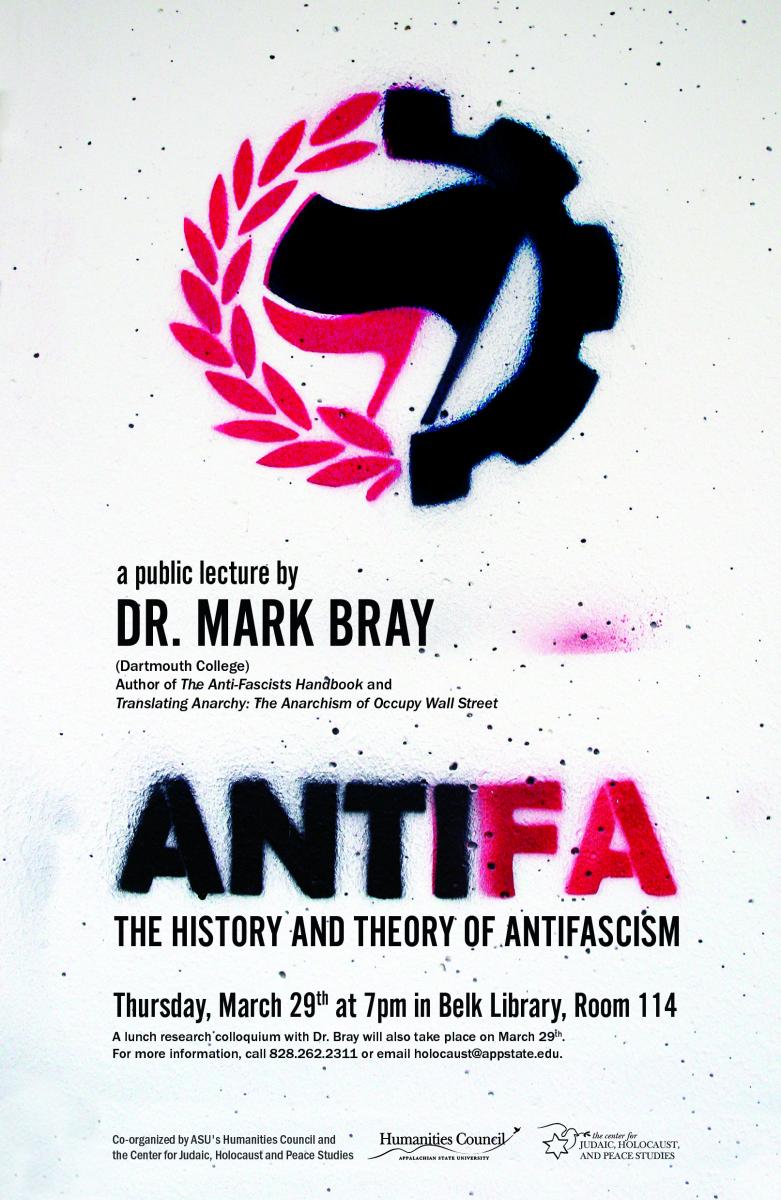 Faculty, students, and staff are invited to discuss Dr. Mark Bray's recent book, Antifa: The Anti-Fascist Handbook (London: Melville House Publishing, 2017) on March 29, from 12:30 until 2:00 PM at Belk Library, Room 421. To RSVP, please send an email to holocaust@appstate.edu or call 828.262.2311. Participants will receive a complimentary copy of the book. Dr. Bray's visit is organized and sponsored by ASU's Humanities Council and the Center for Judaic, Holocaust, and Peace Studies.
In Antifa: The Anti-Fascist Handbook, Bray provides a detailed survey of the history of anti-fascism from its origins to the present day. Based on interviews with anti-fascists from around the world, Antifa details the tactics of the movement and the philosophy behind it, offering insight into the growing but little-understood resistance fighting back against fascism in all its guises. "Bray's book is many things," Daniel Penny stresses in The New Yorker, "the first English-language transnational history of antifa, a how-to for would-be activists, and a record of advice from anti-fascist organizers past and present … Focused and persuasive."
Mark Bray is a historian of human rights, terrorism, and political radicalism in Modern Europe. He completed his PhD in Modern European and Women's and Gender History at Rutgers University in 2016, and is currently a lecturer at Dartmouth College. In addition to Antifa: The Anti-Fascist Handbook, he is the author of Translating Anarchy: The Anarchism of Occupy Wall Street as well as the co-editor of the forthcoming Francisco Ferrer and the Modern School. His work has appeared in Foreign Policy, Critical Quarterly, ROAR Magazine, and numerous edited volumes. He is currently finishing a manuscript on The Anarchist Inquisition: Terrorism and the Ethics of Modernity in Spain, 1893-1909, which explores the emergence of groundbreaking human rights campaigns across Europe and the Americas in response to the Spanish state's brutal repression of dissent in the wake of anarchist bombings.
Dr. Bray will also give a lecture entitled "Antifa: The History and Theory of Antifascism" on Thursday, March 29, at 7:00 pm at Belk Library, Room 114. For more information on Dr. Bray's visit, please contact ASU's Humanities Council at 828-262-2483 or the Center for Judaic, Holocaust, and Peace Studies at 828.262.2311.