The State of North Carolina Internship Program is offering paid summer internship opportunities in state government agencies. Applications for the Summer 2019 State of North Carolina Internship Program are now being accepted.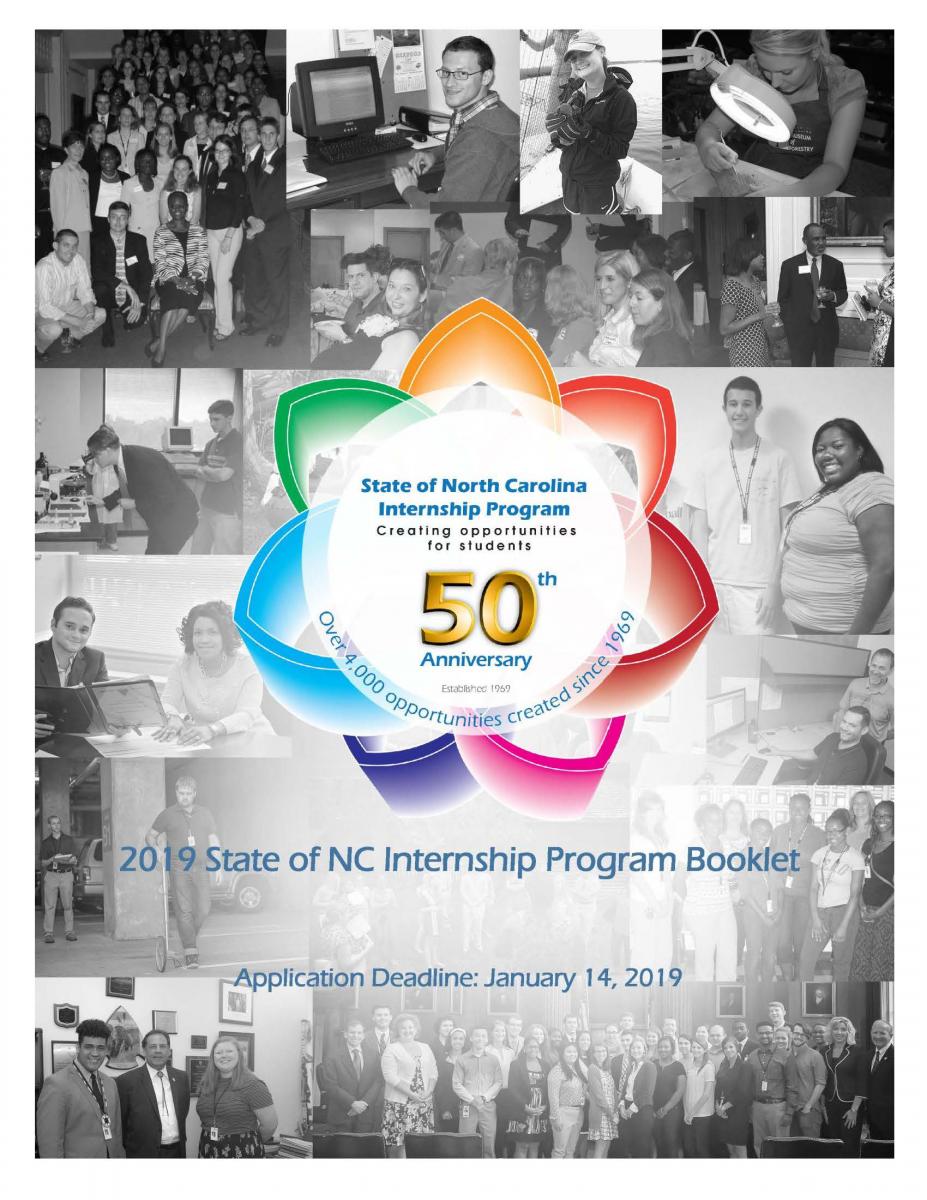 A variety of professional internship opportunities are located across the state and are available to North Carolina residents studying at the undergraduate or graduate level, or in law school in various disciplines. Summer interns work full-time (40 hours a week) for a period of 10-weeks at a wage of $8.25/hour. Applicants must meet the following criteria:
§ An applicant must be a permanent North Carolina resident attending a college, university, law school, community college or technical institute in North Carolina or a North Carolina resident attending an equivalent institution out of state.
§ Applicants must carry a 2.5 or greater overall grade point average on a 4.0 scale.
§ Applicant must be at least 18 years old by January 1, 2019.
§ Community college students must have completed their first year completed before beginning the internship.
§ Applicants must be continuing their education in the fall following their participation in the program.
§ To qualify for a law internship, applicants must have completed at least one year of law school before the beginning of the internship, unless other majors are listed.
§ Students having previously held paid internships with this program are not eligible to apply.
§ Applicants must be willing and able to work full-time for the entire 10-week internship. Applicants must be able to provide legal proof of identity and work authorization within three working days of employment.
The 2019 State of North Carolina Internship Program booklet (attached) can be downloaded from our website at www.youthinvolvement.nc.gov (Click on State Internship Program). The booklet (available in PDF format) contains all program details, including the full listing of available internship positions and application instructions.
The application and supplemental documents can be accessed from http://ncadmin.nc.gov/internshipnc. Applications and supplemental documents must be completed and postmarked by Monday, January 14, 2019.
Please share North Carolina's fine internship opportunities within your network community. If you have any questions or concerns, please do not hesitate to contact the Internship Coordinator, Candace Dudley, at 919-807-4407 or Candace.Dudley@doa.nc.gov.
Application deadline: January 14, 2019