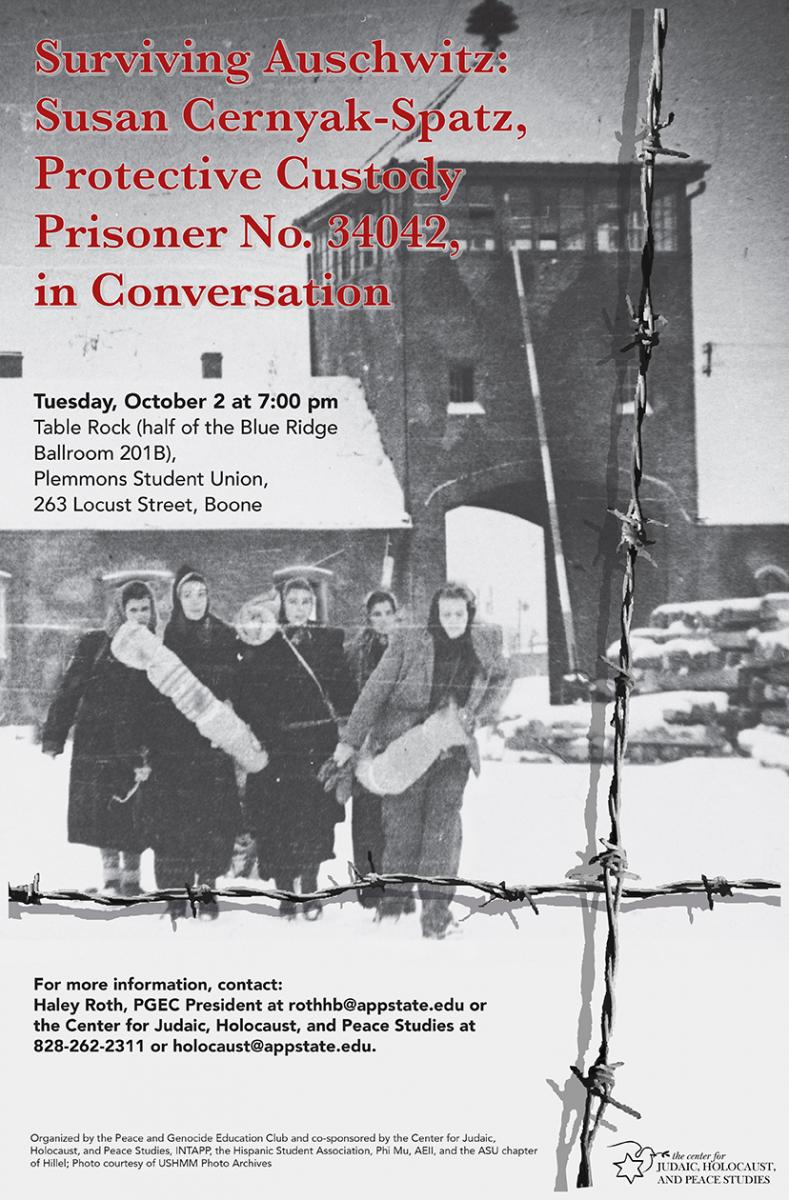 ASU's Peace and Genocide Education Club invites the public to a conversation with Dr. Susan Cernyak-Spatz, a survivor of Auschwitz-Birkenau. The event will take place on Tuesday, October 2, at 7:00 pm at Plemmons Student Union, Room 201B Table Rock, on the ASU campus. After a screening of various audio-visual testimonies Dr. Cernyak-Spatz has given over the years, she will answer questions from the audience. The program is free of charge and open to the public.
Dr. Cernyak-Spatz, who is a Professor Emerita of German Literature at UNC Charlotte, was born in Vienna in July 1922. In 1929, she moved with her family to Berlin, where they witnessed Hitler's rise to power. To escape persecution, they fled to Prague in March 1938. Her father managed to escape to Belgium shortly before the German invasion of Poland and beginning of the continental war, but the Nazis arrested and eventually deported Cernyak-Spatz and her mother.
At the concentration camp Auschwitz-Birkenau, Cernyak-Spatz suffered at the hands of German guards as well as from a range of diseases, including typhoid and scarlet fever. Yet, her connections in the barracks and the fact that she could speak English, French, Czech, and German helped her obtain a job in the camp's administration, away from the often deadly work details outside the camp. Cernyak-Spatz survived Auschwitz-Birkenau and the women's concentration camp of Ravensbrück, while her mother died in the Theresienstadt ghetto.
In July 1946, Cernyak-Spatz emigrated from Europe to the United States. She completed a dissertation on German Holocaust literature in 1971, working under the direction of the prominent author and German literature scholar Ruth Klüger, another survivor. In 2005, Cernyak-Spatz published her memoirs.
"Many Holocaust survivors are already deceased," ASU's Center for Judaic, Holocaust, and Peace Studies Thomas Pegelow Kaplan Pegelow Kaplan observed. "In a few years there will be no one left, so we should speak with survivors while we still can. She is part of the experience of the modern world, of genocide and mass murder, which, sadly, will be with us for a long time to come."
Organized by the Peace and Genocide Education Club (PGEC), Cernyak-Spatz's visit is co-sponsored by the Center for Judaic, Holocaust, and Peace Studies, INTAPP, Phi Mu, HSA, Hillel, and AEII.
For more information contact Halley Roth, PGEC President, at rothhb@appstate.edu or the Center for Judaic, Holocaust and Peace Studies at 828.262.2311 orholocaust@appstate.edu.
###
About the Peace and Genocide Education Club
The Peace and Genocide Education Club (PGEC) is a relatively new student group at Appalachian State University. The PGEC organizes events such as lectures, panel discussions and film screenings on topics of genocide prevention and peace. During its weekly meeting, club members debate and examine current events such as anti-Semitism and racism in the U.S. or the ongoing denial of the Armenian genocide. The PGEC works alongside the Center for Judaic, Holocaust, and Peace Studies to increase student involvement and education.
###
About the Center for Judaic, Holocaust and Peace Studies
Appalachian State University's Center for Judaic, Holocaust, and Peace Studies was founded in 2002 to develop new educational opportunities for students, teachers, and the community. Located administratively within the College of Arts and Sciences, the Center seeks to strengthen tolerance, understanding, and remembrance by increasing the knowledge of Jewish culture and history, teaching the history and meaning of the Holocaust, and utilizing these experiences to explore peaceful avenues for human improvement and the prevention of further genocides.
The Center for Judaic, Holocaust, and Peace Studies is an associate institutional member of the Association of Jewish Studies, a member of the Association of Holocaust Organizations and of the North Carolina Consortium of Jewish Studies.