An Honors College short-term study-abroad course is being planned for late May, early June 2019: to Ethiopia!
We will study African and Ethiopian history and culture while also considering ethical civic engagement and the question of how we best serve others.
We will work at the Mekele Blind School in the small city of Mekele, Ethiopia, teaching schoolchildren photography, engaging with the school's teachers, staff members, and the community, and assisting with construction and renovation projects at the school. There will also be chances to try Ethiopian dancing, enjoy the food of the region, and tour important cultural sites. This will be a an opportunity to engage in the unique project of practicing photography with the visually-impaired in a beautiful and culturally-rich location.
For more information, click here or contact Brian MacHarg at machargbd@appstate.edu.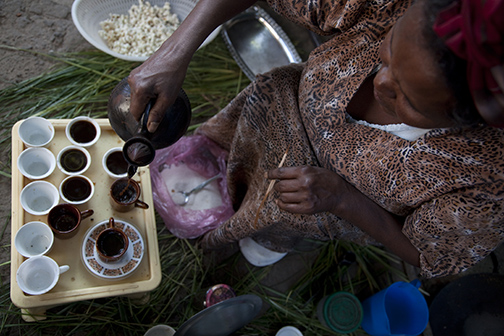 Photo submitted: A resident of Addis Ababa, Ethiopia prepares coffee as part of a coffee ceremony for US study abroad students in 2010