Honors Alumna Aakriti Agrawal (May '17) is attending Duke University's Doctorate of Physical Therapy (DPT) program. Upon graduation from Honors at Appalachian State, Aakriti was accepted to the DPT programs at both Duke and Emory Universities. She reports that, "my decision was difficult because both have amazing programs. However, I received an academic scholarship for $10,000 from Duke." Beginning the program at Duke, Aakriti was most interested in pursuing pain management physical therapy, but she is open to the possibility that she might find and pursue another specialization once she starts clinicals!
In Honors at Appalachian, Aakriti was an exercise science major with minors in health promotion and medical humanities. She wrote her thesis entitled, Validity Test on Pulse Wave Velocity of Withings Body Cardio Scale Compared to The Sphygmocor Gold Standard, with Dr. Scott Collier, Professor in the Department of Health and Exercise Science. For her international education requirement of the Honors College, Aakriti completed the faculty-led study abroad, "Tourism in Costa Rica" course. This past summer after graduation, she also traveled to Italy.
Top photo, submitted by Aakriti, shows her at the smallest vineyard in all of Italy located in the Chianti region; it is also completely organic!
Story by Garrett Alexandrea McDowell, Ph.D.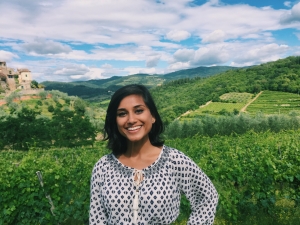 Tags: