Message from Dean Vahlbusch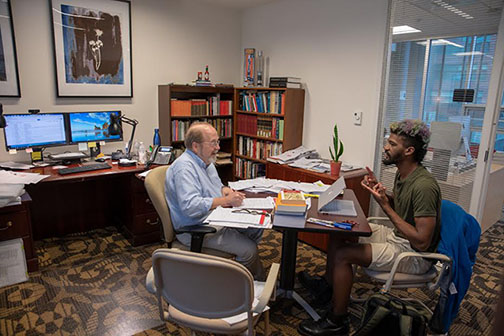 Dear Honors students!
Today's issue of the Honors Wednesday Memo (HWM) marks an important and exciting expansion in the HWM's primary audience. Beginning now, we are writing to, and collecting and publicizing opportunities for, all Honors students at Appalachian.
Next to the Honors College, which serves students and faculty members from every college, department, and major on campus, departmental Honors programs and the Honors Program in the Walker College of Business make it possible for students at Appalachian, both in the Honors College and outside it, to pursue Honors education in their majors.
At Appalachian, Honors programs are currently available in: Anthropology, Art, Biology, Chemistry, Communication, Computer Science, Dance, English, Environmental Science, Exercise Science, French, Geography and Planning, Geology, Global Studies, Government and Justice Studies, History, Interdisciplinary Studies, Mathematical Sciences, Philosophy and Religion, Physics and Astronomy, Psychology, Social Work, Sociology, Spanish, Sustainable Development, Sustainable Technology and the Built Environment, Theatre, and the Walker College of Business. And more departmental Honors programs are now in development.
Please join me and all members of the Honors College—students, faculty, and staff—in welcoming all students, faculty, and faculty directors of departmental and college Honors programs campus-wide!
I look forward to all that we can and will accomplish together.
Jeff
Click here for the full Wednesday Memo for September 12, 2018.
Upcoming Events
Welcome to the Honors College Announcement Center! Check back here frequently for updates on Honors College events, programs, and information. Current Honors College announcements are also posted live on the front office TV screen, so come by and see us! Visit the Upcoming Events Page for an archive of announcements from this current semester.
The Honors College at ASU!
The Honors College at Appalachian offers an enhanced intellectual experience for the most academically motivated students on campus, one that fosters independent and creative thinking, global engagement, and personal integrity. The Honors curriculum includes topically focused, interdisciplinary, and discussion-based seminars. It extends to a required international experience, and culminates in an Honors thesis as original research or a creative endeavor. Students in the Honors College are supported and challenged by a community of like-minded learners. From the Honors experience, students emerge as lifelong learners well prepared for post-graduate training—leaders of the future.