Message from Dean Vahlbusch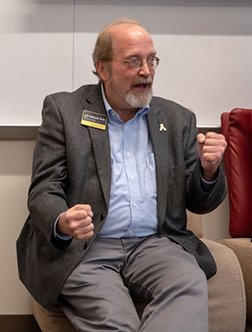 Dear Honors students, faculty, and friends
As I mentioned in this space recently, we are one of the few Honors Colleges nationwide with an international education requirement, helping our students develop global expertise.
This coming spring, the Honors College is offering three interdisciplinary HON courses and trips:
Dr. Joe Gonzalez and Dr. Emily Daughtridge: Cuba
Dr. Brian MacHarg and Dr. Garner Dewey: Ethiopia
Drs. Jim Toub, Victor Mansure, Alexandra Hellenbrand: Vienna, Austria
Honors College students who complete these courses and trips fulfill their Honors international education requirement and earn HON course credit. Other Honors students are welcome as space permits!
We also invite Honors students to join other outstanding short-term faculty-led study-abroad experiences offered by Appalachian this coming spring and summer. With these, too, Honors students can meet their international education requirement. Here are a few whose faculty have invited Honors students to join them:
Dr. Rick Klima: Secret Codes of World War II. England
Dr. Randall Reed and Dr. Jack Kwong: Life, Love, and Death in Paris and Rome
Dr. Anthony Bly: Santería Religion in Cuba
Dr. Kevin Kennedy, Dr. Ed Behrend-Martinez, Dr. Cameron Lippard: War in Europe (Belgium, France, Germany, & Luxembourg)
Dr. Joshua White: Scotland May-June 2019
Dr. Carla Ramsdell, The Physical Principles of Energy and Sustainability in Italy:
And don't forget: The Honors College has (limited) funds to help you get there. Apply soon!
Jeff
Click here for the full Wednesday Memo for November 7, 2018.
Upcoming Events
Welcome to the Honors College Announcement Center! Check back here frequently for updates on Honors College events, programs, and information. Current Honors College announcements are also posted live on the front office TV screen, so come by and see us! Visit the Upcoming Events Page for an archive of announcements from this current semester.
The Honors College at ASU!
The Honors College at Appalachian offers an enhanced intellectual experience for the most academically motivated students on campus, one that fosters independent and creative thinking, global engagement, and personal integrity. The Honors curriculum includes topically focused, interdisciplinary, and discussion-based seminars. It extends to a required international experience, and culminates in an Honors thesis as original research or a creative endeavor. Students in the Honors College are supported and challenged by a community of like-minded learners. From the Honors experience, students emerge as lifelong learners well prepared for post-graduate training—leaders of the future.