Welcome from the Director
Welcome to a new and exciting academic year in The Honors College! We are looking forward to continue providing high achieving students the opportunities to make the most of their higher education and Appalachian experience. We are also pleased to welcome a new group of Chancellor's Scholars, recipients of the oldest and most distinguished academically merit-based scholarship at Appalachian.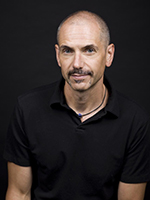 One of the major themes we will be focusing on for the coming year is community. We hope to strengthen the relationships amongst our students, the faculty associated with the Honors College, Appalachian State University and the High Country. We began the year with our incoming freshmen spending a day working on service activities across campus and throughout Watauga County. Students helped mulch trees on campus and learned a little about Appalachian State University's status as a TreeCampus USA. Students also transplanted hop plants for the Fermentation Science program as it began its move into its new location. In the wider community beyond campus students also volunteered with the Hunger and Health Coalition as well as Helping Hands Woodlot to help members of our community that struggle with necessities of life such as food, medicine and heat in the winter. A group of students worked on a house with Habitat for Humanity, helped with yardwork at the Children's Playhouse and also worked at the FARM Café and Hospitality House Welcome Home Thriftique. We are incredibly grateful to all of the agencies and individuals that worked with us and hope we can continue to build upon these relationships as we try to build the responsible leaders of tomorrow.
Within the College we have a new group of executives taking over the Appalachian Honors Association (AHA!) that are bringing exciting ideas to further build the community amongst Honors students. We have been enjoying the Appalachian Honors Portrait Project of our Honors team member Shauna Caldwell. Shauna is a student in the Studio Art program who is posting a weekly photo portrait of an Honors student with a short write up about them to our Facebook page. The freshmen Chancellor's Scholars are actively preparing for their trip to Dublin over fall break and we are excited to have Dr. Mary Valante whose expertise includes the Medieval History of Ireland helping to lead the trip this year. Many of our Chancellor's Scholars also enjoyed joining The Chancellor to see the Avett Brothers perform on campus at the start of the semester.
All in all, I think we are off to a great start of the academic year and I hope you will continue to check in to see what we are doing and where we are heading. As you explore our website I hope you discover more about us and the opportunities we provide for our students. We also encourage you to contact or to visit us to find out more about we can offer.
Sincerely,
Dr. Ted Zerucha
Interim Director, The Honors College
Announcements
Welcome to the Honors College Announcement Center! Check back here frequently for updates on Honors College events, programs, and information. Current Honors College announcements are also posted live on the front office TV screen, so come by and see us! Visit the Announcements Page for an archive of announcements from this current semester.
The Honors College at ASU!
The Honors College at Appalachian offers an enhanced intellectual experience for the most academically motivated students on campus, one that fosters independent and creative thinking, global engagement, and personal integrity. The Honors curriculum includes topically focused, interdisciplinary, and discussion-based seminars. It extends to a required international experience, and culminates in an Honors thesis as original research or a creative endeavor. Students in the Honors College are supported and challenged by a community of like-minded learners. From the Honors experience, students emerge as lifelong learners well prepared for post-graduate training—leaders of the future.