Weekly Message from Dean Vahlbusch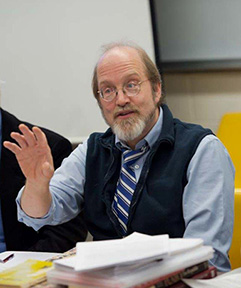 Gratitude, Hope, Best Wishes. My first semester as dean of our Honors College has blazed by in a long flash of deep learning and listening, good meetings, great conversations. Thanks to you—all Honors students, faculty, and staff—for helping me make the transition to Honors at Appalachian. Thank you for your patience in teaching and guiding me, and for investing and enriching the Honors College and Honors education at this extraordinary university with your presence and involvement, advice and criticisms, ideas. Keep them coming, please!
I am full of hope for our future. Together we will build an Honors College that can measure itself against the best in the country for the quality of what we do in all aspects of Honors education: curriculum and reflection, support for the thesis process, advising and mentoring, community building and residence life, extra- and co-curriculars, professional development, support for applying to major fellowships and employment, graduate, and professional study, and more.
Warm wishes to all for a successful conclusion to this fall semester, and for a relaxing and rewarding break.
Yours,
Jeff
Click here for the full Wednesday Memo for December 13, 2017.
Upcoming Events
Welcome to the Honors College Announcement Center! Check back here frequently for updates on Honors College events, programs, and information. Current Honors College announcements are also posted live on the front office TV screen, so come by and see us! Visit the Upcoming Events Page for an archive of announcements from this current semester.
The Honors College at ASU!
The Honors College at Appalachian offers an enhanced intellectual experience for the most academically motivated students on campus, one that fosters independent and creative thinking, global engagement, and personal integrity. The Honors curriculum includes topically focused, interdisciplinary, and discussion-based seminars. It extends to a required international experience, and culminates in an Honors thesis as original research or a creative endeavor. Students in the Honors College are supported and challenged by a community of like-minded learners. From the Honors experience, students emerge as lifelong learners well prepared for post-graduate training—leaders of the future.