Message from Dean Vahlbusch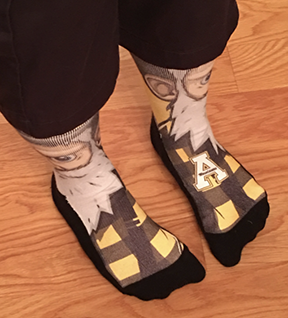 Dear Honors students and friends,
Today I'm thinking about Honors study-abroad, coffee, and Yosef socks.
(1) Study abroad? Many of you know that the Honors College proudly requires its students to study abroad, or to engage in at least one internationally or transculturally focused credit-bearing experience. Point of pride and distinction: we are one of only very few Honors Colleges or programs nationwide that have an international education requirement.
As today's Honors Wednesday Memo shows, we in the Honors College are committed to partnering with wonderful faculty and staff members from across the university to offer extraordinary short-term and longer-term Honors study-abroad experiences. Find a terrific Honors study-abroad opportunity here.
(2) Coffee in the Honors College? Coffee, tea, and hot chocolate from the Honors College Keurig machine in Appalachian Hall are cost-free to everyone. But our costs are adding up for K-cups, recycling, sweeteners, stirrers, cups, and creamer, and we can't use the Honors College budget to pay for them. Please donate what you can: one K-cup or two dozen, packets of sugar, a jar of creamer! After donating, please inscribe your name on the new Honors College "Pillar of Fame" donation list and look for my thanks and your name in lights in a future Honors Wednesday Memo.
(3) Yosef Socks? The immortal photo says it all.
Yours,
Jeff
Upcoming Events
Welcome to the Honors College Announcement Center! Check back here frequently for updates on Honors College events, programs, and information. Current Honors College announcements are also posted live on the front office TV screen, so come by and see us! Visit the Upcoming Events Page for an archive of announcements from this current semester.
The Honors College at ASU!
The Honors College at Appalachian offers an enhanced intellectual experience for the most academically motivated students on campus, one that fosters independent and creative thinking, global engagement, and personal integrity. The Honors curriculum includes topically focused, interdisciplinary, and discussion-based seminars. It extends to a required international experience, and culminates in an Honors thesis as original research or a creative endeavor. Students in the Honors College are supported and challenged by a community of like-minded learners. From the Honors experience, students emerge as lifelong learners well prepared for post-graduate training—leaders of the future.