Message from Dean Vahlbush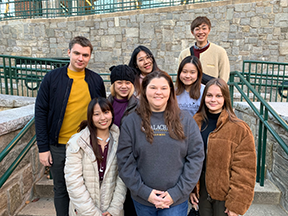 Dear Honors College and departmental Honors students,
Honors education, done right, is transformational education. Often this means one-of-a-kind opportunities for you and your faculty members to transform yourselves, individually and collectively and, increasingly, to participate in transformative work across the globe.
Here is such an opportunity: Dr. Greg McClure of the Reich College of Education is teaching an Honors course (HON 2515) entitled Education as the Practice of Freedom, and, over spring break, leading an accompanying Honors trip to a Mayan community in the Guatemalan highlands. Both course and trip will focus on sustainability, human rights, and the transformative power of education and collaboration.
Please consider joining this course and trip; I highly recommend both. For more information, please get in touch with Dr. Greg McClure (mccluregs@appstate.edu) right away!
Sending best wishes for Reading Day and final exams!
Yours,
Jeff
Click here for the full version of the latest Honors Wednesday Memo.
Photo above from Thanksgiving lunch with Angela and 7 international students from 4 different countries (China, Japan, Russia and Thailand). In the front row (left to right) Yui Takada, Dr. Angela Mead, and Serafima Orlova. In the back row (left to right) Alexander Gorodeyko, Benchawan Klihfung, Chayanee Charoenhngthong, Yuriko Seino, Keisuke Itadani.
Upcoming Events
Welcome to the Honors College Announcement Center! Check back here frequently for updates on Honors College events, programs, and information. Current Honors College announcements are also posted live on the front office TV screen, so come by and see us! Visit the Upcoming Events Page for an archive of announcements from this current semester.
The Honors College at ASU!
The Honors College at Appalachian offers an enhanced intellectual experience for the most academically motivated students on campus, one that fosters independent and creative thinking, global engagement, and personal integrity. The Honors curriculum includes topically focused, interdisciplinary, and discussion-based seminars. It extends to a required international experience, and culminates in an Honors thesis as original research or a creative endeavor. Students in the Honors College are supported and challenged by a community of like-minded learners. From the Honors experience, students emerge as lifelong learners well prepared for post-graduate training—leaders of the future.