Welcome Dean Vahlbusch!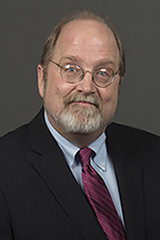 Our inaugural dean, Dr. Jefford Vahlbusch, begins his tenure on Monday, July 17th. Dr. Vahlbusch shares, "I am thrilled to be joining the wonderful Honors College at Appalachian State University. I look forward to working together with Honors students, Honors faculty, Honors staff members, and colleagues across the university to create a world-class Honors College."
Dean Vahlbusch's top priority is the development and implementation of a clear vision and strategic mission for the Honors College at Appalachian. With his strong leadership and collaborative engagement, we look forward to the Honors College reaching its fullest potential.
Vahlbusch brings a deep understanding of the value and national standards of honors education to Appalachian. He comes to us from the University of Wisconsin – Eau Claire, where in eight years of service, he propelled the honors program to strong standing. He is involved with the National Collegiate Honors Council (NCHC) and serves on the NCHC Diversity Issues Committee.
Vahlbusch's background in the humanities matches the liberal arts and interdisciplinary depth and breadth of honors education. He earned his Ph.D. in Germanic languages and literatures from the University of Michigan in 1998. For the full story of Dr. Vahlbusch from University Communications, click here.
Be sure to reach out and meet our new dean!
The Honors College at ASU!
The Honors College at Appalachian offers an enhanced intellectual experience for the most academically motivated students on campus, one that fosters independent and creative thinking, global engagement, and personal integrity. The Honors curriculum includes topically focused, interdisciplinary, and discussion-based seminars. It extends to a required international experience, and culminates in an Honors thesis as original research or a creative endeavor. Students in the Honors College are supported and challenged by a community of like-minded learners. From the Honors experience, students emerge as lifelong learners well prepared for post-graduate training—leaders of the future.
Announcements
Welcome to the Honors College Announcement Center! Check back here frequently for updates on Honors College events, programs, and information. Current Honors College announcements are also posted live on the front office TV screen, so come by and see us! Visit the Announcements Page for an archive of announcements from this current semester.