Message from Dean Vahlbusch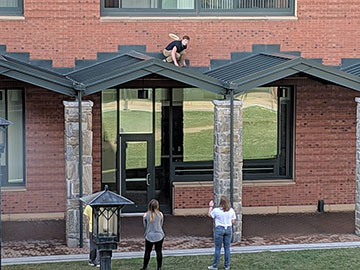 Dear Honors students, faculty, staff, and friends,
Here's something that will put a spring in your step: on Saturday, March 30th, starting 9 a.m., Appalachian State University is hosting its first-ever Walk to Defeat ALS, more commonly known as Lou Gehrig's Disease.
The Appalachian Honors Association (AHA), the main student organization in the Honors College, has pulled together a team of walkers, and is recruiting fellow walkers and inviting donations. They have already raised more than $400 of their $1000 goal, and are currently in 8th place among all teams for the amount of money raised. All proceeds go to the North Carolina ALS Chapter to fund research into a cure for ALS.
Please see below for information on ALS, on the walk, and on how to give.
We are thrilled to be staging this walk under the leadership and in honor of Dr. Dane Ward, Dean of Libraries at Appalachian, who was recently diagnosed with ALS. Dane, it is a privilege and blessing to be your colleague and friend.
Let's walk!
Jeff
Upcoming Events
Welcome to the Honors College Announcement Center! Check back here frequently for updates on Honors College events, programs, and information. Current Honors College announcements are also posted live on the front office TV screen, so come by and see us! Visit the Upcoming Events Page for an archive of announcements from this current semester.
The Honors College at ASU!
The Honors College at Appalachian offers an enhanced intellectual experience for the most academically motivated students on campus, one that fosters independent and creative thinking, global engagement, and personal integrity. The Honors curriculum includes topically focused, interdisciplinary, and discussion-based seminars. It extends to a required international experience, and culminates in an Honors thesis as original research or a creative endeavor. Students in the Honors College are supported and challenged by a community of like-minded learners. From the Honors experience, students emerge as lifelong learners well prepared for post-graduate training—leaders of the future.