Message from Dean Vahlbusch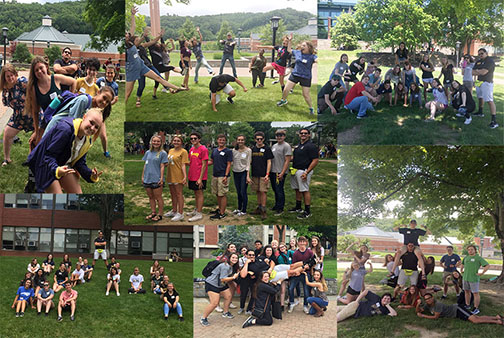 New Honors Students meet Charles Dickens. During the eight App State Summer Orientation sessions this past June, we were (and are) thrilled to welcome into the Honors College 122 extraordinary new Honors students from nearly every corner of North Carolina and many other states.
In thinking together with our new students about the whys and hows of Honors education, I found myself turning again and again to a passage from a letter written by Dickens to his friend and fellow novelist Wilkie Collins on 6 September 1858. I first read these lines 42 years ago as a sophomore in a course on Dickens at the University of Michigan, and I have kept them close ever since:
"Everything that happens [...] shows beyond mistake that you can't shut out the world; that you are in it, to be of it; that you get in a false position the moment you try to sever yourself from it; and that you must mingle with it, and make the best of it, and make the best of yourself into the bargain."
In the Honors College and at Appalachian, we work to make the best of ourselves and of the world. And if we're paying attention, we just might discover someday what Dickens knew: that these two welcome and all-important tasks are really, truly, one.
We look forward to the return of our new and our veteran Honors College students mid-August, and to being about our work in the world.
Yours,
Jeff
Upcoming Events
Welcome to the Honors College Announcement Center! Check back here frequently for updates on Honors College events, programs, and information. Current Honors College announcements are also posted live on the front office TV screen, so come by and see us! Visit the Upcoming Events Page for an archive of announcements from this current semester.
The Honors College at ASU!
The Honors College at Appalachian offers an enhanced intellectual experience for the most academically motivated students on campus, one that fosters independent and creative thinking, global engagement, and personal integrity. The Honors curriculum includes topically focused, interdisciplinary, and discussion-based seminars. It extends to a required international experience, and culminates in an Honors thesis as original research or a creative endeavor. Students in the Honors College are supported and challenged by a community of like-minded learners. From the Honors experience, students emerge as lifelong learners well prepared for post-graduate training—leaders of the future.