Weekly Message from Dean Vahlbusch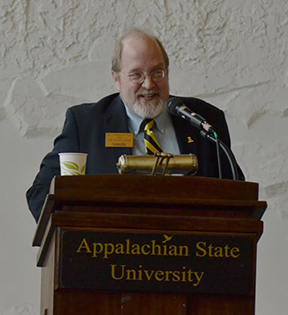 Dear Honors College students,
New Lights in the Lounge. Have you looked into the Honors College Library + Lounge lately? It's lots more gemütlich than it was. "Gemütlich"? That's an untranslatable German word that means "cozy," welcoming, safe, warm, and "happily hang-out-in-able." Thanks to App State's expert electricians, you can now switch off the Library's bright overhead lights. And thanks to Honors Executive Assistant and Program Manager Jess Yandow, we now have many desk and floor lamps giving you all kinds of friendly, warm, adjustable light. Come check it out!
Coming soon to the Library: an Honors College coffee and tea machine! (Watch this space for news of the rollout).
And please mark your calendar for Cookies with Jeff on Thursday, March 1, from 2 – 5 p.m. in Appalachian Hall 284.
Yours,
Jeff
Click here for the full Wednesday Memo for February 21, 2018.
Upcoming Events
Welcome to the Honors College Announcement Center! Check back here frequently for updates on Honors College events, programs, and information. Current Honors College announcements are also posted live on the front office TV screen, so come by and see us! Visit the Upcoming Events Page for an archive of announcements from this current semester.
The Honors College at ASU!
The Honors College at Appalachian offers an enhanced intellectual experience for the most academically motivated students on campus, one that fosters independent and creative thinking, global engagement, and personal integrity. The Honors curriculum includes topically focused, interdisciplinary, and discussion-based seminars. It extends to a required international experience, and culminates in an Honors thesis as original research or a creative endeavor. Students in the Honors College are supported and challenged by a community of like-minded learners. From the Honors experience, students emerge as lifelong learners well prepared for post-graduate training—leaders of the future.