Weekly Message from Dean Vahlbusch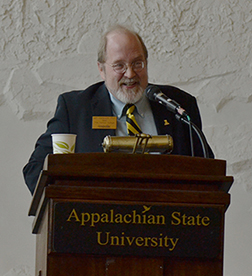 Honors Students Define the Honors College. I love to listen to Honors students talk with prospective and admitted Honors College students and their parents--high school juniors and seniors visiting campus to explore how App and the Honors College can help them develop themselves and shape their futures into something wonderful. Nearly all of our students highlight similar things:
· The Honors Curriculum, especially HON seminars ("the beating heart of the Honors College") and great departmental Honors courses
· The Honors Community, in Cone + Summit, in Honors courses, and in our growing number of Honors extracurricular and co-curricular activities
· The Honors Mentoring and Advising Experience, which extends from course choice in your very first semester to guidance on life and community service and graduate school and career(s)
· The Honors Thesis Experience, which for nearly every Honors student moves from scary to interesting to formative to triumphant.
We'll never be perfect, but these are impressive signposts and stages on the journey thither.
Yours,
Jeff
Upcoming Events
Welcome to the Honors College Announcement Center! Check back here frequently for updates on Honors College events, programs, and information. Current Honors College announcements are also posted live on the front office TV screen, so come by and see us! Visit the Upcoming Events Page for an archive of announcements from this current semester.
The Honors College at ASU!
The Honors College at Appalachian offers an enhanced intellectual experience for the most academically motivated students on campus, one that fosters independent and creative thinking, global engagement, and personal integrity. The Honors curriculum includes topically focused, interdisciplinary, and discussion-based seminars. It extends to a required international experience, and culminates in an Honors thesis as original research or a creative endeavor. Students in the Honors College are supported and challenged by a community of like-minded learners. From the Honors experience, students emerge as lifelong learners well prepared for post-graduate training—leaders of the future.