Message from Dean Vahlbusch
D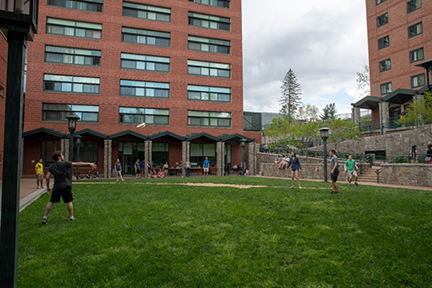 ear Honors students, staff, faculty, friends,
As we bring this academic year to a happy close, I am filled with gratitude for all those who make Honors work--both in the Honors College and in departmental and college Honors programs at Appalachian:
The many faculty members who teach Honors courses, and the department chairs and deans who make that teaching possible
The many faculty members who mentor Honors students through their Honors thesis projects, at least two faculty members per thesis, and often three
The faculty directors of departmental and college Honors programs across the university
The many faculty members who engage Honors students in independent studies, Honors "contracts," and special Honors subsections of regular courses
I will thank further extraordinary Honors helpers in future issues of the Honors Wednesday Memo. For today, please join me in thanking those named above, and consider trumpeting their names and work from your particular rooftop. They deserve that, and much more.
I'm wishing you all a great summer. Please watch for our Honors Monthly Memo in June, July, and August!
Jeff
Click here for the full Wednesday Memo for May 8, 2019.
Photo is from the Honors Cookout last week on Reading Day. Photos submitted.
Upcoming Events
Welcome to the Honors College Announcement Center! Check back here frequently for updates on Honors College events, programs, and information. Current Honors College announcements are also posted live on the front office TV screen, so come by and see us! Visit the Upcoming Events Page for an archive of announcements from this current semester.
The Honors College at ASU!
The Honors College at Appalachian offers an enhanced intellectual experience for the most academically motivated students on campus, one that fosters independent and creative thinking, global engagement, and personal integrity. The Honors curriculum includes topically focused, interdisciplinary, and discussion-based seminars. It extends to a required international experience, and culminates in an Honors thesis as original research or a creative endeavor. Students in the Honors College are supported and challenged by a community of like-minded learners. From the Honors experience, students emerge as lifelong learners well prepared for post-graduate training—leaders of the future.