Message from Dean Vahlbusch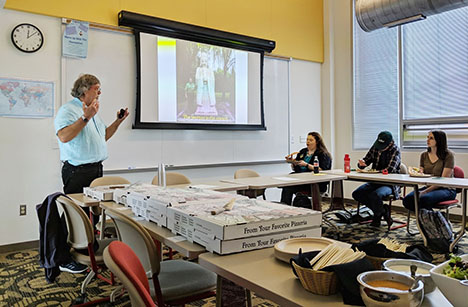 Dear Honors Community,
LUNCH: This Friday, April 19th, at noon: RSVP and join us for a Lunch with Honors with Dr. Mary Valante on Viking women and work: "The Past was Female: Women's Work and the Urban Economy of the Viking Age." The place: Appalachian Hall 162 (note room change). All are welcome!
Come for great learning and community; for pizza and salad; and for hands-on practice in 9th and 10th century yarn-spinning.
Please RSVP now to me: vahlbuschjb@appstate.edu (and at the latest by Friday morning at 10 a.m.)
HONORS VANGUARD: Applications to join the Honors College ambassadors (the Vanguard) are due this Friday, April 19th, with extensions possible to next Friday, April 26th.
Honors Vanguard members represent the Honors College, help recruit prospective Honors College students, and help advise me and Honors College staff members on the future of the Honors College. Come grow as a Vanguard member, and help us grow!
Here's a link to the application. Please fill it out by Friday, April 19th (yes, extensions are available till 4/26), rename and save the file according to this filename model: Vanguard - lastname firstinitial 4-2019.docx, and send as an attachment to me: vahlbuschjb@appstate.edu.
Click here for the full Wednesday Memo for April 17, 2019.
Photo above from Lunch with Honors on Friday, April 12, 2019 with Dr. Johnny Waters. Photo by Brad Rentz.
Upcoming Events
Welcome to the Honors College Announcement Center! Check back here frequently for updates on Honors College events, programs, and information. Current Honors College announcements are also posted live on the front office TV screen, so come by and see us! Visit the Upcoming Events Page for an archive of announcements from this current semester.
The Honors College at ASU!
The Honors College at Appalachian offers an enhanced intellectual experience for the most academically motivated students on campus, one that fosters independent and creative thinking, global engagement, and personal integrity. The Honors curriculum includes topically focused, interdisciplinary, and discussion-based seminars. It extends to a required international experience, and culminates in an Honors thesis as original research or a creative endeavor. Students in the Honors College are supported and challenged by a community of like-minded learners. From the Honors experience, students emerge as lifelong learners well prepared for post-graduate training—leaders of the future.