The Honors College at Appalachian State offers an enhanced intellectual experience for the most academically motivated students on campus, one that fosters independent and creative thinking, global engagement, and personal integrity. The Honors curriculum includes topically focused, interdisciplinary, and discussion-based seminars. It extends to a required international experience, and culminates in an Honors thesis as original research or a creative endeavor. Students in the Honors College are supported and challenged by a community of like-minded learners. From the Honors experience, students emerge as lifelong learners well prepared for post-graduate training — leaders of the future.


Weekly Message
March 8, 2023
Dear Honors College and departmental Honors program students, faculty, staff, friends,
Honors Colleges, as we have been saying and demonstrating for years, are ideal places and spaces for innovation in learning, teaching, serving, and change-making — at universities and in the communities that surround them. Here's a lovely case in point:
I'm excited to announce the Inaugural Honors College Latine Studies Learning Community, the first of its kind at Appalachian State.
Honors College AND departmental Honors students who join the community for Fall 2023 will enroll in their appropriate level of Spanish language (Honors Beginning Spanish II, Honors Intermediate I, Honors Intermediate II) and also a linked GE Honors course on Hispanic Literatures and Border Crossings. In Spring 2023 students will continue their Honors language studies and can take Honors art history credit in a related area.
Students: please write to Dr. Heather Waldroup in the Honors College to express your interest in and learn more about this unique experience.
Writing with profound thanks to Drs. Paul Worley and Catherine Fountain, chair and assistant chair in the Department of Languages, Literatures, and Cultures, and to all professors and instructors of Spanish in that great department.
Yours,
Jeff
Click here for the full version of the latest Honors Wednesday Memo.

Meet the Dean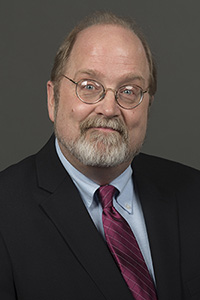 "One of the best things about being Honors dean are all the chances I have to define and refine Honors education at Appalachian, in conversation and collaboration with Honors students, faculty, parents, staff members, friends. In the words of national Honors leader Dr. Sam Schumann (1942-2014), 'Honors is trying to do undergraduate education as well as it can be done.' The Honors College and departmental Honors programs across the university are thus communities in which students, faculty, and staff gather to create new opportunities, to experiment and innovate, to grow together in collaborative pursuit of an important and ever-changing goal."
Dr. Jefford Vahlbusch
Dean, Honors College