Message from Dean Vahlbush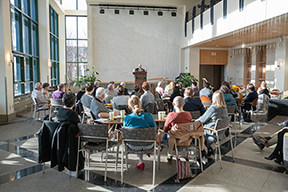 Dear returning and new Honors students:
Welcome to the second semester of AY 2019–2020. Let's work to make the next 15 weeks extraordinarily rich and exciting, both in the Honors College and in departmental and college Honors Programs across the university, and let's keep working to make the Honors College world-class.
My definition of "world-class"? A college that can offer its amazing students and faculty powerful educational, social, international, and civic engagement opportunities that can compete in innovation and excellence with any provided by Honors colleges and programs across the country and, indeed, around the world. And we are getting there!
How to make the next 15 weeks in Honors rich and exciting? Show up and seek ways to get involved. To find powerful opportunities, talk to me, talk to your Honors Academic Mentor, talk to fellow Honors students, talk to your academic department, and always read the Honors Wednesday Memo.
Here's the first extraordinary opportunity this semester: I strongly encourage you to apply to become an Appalachian Ambassador! Ambassadors represent the university; give tours of campus; and run one of the most professional and successful leadership and service organizations in North Carolina higher education. Online applications open January 13th for this year and close January 24th, 2020. Find more information here and the application here. I am happy as always to consult on the application process.
Here's to a terrific new year in Honors at Appalachian!
Jeff Vahlbusch, Ph.D., Dean of the Honors College
Click here for the full version of the latest Honors Wednesday Memo.
The photo above features Dean Vahlbusch giving opening words at the Fall 2019 Honors Graduation Ceremony.
Upcoming Events
Welcome to the Honors College Announcement Center! Check back here frequently for updates on Honors College events, programs, and information. Current Honors College announcements are also posted live on the front office TV screen, so come by and see us! Visit the Upcoming Events Page for an archive of announcements from this current semester.
The Honors College at ASU!
The Honors College at Appalachian offers an enhanced intellectual experience for the most academically motivated students on campus, one that fosters independent and creative thinking, global engagement, and personal integrity. The Honors curriculum includes topically focused, interdisciplinary, and discussion-based seminars. It extends to a required international experience, and culminates in an Honors thesis as original research or a creative endeavor. Students in the Honors College are supported and challenged by a community of like-minded learners. From the Honors experience, students emerge as lifelong learners well prepared for post-graduate training—leaders of the future.