Message from Dean Vahlbusch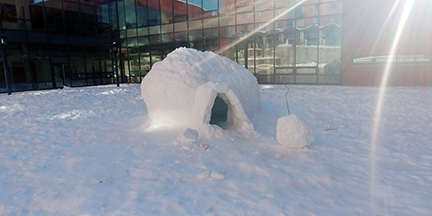 Diego as Metaphor. In a big mountain snowstorm, you hunker down and, if you can, you try shoveling out.
In our case, 16+ inches of dense Diego snow meant three shovels-full for every square foot of a long steep driveway. Skim the top five inches (throw), slice in and lift out the next five (throw), then bend old knees to scoop up what remained (throw). Repeat.
Over two hard days, we managed to clear a footpath one-shovel-wide the hundreds of feet down to our Subaru and stopped, daunted by the many feet of deep snow still blocking the car from the county road. Then neighbors appeared with smiles and shovels and snow machines, and helped us clear the rest.
In the run up to finals this semester, made more stressful by Diego, I've taken comfort in Honors College students' support of each other: in their encouraging messages on our many whiteboards ("good luck on finals," "you've got this!"), and in the study groups large and little gracing the common spaces in Appalachian Hall. Here are students teaching each other, taking responsibility for each other's education, and arguing about important things with politeness, civility, and respect. Here are students treating each other as neighbors should, and true neighbors do.
Here are proofs of our community's strength, in the Honors College and at Appalachian, and promises of a bright and brighter future.
Sending best wishes to all for a strong end to the semester, and great holidays.
Yours,
Jeff
Click here for the full Wednesday Memo for December 12, 2018.
Upcoming Events
Welcome to the Honors College Announcement Center! Check back here frequently for updates on Honors College events, programs, and information. Current Honors College announcements are also posted live on the front office TV screen, so come by and see us! Visit the Upcoming Events Page for an archive of announcements from this current semester.
The Honors College at ASU!
The Honors College at Appalachian offers an enhanced intellectual experience for the most academically motivated students on campus, one that fosters independent and creative thinking, global engagement, and personal integrity. The Honors curriculum includes topically focused, interdisciplinary, and discussion-based seminars. It extends to a required international experience, and culminates in an Honors thesis as original research or a creative endeavor. Students in the Honors College are supported and challenged by a community of like-minded learners. From the Honors experience, students emerge as lifelong learners well prepared for post-graduate training—leaders of the future.