Message from Dean Jeff Vahlbusch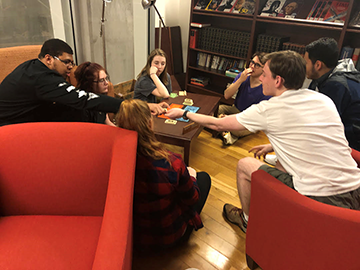 Dear Honors College students! (Departmental Honors students: please also read this whole message; there is an invitation for you below!)
Here is a task for you: please click on this link now (or very soon) for instructions, and then sign up for the Student Opportunity Center. Log on early and often.
The Student Opportunity Center is the largest available dynamic database of high-impact educational opportunities for undergraduates, and especially for Honors students:
research
funding
internships
study abroad
publishing and conference opportunities--and more!
So sign up, please, enter some keywords on your interests, and receive custom lists of opportunities to kickstart your life, career, further development. It's quick and it's free: the Honors College has purchased a subscription for each of you!
Do this even if you think you don't need further opportunities: because you never know...
Departmental and WCOB Honors students: if you send me your name and your email address, we'll get you signed up, too.
Yours,
Jeff
Click here for the full version of the latest Honors Wednesday Memo.
The photo above is from AHA!'s "Study Break" in the Honors Library featuring (from left to right) John Gibbs, Clarissa Duong Abigail Burchard, Seamus Aparicio, Miguel Rico, and Aeron McConnell on February 6, 2020. Photo by Rachael Kelly.
Upcoming Events
Welcome to the Honors College Announcement Center! Check back here frequently for updates on Honors College events, programs, and information. Current Honors College announcements are also posted live on the front office TV screen, so come by and see us! Visit the Upcoming Events Page for an archive of announcements from this current semester.
The Honors College at ASU!
The Honors College at Appalachian offers an enhanced intellectual experience for the most academically motivated students on campus, one that fosters independent and creative thinking, global engagement, and personal integrity. The Honors curriculum includes topically focused, interdisciplinary, and discussion-based seminars. It extends to a required international experience, and culminates in an Honors thesis as original research or a creative endeavor. Students in the Honors College are supported and challenged by a community of like-minded learners. From the Honors experience, students emerge as lifelong learners well prepared for post-graduate training—leaders of the future.