Message from Dean Vahlbusch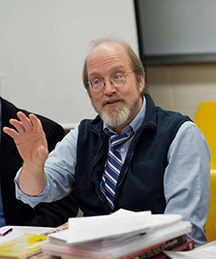 World-class Honors colleges are powered by collaboration — Honors students, Honors faculty, and Honors staff thinking and working together to create and nurture an Honors community and Honors opportunities for all, in the classroom and out of the classroom, on campus, in Boone, and beyond. The Honors College is something we create together, every day.
We in Honors are also full members of the university community, and therefore also owe that community our collaboration. As our new SGA Honors senator, Connor Hughes, reminds us in today's Wednesday Honors Memo, we in Honors have voices in these larger communities as well, and the chance to use them to make the Honors College and this extraordinary university more welcoming and just, more efficient and effective, more excellent!
Charles Dickens: "Everything that happens [...] shows beyond mistake that you can't shut out the world. That you are in it, to be of it; that you get into a false position the moment you try to sever yourself from it; that you must mingle with it, and make the best of it; and make the best of yourself into the bargain" (Letter to Wilkie Collins, 6 September 1858).
Click here to see the full Wednesday Memo for September 20, 2017.

Click here to read the message from Connor Hughes, Honors College SGA Senator.
Upcoming Events
Welcome to the Honors College Announcement Center! Check back here frequently for updates on Honors College events, programs, and information. Current Honors College announcements are also posted live on the front office TV screen, so come by and see us! Visit the Upcoming Events Page for an archive of announcements from this current semester.
The Honors College at ASU!
The Honors College at Appalachian offers an enhanced intellectual experience for the most academically motivated students on campus, one that fosters independent and creative thinking, global engagement, and personal integrity. The Honors curriculum includes topically focused, interdisciplinary, and discussion-based seminars. It extends to a required international experience, and culminates in an Honors thesis as original research or a creative endeavor. Students in the Honors College are supported and challenged by a community of like-minded learners. From the Honors experience, students emerge as lifelong learners well prepared for post-graduate training—leaders of the future.