Message from Dean Vahlbusch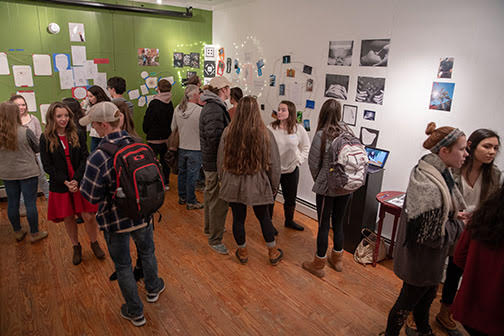 Dear Honors students, faculty, and friends,
Kicking Off Spring in Honors.
We're excited to welcome Honors students and faculty back to campus for the start of spring semester, and we wish all of you—and Honors education at Appalachian--a terrific 2019. We're all eager to get back to work on what we love.
Always Read the Memo
The Honors Wednesday Memo is the place to find opportunities and information especially curated for Honors College and departmental Honors students, and the place to discover ways to connect to fellow Honors students and faculty.\
Honors Events (this week and next)
Please join us for two upcoming Honors events. Cookies with Jeff is THIS Friday, January 18th, 3:00 – 5:00 p.m. in and Lunch with Honors is NEXT Wednesday, January 23rd, noon to 1:00 p.m. in Summit Hall's Fireside Lounge. For full details see the Stay in The Know section below.
Research and Study Abroad Support
Thanks to gifts by supporters of extraordinary character and generosity, both alumni and friends of Honors at Appalachian, we are able to offer a growing number of Honors College students financial support for some thesis research expenses and for studying abroad. Watch future Honors Wednesday Memos for details!
Pillar of Fame: K-Cup Donations
Let's celebrate and thank those good people who are keeping the Honors College in K-cups: Audrey Fessler, Rick Klima, Shari Blackburn, Lindsey Wise, Angela Mead, Brad Rentz!
Sincerely,
Jeff
Click here for the full Wednesday Memo for January 16, 2019.
Upcoming Events
Welcome to the Honors College Announcement Center! Check back here frequently for updates on Honors College events, programs, and information. Current Honors College announcements are also posted live on the front office TV screen, so come by and see us! Visit the Upcoming Events Page for an archive of announcements from this current semester.
The Honors College at ASU!
The Honors College at Appalachian offers an enhanced intellectual experience for the most academically motivated students on campus, one that fosters independent and creative thinking, global engagement, and personal integrity. The Honors curriculum includes topically focused, interdisciplinary, and discussion-based seminars. It extends to a required international experience, and culminates in an Honors thesis as original research or a creative endeavor. Students in the Honors College are supported and challenged by a community of like-minded learners. From the Honors experience, students emerge as lifelong learners well prepared for post-graduate training—leaders of the future.