Welcome from the Director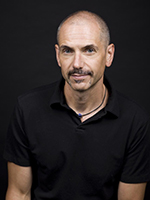 May, 2017
Welcome to The Honors College where we continue our commitment to providing our high-achieving students the opportunities to make the most of their higher education and Appalachian experience. This is a time of the year where we are both reflective, as we think of the students who have graduated, and looking to the future as we begin preparations for a new Honors freshman class.
Our students are enjoying some well-earned down time after spending the last several weeks defending and submitting their theses and preparing for final exams. It is wonderful seeing students come to the end of their thesis projects, which is often a culmination of years' worth of hard work, and I suggest you take a look at our Facebook page to see the recognition of these students and their accomplishments. To provide a diversion from studying, editing theses and preparing for defenses we enjoyed our reading day cookout that incorporated the AHA! pre-exam tension releasing group scream. We also provided regular diversions in the Honors library including coloring, snacks and bubble wrap! We enjoyed celebrating our graduating students at our Honors Graduation Ceremony. At the Graduation Ceremony we also recognized Dr. Dee Parks, who is retiring, for her Distinguished Service to Honors, Dr. Joe Gonzalez as Honors Teacher of the Year and Dr. Craig Caldwell as Honors Mentor of the Year. We said a lot of "goodbyes" and hope that those will always be in the context of "for now".
We are now busy preparing to the next academic year and looking forward to welcoming our freshman Honors students and our next class of 10 Chancellor's Scholars during orientation. We are also looking forward to welcoming Dr. Jefford Vahlbusch as the new Dean of the Honors College in July. Dr. Vahlbusch will be joining us from the University of Wisconsin – Eau Claire, where he served as the Director of the University Honors Program for eight years. We look forward to Dr. Vahlbusch bringing his wealth of experience in Honors education and vision to Appalachian State University.
I hope you will continue to check in to see what we are doing and where we are heading. As you explore our website I hope you discover more about us and the opportunities we provide for our students. We also encourage you to contact or to visit us to find out more about we can offer.
Finally, I would like to thank the students, faculty and staff of the Honors College as well as Academic Affairs and the wider Appalachian State University campus community for the opportunity and experience of working with all of you over the last year and a half. It was a privilege.
Sincerely,
Dr. Ted Zerucha
Interim Director, The Honors College
The Honors College at ASU!
The Honors College at Appalachian offers an enhanced intellectual experience for the most academically motivated students on campus, one that fosters independent and creative thinking, global engagement, and personal integrity. The Honors curriculum includes topically focused, interdisciplinary, and discussion-based seminars. It extends to a required international experience, and culminates in an Honors thesis as original research or a creative endeavor. Students in the Honors College are supported and challenged by a community of like-minded learners. From the Honors experience, students emerge as lifelong learners well prepared for post-graduate training—leaders of the future.
Announcements
Welcome to the Honors College Announcement Center! Check back here frequently for updates on Honors College events, programs, and information. Current Honors College announcements are also posted live on the front office TV screen, so come by and see us! Visit the Announcements Page for an archive of announcements from this current semester.