Message from Dean Vahlbusch
It's advising time! Here are a few tips for choosing an Honors course that is right for you:
How to Choose an Honors Course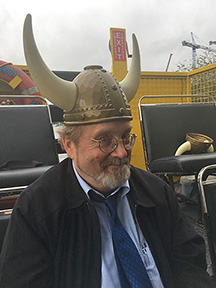 1. Honors strives to "do undergraduate education as well as it can be done" (Dr. Sam Schuman).
2. The center of all Honors education—far more important than perks, privileges, and credentialing—is courses. Therefore: choose well.
3. Your course choices at university are opportunities, decisions that give you chances to develop at high levels, and to set yourself apart.
4. Choose HON seminars and other Honors courses that will challenge you to stretch and grow—intellectually, personally, professionally—and to understand the world in different and diverse ways.
5. Never take an Honors course just to meet requirements, or just to earn perks. Choose courses that will meet requirements and take you to new and challenging places—in your mind and your skill set, in your experiences, in the world.
6. Honors is a great place to venture into areas you don't know, and to explore subjects you think you dislike or think you are not 'good' at.
"In learning," the great literary critic Austin Warren said, "only everything is enough."
7. Don't settle for less.
-Jeff
Click here to see the full Wednesday Memo for October 18th, 2017.
Upcoming Events
Welcome to the Honors College Announcement Center! Check back here frequently for updates on Honors College events, programs, and information. Current Honors College announcements are also posted live on the front office TV screen, so come by and see us! Visit the Upcoming Events Page for an archive of announcements from this current semester.
The Honors College at ASU!
The Honors College at Appalachian offers an enhanced intellectual experience for the most academically motivated students on campus, one that fosters independent and creative thinking, global engagement, and personal integrity. The Honors curriculum includes topically focused, interdisciplinary, and discussion-based seminars. It extends to a required international experience, and culminates in an Honors thesis as original research or a creative endeavor. Students in the Honors College are supported and challenged by a community of like-minded learners. From the Honors experience, students emerge as lifelong learners well prepared for post-graduate training—leaders of the future.