Honors alumna Anna Ruth Carmichael '19 is attending East Tennessee State University's Quillen College of Medicine. Carmichael graduated from Appalachian with both University Honors and departmental Honors in exercise science with a concentration in clinical exercise physiology. She completed her Honors thesis "Estrogen Effects on Cardiovascular Function" with Dr. Rebecca M. Kappus as her thesis director and Dr. Ted Zerucha as her second reader. Carmichael shared that it was her many Honors experiences including: discussion-based Honors College seminars, departmental honors science courses, hands-on experience in the medical field, researching and writing her Honors thesis, and direct involvement in the Honors College community, that led her to medical school.
Photos above feature Carmichael at the East Tennessee State University's Quillen College of Medicine's white coat ceremony held on July 16, 2021, the Friday after finishing her first week of medical school.
While in Honors at Appalachian, Carmichael was committed to gaining hands-on experience within the medical field. That is ultimately what drew her to medical school, but not until her senior year, well after she had explored all her options fully. She shared,
"I gained experience by working as a Certified Nursing Assistant in a nursing home and in the Intensive Care Unit (ICU) at Watauga Medical Center (WMC), which gave me exposure to the different roles in the medical field. I actually did not decide I wanted to go to medical school until spring break of my senior year where I had an aha! moment while shadowing an orthopedic surgeon at WMC. I remember going home from the operating room that day and ordering my MCAT study books that night. I took two years off after graduating in May 2019. The first year I took my second semester of organic chemistry, and studied for and took the MCAT. The second year I spent applying and interviewing at different medical schools. During that time, I also worked full-time as a Certified Clinical Medical Assistant at both AppOrtho and AppFamily Medicine."
Carmichael further explained that her experience in research and writing her Honors thesis as well as the leadership roles she had in the Honors College allowed her to build the relationships she needed to be successful. In the Honors community, she served as a member of the AHA! Executive Team and as the 2017 student undergraduate orientation leader (SOUL) for the Honors College. She reflected,
"I gained experience in research and scientific writing through my honors thesis. I was able to work closely and build relationships with mentors and my professors that I would not have if not for that experience. I also participated in leadership roles in the Appalachian Honors Association which was really great in building relationships with my fellow honors students. The other most impactful experience the Honors College gave me was being a SOUL for incoming honors students the summer of 2017. I worked closely with Honors College faculty, especially Dr. Mead, and gained amazing friends and mentors through working as a SOUL that summer."
As medical school applications are extremely competitive, Carmichael noted that being part of the Honors College helped her stand out from the other applicants. She stated,
"The classes I took as part of the Honors College enriched my academic career at App State. I took discussion-based classes with a small group of students that were engaging and thought provoking. I also had the opportunity to take some science classes as honors, particularly biochemistry. I would go to lecture with around 100 other students but would meet with the honors section of around five students regularly to discuss and present current research. That experience definitely helped prepare me for medical school by giving me skills to critically think about science research articles as well as confidence in my abilities as a scientist and student."
Carmichael encourages all current Honors students and especially those who are interested in pursuing medical school,
"To get involved! Medical School Admissions Staff, and all other graduate school admissions staff as well as employers, love interesting people and people who do things differently that set them apart. So do what you love to do, whether that be by working in the medical field like me, playing a sport or instrument, teaching, volunteering, etc. Study hard but get involved in things that enrich your life that you really enjoy and I promise you that passion will show through on any school/job application."
Carmichael's interest is in hands-on procedures so she is currently planning to go into a field of medicine that involves surgery. At the same time, she is keeping an open mind while being exposed to more fields during her preceptorships and clinical rotations.
Top photo shows Carmichael in her new white coat at the East Tennessee State University's Quillen College of Medicine's white coat ceremony held on July 16, 2021.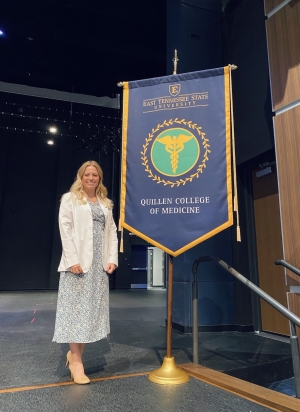 Tags: