Honors rising senior Caroline Shriver studied abroad this past spring semester in Angers France. Like most Honors students, Shriver has broad and varied interests that fall under a wide spectrum of disciplines. She is a psychology major with a social science concentration and minors in both French and criminal justice.
Of her study abroad experience, Shriver said,
"Thanks to the Honors College, I was able to study in Angers, France this past Spring which broadened my perspective on education, religion, politics, and culture. During my time, I lived in a single-room dormitory with other students that gave me the chance to fully assimilate into campus life by joining in on a 'potluck' each week where students from all over the world including: Korea, Ireland, and Romania gathered to meet and eat."
During her semester in Angers, Shriver's focus was on language development. From January to May, she took classes in French translation, grammar, and culture. All of those courses were taught in French!
"The most significant part of my experience was getting to meet other students from around the world that I would have never gotten the chance to meet had I chosen to study at any other institution at any other time. The city of Angers was the perfect place for me as it was a big city with a small town feel. The campus was located on the outskirts of the city center which provided me the freedom to immerse myself in the life of the locals but I only had to hop on a bus to reach town and Paris is a two hour train ride away! One of my favorite memories was in the first few weeks of school, I had to make a video with other students where we interviewed natives of Angers and then participated in a 'flash mob' dance on public transportation! Getting to work in a small group of international students whose only common language was French pushed me to be more confident in my ability to communicate and forced me out of my comfort zone," Shriver said.
Shriver plans to attend graduate school and pursue a career in behavioral analysis. She hopes to use the international connections she made in France this past semester to achieve those goals.
She said, "This international experience was central to my individual growth as an adult and my professional development. I developed long-lasting relationships with professors and students overseas that will help me with my future endeavors. I am extremely grateful that I was able to study overseas for a semester and I would encourage others to participate in a study abroad program at some point during their time at Appalachian!"
Top photo pictures Shriver in Angers, France. Photo submitted.
Story by: Garrett Alexandrea McDowell, Ph.D.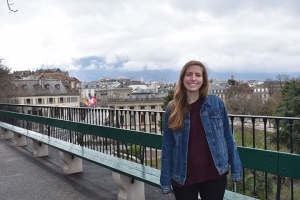 Tags: