This Fall semester Dr. Ray Miller, professor in the Department of Theatre and Dance has been teaching a junior level Honors seminar, HON 3515: Creativity: In Art, in Life, and in the World. The course description states,
"This course is an interdisciplinary and cross-cultural investigation into the nature of creativity as an individual, social, and cultural phenomenon. In addition to looking at the creative process as it is understood in the artistic and scientific disciplines, it also reviews how it is practiced in other fields of study from education and technology to the humanities and business. Finally, this course engages the student in experiential learning that can be applied to their own creative processes and to the specific domains or fields of interest to each student in the course."
As an example of the experiential learning that has taken place in the course, Dr. Miller took his Honors 3515 students to see and engage with the winners of the Rosen Outdoor Sculpture Competition & Exhibition. Dr. Miller explained,
"Creativity demands that we step out of habitual ways of seeing and engaging with the world in which we find ourselves. The exercises in walking through, looking at, touching, climbing in and through these sculptural pieces was designed to create an intellectual and kinesthetic experience that might open unexpected associations in the imaginations of the students involved."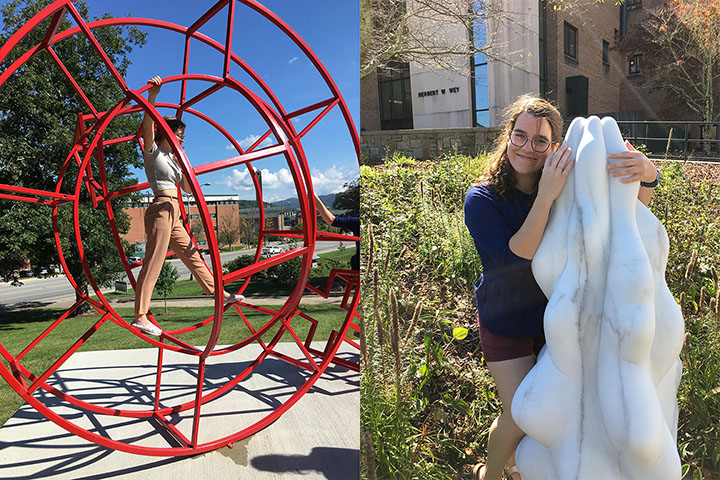 Photos above feature Honors junior Delaney Ryan (left) and Honors junior and Chancellor's Scholar Mariah Reneau (right); both are taking the Creativity seminar and went on the class excursion. Photos by Hali Miller.
The Turchin Center for the Visual Arts website describes the Rosen exhibition as follows:
The Rosen Outdoor Sculpture Competition & Exhibition is a national juried competition presented annually by the Turchin Center for the Visual Arts on the campus of Appalachian State University in Boone, North Carolina. Made possible by the generosity of longtime arts supporters Martin and Doris Rosen, this national, juried competition continues a long-held tradition of showcasing the best of large-scale, contemporary American sculpture. Each year, ten sculptures are selected for exhibition, and are situated in outdoor, public settings across campus. A cash prize is awarded to the artist whose work is chosen as that year's Rosen Award winner.
On their visit group met Craig Dillenbeck, Installation Manager and Lead Preparator with the Turchin Center. As the person responsible for installing the pieces, Dillenbeck guided the group through the exhibit. They discussed the sculpture pieces, the environmental considerations in choosing where they were to be located, and other ideas regarding how to engage with art.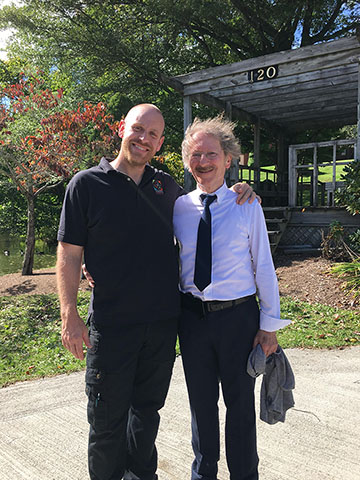 Photo above features Craig Dellenbeck (left) with Ray Miller (right) on the day of the class visit. Photo by Hali Miller.
The class enjoyed beautiful fall weather in Boone, and benefitted tremendously from the hands-on learning experience.
Top photo of Honors juniors, students in the course (left to right): Kate Hoyle, Delany Ryan, and Mariah Reneau. Photos by Hali Miller.
Story by Garrett Alexandrea McDowell, Ph.D.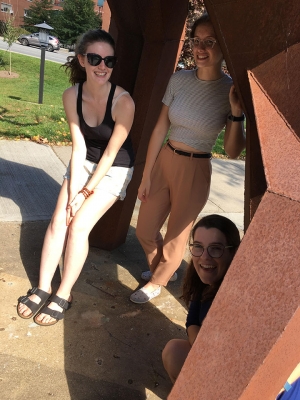 Tags: