Honors Rebecca Long '16 has teamed up with Dr. Albert Stabler, assistant professor of art education, to develop Able-achian—a creative project raising awareness around disabilities and disability resources on campus. All interested are welcomed and encouraged to attend the information meeting on Monday, October 21st at 7pm in Wey Hall Room 202. More information and a survey can be found here. You can also find Able-achian on Facebook and Twitter.
As a student in the Honors College, Long double majored in anthropology and art, and completed departmental honors in both majors. For their thesis, Seeing India: A Hyperreal Yoga Fantasy, they worked with mentor, Dr. Dana Powell, associate professor of anthropology. Since graduating from Honors at Appalachian, Rebecca has been pursuing a Master of Arts in Appalachian Studies and is working as a graduate assistant in the Gender, Women, and Sexuality Studies program in the Department of Interdisciplinary Studies.
Dr. Stabler is teaching an Honors seminar—HON 3515.104: With the Best Intentions: Education in the Name of Cultural Uplift —this fall semester. That course description reads:
"Over the last two centuries, European-derived ideas of education have been a means of controlling and pacifying colonized and marginalized groups in (and beyond) the U.S., among them indigenous people, Blacks, women, orphans, and the white savages of Appalachia. This course will draw on texts and visual representations from a range of disciplines to show how, even before the widespread American dissemination of Darwinism, analogies between species evolution, human development, and cultural hierarchy partook in a sentimental ethos linked to white supremacy, and how these historic connections have echoes in contemporary practices of education and philanthropy."
Click here to read more about the Able-achian project in a story by Honors senior and Chancellor's Scholar, Hayley Canal, in The Appalachian. Canal is a staffer for The Appalachian, double majoring in sustainable development and communication: journalism.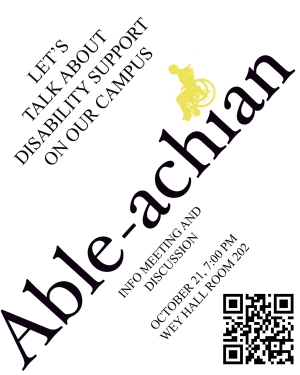 Tags: