The Honors College is excited to welcome Sydney McDonald to her new role as the assistant editor of the Honors Wednesday Memo (HWM). McDonald has been serving in this new role, primarily responsible for managing social media, since August 15, 2023. McDonald is a sophomore double majoring in psychology and gender, women's, and sexuality studies. She primarily works with Kistler Hunt, editor of the HWM, and Dr. Garrett McDowell, Honors academic mentor and communications liaison for the Honors College.
McDonald stepped-up to volunteer in the Honors College immediately in her first semester at App State. She developed and serves as the director of the Honors Peer Mentoring program, which pairs incoming Honors students with upperclassmen as a way for them to engage with and find support of other Honors students. She has continued to branch-out and grow her involvement over the past year, becoming a true leader for the Honors College. She began serving as member of the Honors College Vanguard in the Spring semester of 2023, and has blossomed in her ability to promote the college and welcome prospective Honors students. McDonald worked as the office assistant in the Honors College over the summer of 2023. In that role, she represented the college in the front office, and supported incoming first-year Honors students during Summer Orientation.
In her new role as the assistant editor of the HWM, McDonald will primarily be responsible for representing and promoting the Honors College through its social media presence. She will also assist in writing and editing news stories for the Honors College. Explaining her new role, McDonald remarked, "My position will demonstrate my commitment to not only the Honors College but the growth of our community. It's my hope that this commitment, combined with my leadership skills, will ultimately give way to support me in my future academic and professional goals."
Despite McDonald's short time as a student in the Honors College, she explained how her involvement in the Honors College prepared her for and led to her new role. She shared,
"Through being a part of the Honors College, I've both gained and improved on a lot of my communication skills, leadership skills, and public speaking skills. Whether it was through my participation in the Honors Vanguard, working with Honors staff, or speaking one-on-one with Dean Vahlbusch prior to his retirement, I feel as though my skills and talents have been nurtured at all angles to prepare me for this role."
McDonald's goals in her new position as assistant editor of the HWM are to build a sense of unity and collegiality within the Honors College. By creating content for the Honors College social media pages and writing news stories for the Honors College, she strives to "bridge the gap between incoming and current Honors students." By bringing in a variety of perspectives from students across different years, she also aims to "encourage students to share ideas, and perspectives, continuing to lift each other up as we so commonly do here at the Honors College."
With enthusiasm, the Honors College welcomes McDonald's energy. We encourage the engagement she models from all students. Stay tuned to the Honors College Instagram, Facebook pages, and HWM for more from Sydney McDonald and to learn how you can get involved. We can't wait to see how her work continues to drive engagement within the Honors College community!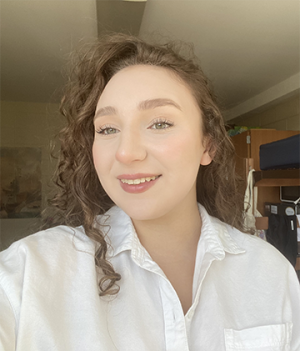 Tags: