Honor's Nicole Jansen displayed her capstone project entitled "Dissimulation" in the BFA graphic design show "Chew on it" from October 16 through November 2, 2018. Jansen described her project as an
"exploration of the duality on social media and how people have the tendency to post things on social media that may not be telling of their actual current physical, mental, or emotional state."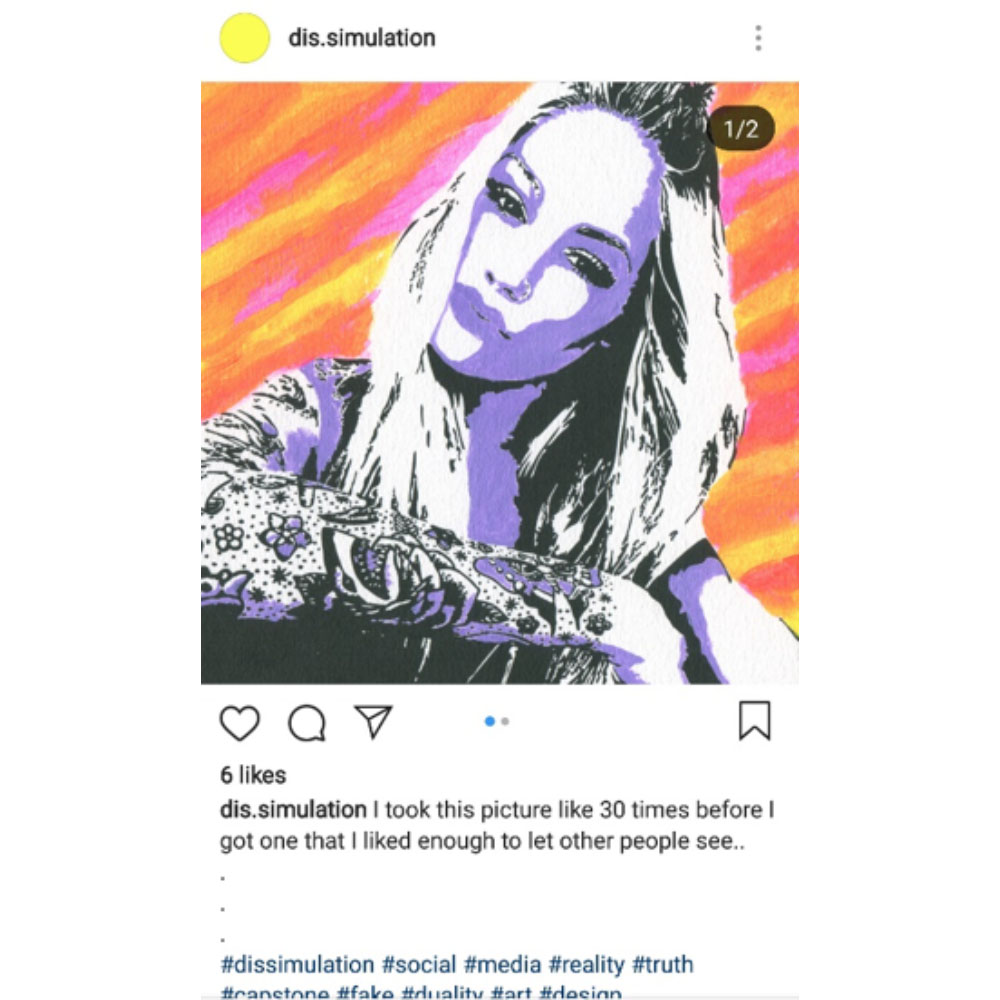 The official description of the project when it was on display during the exhibition explained further:
"Dissimulation explores the way that Instagram encourages us to produce images that reduce complex, multi-dimensional people into flattened, picture perfect personalities. It is no secret that social media has created an environment where people feel pressure to portray themselves idealistically. This idealization further adds to negative pressure that shapes how we view ourselves, how we view others, and how we interact with one another. By using the acrylic forms to cover actual Instagram images, visitors can temporarily reduce the visual noise that so often distracts us from the fact that the individuals portrayed are real people with real and complex emotions."
Niccole said that the most difficult part of difficult part of the project was
"…figuring out how to translate all of the discussions and research surrounding the project into a cohesive visual form that could also be installed into a gallery setting. This was my first time creating a project that was meant to exist in a gallery, and it was more difficult than I expected. There was also a long period of time where we had done all of this research about the narratives that people tell on social media and how social media affects one's mental state, but we were unsure about how to turn it into a design project that people would care about. The idea that everyone, at one point or another, has posted something on social media that was different from their current reality is such a widespread and common issue. We knew that nothing we created about this topic would be able to change someone's mind about how they act and interact with others on social media. However, we hoped that through making this work, we would be able to make people stop and think about what they post and bring them back to an awareness that with every picture you see on social media, there is a real person with real and complex emotions behind it."
Nicole plans to begin work on two new projects in the remainder of the semester. She described,
"One is a branding and identity project for the on-campus Food Pantry and Free Store, located in the bottom of East Hall. The other will be more of an interactive installation in How Space that focuses on lights, color, and community interaction to inspire movement. "
In addition, Nicole continues to work as a student employee designing promotional materials for the Honors College. After graduating in the spring, Niccole will be working at Pathos Ethos, a web development and design firm in Durham, North Carolina.
Images of Nicole's design work displayed here have been pulled from her Instagram page.
You can view Nicole's project on Instagram by searching @dis.simulation
Story by Brad Rentz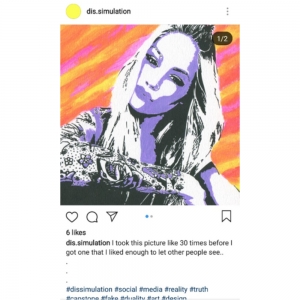 Tags: