Honors senior and Wilson's Scholar Annie Manges spent September 4 through December 17, 2021 in the bustling capital of Kampala, Uganda participating in the School for International Training (SIT) Uganda: Global Development Studies program. While abroad for the semester, Manges engaged in various excursions to the rural regions within Uganda: Jinja, Kapchorwa, Bududa, Gulu, Entebbe, and Bwindi Impenetrable Forest. Manges majors in global studies with a concentration in international economic studies and minors in sustainable development and French. The Uganda program focused on global development studies, her area of research interest, on which all of her courses focused.
In the summer of 2019, Manges also completed a study abroad to Paris, France, where she took six semester hours of language and culture coursework for her French minor. She explained, "I was drawn to this program in Uganda for two main reasons. The first being I really wanted to study abroad somewhere completely new and different from my own culture. I wanted something other than the typical summer in Europe. I also already had an interest in Africa because I think it is truly valuable to study post-colonial development work somewhere that has a history of colonization."
Photos above show gorillas in the Bwindi Impenetrable National Park. Manges shared, "By far the coolest thing I have ever done in my life was gorilla tracking. There are only 1000 mountain gorillas left in existence, and seeing them is a huge deal. They are only in this region. I saw a silverback, and a few moms with their babies. It was truly amazing." Photo by Annie Manges.
The SIT Uganda: Global Development Studies program included a month-long internship or independent study. Manges selected the independent study in order to have the opportunity to conduct her own research. She designed and studied her project titled, "Community Based Organizations (CBOs) as a Tool for Sustainable Community Development: the Case in Kapchorwa." The research component proved to be one of the most valuable outcomes of her experience. She shared,
"I went to Kapchorwa, Uganda, alone for a month, and interviewed local villagers and community members, many of whom were doing some truly influential work that had changed the lives of their fellow community members. It was such a valuable experience to be able to lead and conduct my own research, and in another country. Through the research, I was able to grow my professional and academic skills more than I ever thought possible in a single semester. I was alone, locating groups and individuals to interview, hiring translators, getting transportation, doing cultural training for the interview sessions, etc. It really was a huge growth moment to do all of this in a foreign country, and I learned so much from it."
Photo above features Manges with her translator-turned-friend, Faith, hiking at Sipi Falls located in Kapchorwa, where she did research. She stated, "It's probably one of the most beautiful places I've ever been." Photo submitted.
After returning to campus, Manges continues to work on the research project she began in Uganda. She aims to incorporate her Uganda study into her Honors thesis with support from Dr. Brian Burke, assistant professor in the Goodnight Family Department of Sustainable Development at App State, as her thesis director, and Dr. Charlotte Mafumbo, academic director of the SIT Uganda: Global Development Studies program, as her second reader. She reflected,
"Beyond this single experience, I also learned so much about the world and what I personally believe about development work. I came away from this experience having learned that Africa doesn't really need or want American development studies students to come in and instate western methods of development. They've got it covered. It was truly an honor to learn from the Ugandans I worked with, and I cannot express how valuable it was."
Although the COVID-19 pandemic did have an impact on her study abroad experience, Manges explained that she is grateful to have been able to still participate and stay healthy throughout. She said, "Due to COVID there were only six students on the whole program, and we were not able to do home stays nor have classes with Ugandan students, which are both things that the program typically does. This really did affect the program. We were all pretty lonely, and we didn't get to meet many Ugandans or make friends. However, we were lucky that Uganda and SIT take Covid so seriously; we didn't have a Covid scare a single time!"
Photo above shows Annie Manges presenting virtually from Uganda at the App State 2021 Global Symposium organized by the Office of International Education and Development. Photo by Dr. Heather Waldroup.
Manges offered advice to fellow Honors students considering study abroad,
"Do it! No questions asked. College is the easiest time for most people to be able to go abroad. There are so many scholarships available, both through App and through the programs. Just apply! Really push yourself on the location. Go somewhere for the learning experience, not for the partying. Find a program that is a specialty, or that has research or internship opportunities. Finding something that will really hone in on your specific academic goals is so valuable."
Top photo shows Annie Manges with her study abroad group visiting the Murchison Falls National Park, where she did safari. She discovered, "I LOVE giraffes, and they're actually really wrinkly when you get up close!" Photo submitted.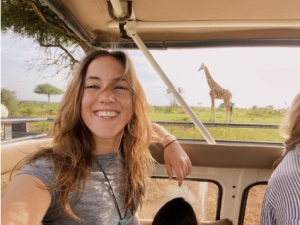 Tags: