If you have ever scheduled a tutoring appointment through University Tutoring Services (UTS), then you know that they are a great, devoted, and helpful resource. Tutors challenge you to do your best as well as serve as guides for your work to help you understand the concepts and compete your work. Currently, there are 26 Honors students who work in the Student Learning Center's Tutoring program, for the 2018-2019 academic year, helping students through tough coursework and challenging concepts. These include: Janet Brock, Jordan Carter, Logan Curtis-Warner, Allison Farrell, Ethan Finlay, Caroline Guthrie, Jessie Hatcher, Andrew Howard, Catherine Lattimore, Karoly Majtenyi, Jesse Mazza, Andy Mendoza, Abigail Miles, Fahiima Mohamed, Lauren Morris, Andi Olivet, Caroline Piephoff, Julianna Roupas, Nelson Russ, James Sanford, David Scola, Dakota Sweet, Elizabeth Vaughan, Hannah Vrooman, Ivy Wagner, and Preston Wilson.
Click here to watch a video introduction to UTS tutors including Honors students like Julianna Roupas who "Speak Their Mind(s)" about Honors and tutoring.
When asked what it is like to be in Honors and to be a tutor, Roupas replied "As an Honors student, you are constantly encouraged to think DEEPER; therefore, when presented with a difficult topic that is in need of clarification, the critical thinking skills developed through Honors courses makes it easier to produce a clear, concise response that will actually be of benefit to the student." Similarly, Honors' Allison Farrell shared that "The Honors college has helped me be a great tutor and reach opportunities I didn't know existed. The leadership skills and enrichment provided by the Honors College have helped me in more ways than I could have imagined!"
These students reportedly love their time both in Honors and UTS. They especially value being able to help other students. Roupas stated, "seeing a student learn to love the subject they originally struggled with because of my extra assistance. In other words, when a student returns to the tutoring center BEAMING after making a great grade on a test that they were originally uncertain of, I am immediately overjoyed. Moreover, they are not only excited about their test grade, but they are eager to learn more about the new material they have been given: the eagerness to learn is really what gives me fulfillment."
Honors Andi Olivet mentioned that the community within the tutoring services is, for her, the best part of working at UTS. She stated "The best part of being a tutor is the fun-loving community that has formed in D.D. Dougherty, both between students and colleagues. I have formed many personal relationships with students I have tutored following the semester, and still stop to say hi and chat all the time. The tutors and lab managers I get to work with at UTS have become some of my very best friends on campus. UTS Director, Lee Cope, has also become such a strong mentor figure for me in my life, which is irreplaceable."
Olivet also praises the environment that UTS facilitates for its student workers. UTS offers "flexible hours, $8 pay rate starting with opportunities for raises, and professional development opportunities." Honors Students interested in working with UTS are encouraged to visit their website to learn more about how they can get involved and grow personally and professionally while assisting fellow students simultaneously.
Top photo features Honors Andi Olivet (left) and Juliana Roupas (right) as clipped from the UTS Lab Managers Interview video on YouTube.
Story by: Brad Rentz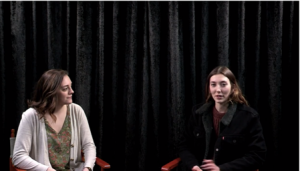 Tags: