Honors College graduating senior and history major Matthew Streets has been awarded a full-tuition fellowship to the Center for the Study of Southern Culture at the University of Mississippi. Beginning this fall, Streets will begin work on his Master of Arts in Southern Studies at Ole Miss. Streets has just graduated from Honors at Appalachian with his Bachelor of Arts in History and minors in Spanish, Africana Studies, and Southern Studies.
For his Honors thesis "The Deacons are Somewhere Nearby": How Bogalusa's Deacons Bolstered the Civil Rights Movement, Streets worked with Dr. Louis Gallien, professor of educational leadership and Honors College faculty member. Dr. Tony Carey, professor of history, served as his second reader. For his thesis project, Streets conducted fieldwork in New Orleans, Louisiana, for five-days over spring break this Spring 2020 semester. During his time there, he researched the Bogalusa Chapter of the Deacons for Defense and Justice. He spent time at Tulane University's Amistad Research Center, the New Orleans Public Library, and the Williams Research Center gathering primary and secondary sources. Each of these locations provided vital resources for the development of his thesis. As he explained,
"Dr. Gwendolyn Midlo Hall's notes on the Deacons' structure and organization (found at Amistad Research Center) provided context for my analysis of the relationship between the group and national media, and I accessed valuable newspaper articles at the New Orleans Public Library."
During his time in New Orleans, Streets gained experience with the diverse and multifaceted culture of the city. He described,
"I took advantage of my hotel's close proximity to New Orleans' historically African American and Creole neighborhood, Treme, and visited Congo Square. I ate delicious local food, and spent an evening wandering the streets of New Orleans' second oldest neighborhood, Algiers. I encountered and embraced previously unfamiliar situations, cuisine, and cultural influences."
Streets' travel to New Orleans and research were made possible by $1,000 of support from the Honors College research fund. He reflects,
"I am thankful for this opportunity to grow as an academic and person."
We look forward to hearing more about Streets' future endeavors and growth beginning at Ole Miss this fall. Congratulations, Matthew, and keep us posted!
Top photo features Matthew Streets in New Orleans in March 2020 while conducting his Honors thesis research.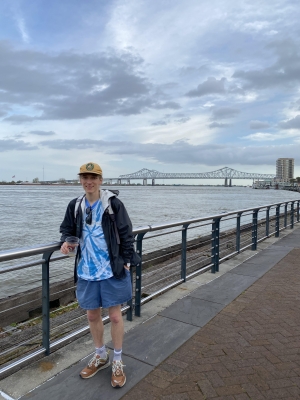 Tags: