Honors seniors Patrick Fraught and Rose Rossell traveled to Washington, D.C. December 10-14, 2018 to present at the American Geophysical Union (AGU) Fall Meetings held at the Walter E. Washington Convention Center. The AGU conference is an international meeting of the physical sciences including chemistry, physics, geology and many more.
Rossell and Faught, both chemistry majors, together presented their research, Relationships Between Biogenic and Aromatic Volatile Organic Compounds and Phytoplankton Communities in the North Atlantic Ocean. That research is directly related to Rossell's Honors thesis.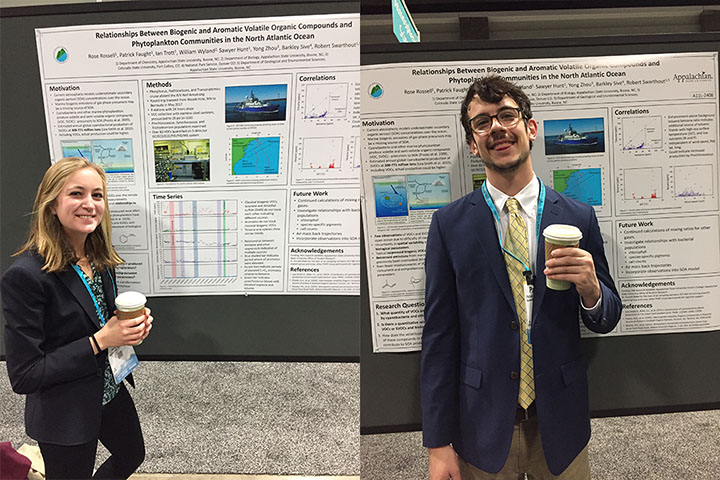 Above photos feature Rossell (left) and Faught (right) in front of their research poster at the AGU Fall Meeting in D.C. Photos submitted.
Of her experience presenting at this conference, Rossell stated,
"It was an incredible experience; we were able to present our research, make connections and network for future jobs and graduate schools, and got to hear other researchers talk about their work."
Fraught and Rossell are both working in the research lab, and in their Honors theses directed by Dr. Robert Swarthout, assistant professor in the Department of Chemistry at Appalachian State University. With the support and mentorship of Dr. Swarthout Fraught abnd Rossell were accepted to the conference and invited to present their research.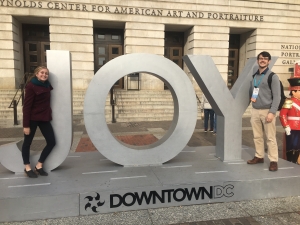 Tags: