Honors College senior Sabrina Hess presented her paper, "Robinson Crusoe Crusades Against Traditional Ideas of Heroism," at the North Carolina Honors Association (NCHA) conference, held virtually on Friday, September 30th and Saturday, October 1st, 2022. The conference was hosted by the University of North Carolina at Greensboro. This was Hess's first presentation at a conference, and she shared that it was a fantastic opportunity:
"This experience opened my eyes to the wonderful research that honors students are partaking in across North Carolina. Furthermore, this experience gave me the opportunity to practice presenting my own research! […] This was such an impactful and meaningful experience, and I'm eternally grateful to the Honors College at Appalachian State, as well as the North Carolina Honors Association, for granting me this opportunity! [...] I loved participating in the Q&A session after my presentation because it allowed me to think more deeply about my work and challenged me to think of my research in new and different ways. I also loved getting to hear the other panelists speak on their research and work; getting to meet and listen to so many different honors students from across North Carolina speak passionately about their research was an experience I'll never forget!"
Photo above features Sabrina Hess presenting her paper titled, "Robinson Crusoe Crusades Against Traditional Ideas of Heroism," at the North Carolina Honors Association conference, held virtually on Saturday, October 1st. Photo submitted.
Hess is majoring in English with a concentration in Literary Studies and is minoring in Classical and Mediterranean Civilizations. She is in her third year at App State and plans to graduate in May of 2023. Hess's presentation at the 2022 NCHA conference built on a research paper she wrote for a 4000-level literature course she took in the Spring 2022 semester, titled Topics in World Literature, taught by Dr. Anna Muenchrath, visiting assistant professor in the Department of English. Hess explains, "In Daniel Defoe's 1719 novel Robinson Crusoe, the eponymous character is shipwrecked on an isolated island for 28 years. Throughout the novel, Crusoe must navigate farming on unfamiliar terrain, allying with prisoners of uncertain loyalties, and other harrowing obstacles, just to survive. The story is a lot like the 2015 movie The Martian, except it takes place on an island instead of on Mars. The character of Robinson Crusoe pushes against the traditional ideas of heroism seen in ancient western mythology by broadening upon who, when, and how a person can be a hero, which can inspire us today to unlock our innate potential to be heroic in our everyday lives."
Hess elaborated further on her presentation experience, sharing, "As I prepared for the presentation and was looking back on the paper I had written last spring, I found myself improving and strengthening my argument and ideas due to the nature of conference presenting. I had to pare down what had been a 13-page research paper into a 12-minute oral presentation, and having the opportunity to pare down and condense my research gave me a lot of great practice in what goes into conference presenting. Further, paring down the paper challenged me to be even more clear and concise in my ideas and arguments, which pushed me to think more thoughtfully and carefully about my research. Before the conference, I met with the professor I had originally written the research paper for, Dr. Muenchrath, and she gave me a lot of wonderful, insightful advice on conference presenting. I also turned to my honors advisor, Dr. Waldroup, for advice on conference presenting, and she was a great help as well! In fact, Dr. Waldroup even attended my presentation! Everyone at the conference was so supportive and kind, and the laidback, welcoming atmosphere of the conference immediately put me at ease."
Hess aspires to be an English professor one day and is currently applying to graduate programs with hopes to begin her Master of Arts in the Fall of 2023. The opportunity to present at a conference is excellent professional development. We in the Honors College encourage all of our students to present at conferences, especially at the annual NCHA and the Southern Regional Honors Council (SRHC) meetings.
Top photo of Sabrina Hess. Photo submitted.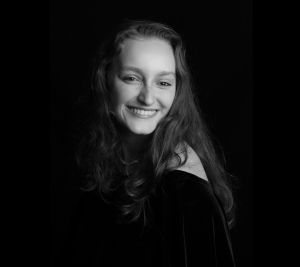 Tags: