Two Honors students, both Appalachian Student Ambassadors and exercise science majors , have been awarded highly competitive summer medical internships. Junior Megan Campany is headed to the University of Nebraska Medical Center (UNMC) in Omaha, and Austin Lubkeman is headed to the School of Medicine at Vanderbilt University in Nashville, both for research internships. The Appalachian Student Ambassadors are a selective group of 50 undergraduate students who serve Appalachian State University as student representatives for the Office of Admissions, the Alumni Association and the Office of the Chancellor.
Campany has been awarded an internal medicine research internship with the Summer Undergraduate Research Program (SURP) at UNMC. She will be working under Dr. Bryant England, Assistant professor, UNMC Department of Internal Medicine, Division of Rheumatology and Immunology. Over ten weeks with SURP, Megan will complete a research project studying the application of tumor marker PDL-1 for lung cancer in those with rheumatoid arthritis. She plans to complete and present this project at the medical resident scholars day in August. She will also be participating in a secondary Alcohol Research Program focusing on the impact of alcohol and resistance in the field of Internal Medicine.
Lubkeman has been awarded an internship with Vanderbilt's Undergraduate Clinical Research Internship Program (CRIP). This summer with UCRIP, Lubkeman will have the opportunity to participate in research and clinical patient care working under the direction of Drs. Etoi Garrison and Rolanda Lister in the Department of Obstetrics and Gynecology. He will be conducting research on "Intrauterine Programming of Diabetes Induced Placental Vascular Dysmorphology," studying how maternal diabetes affects vascular morphology in the placenta. In addition, he will also benefit from seminars and discussion based sessions on a variety of healthcare topics.
Both Campany and Lubkeman have been working in Appalachian State University's Vascular Biology and Autonomic Studies Laboratory under the direction and mentorship of Dr. Scott Collier. In February of this year, both presented their current research at the Southeast American College of Sports Medicine conference in Chattanooga, TN. Campany presented, "Investigation of Sex Differences Between Nokia Body Cardio and Sphygmocor Applanation Tonometry," and Lubkeman, "A Comparison of Nokia Pulse Wave Velocity Scale Verses Gold Standard Applanation Tonometry in a Young Healthy Population."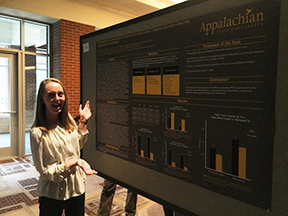 Campany (above) and Lubkeman (below) at the Southeast American College of Sports Medicine conference in Chattanooga, TN . Photos submitted.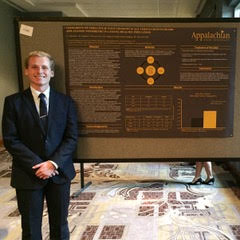 Both Campany and Lubkeman credit their training and success to their experience in Dr. Collier's lab.
"The opportunities that I have had within the Department of Health and Exercise Science have provided hands-on, unique experiences with cutting-edge diagnostic equipment that has not only prepared me for the experiences I will undertake this summer, but those that I will have throughout my time in the medical field," Campany said.
"This laboratory has given me the opportunity to work with state-of-the-art equipment and also reinforce classroom concepts that can't be grasped with text and lectures. This has enabled the development of the skills necessary to be successful within my internship at Vanderbilt University," Lubkeman said.
Congratulations to these two Honors students on these awards. We look forward to learning what they gain from these summer research experiences once they return to App in the fall!
Story by: Garrett Alexandrea McDowell, Ph.D.
Tags: