Alumni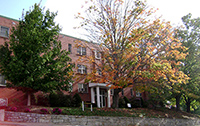 We are glad you have stopped by the website, and we hope that you come see us in Boone soon, as well. You can always drop by our current offices located in Appalachian Hall in the Brad and Carole Wilson Honors and Engagement Community.
Coffey Hall (1953 - 2010)
Coffey Hall housed the Honors Program at Appalachian until 2004 and provided years of wonderful memories for many of our alumni.
Obtain a part of Coffey Hall and help build lasting memories and experiences for our Honors Students!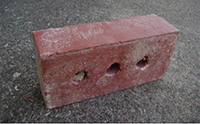 In June 2010, Coffey Hall demolition began to make way for the new Honors and Engagement Village, where our current Honors Students are creating new lifelong friendships and memories. During construction, The Honors College was able to acquire a limited number of bricks of Coffey Hall and would like to offer one to any donor who makes a $100 or more donation to The Honors College.
If you would like this keepsake of your time in Coffey Hall, please email The Honors College regarding your donation, and note "Coffey Hall Brick" in the subject line. We have a limited number of Coffey Hall bricks, so email us now! As always, we thank you for your generosity and support for The Honors College.
We would love to hear from you!
We want to continue to enrich the experience of the students in The Honors College today by adding your stories and career connections. Drop us a line to let us know what you are doing these days, and we'll be sure to let you know when there are events in Boone or your neighborhood that might interest you!
Join the Career Information Network: Career Services has created a Career Information Network that we hope you will join so that our students, your academic heirs, can learn more about you, what you do, and the wonderful professional opportunities out there.
Contact an Alum: The easiest way to find another ASU alumnus/a is to use the Goldbook (found at http://www.alumniconnections.com/olc/pub/APP/). There are many other useful services for alumni as well that can be found through the Appalachian Alumni Association homepage at http://www.alumni.appstate.edu/ — and we are here if you have questions as well; just drop us an email (honors@appstate.edu) or give us a call (828.262.2083).
The Honors College is now on Facebook: Click here to see our profile!