Honors Spring 2020 graduate Shoushou "Sophia" Yang has been accepted to the class of 2024 Harvard School of Dental Medicine. Yang double majored in chemistry and exercise science with a minor in biology. Click here to watch Yang tell her story in a video created for the College of Arts and Science's Spring 2020 Commencement.
Shoushou "Sophia" Yang is from Beijing, China and moved to Asheville, N.C. alone for boarding high school at the age of 15 to pursue a better education. As she shares,
"I told myself that it would take a miracle to improve my English enough in less than two months to be accepted to an American high school. I spent my summer dedicated to countless reading and listening exercises. A year later I stepped out of the taxi onto the beautiful campus of a boarding school in Ashville, North Carolina, with only two suitcases of belongings, no relatives, and no friends. That was my first time in North Carolina and that was the first time I witnessed the possibility of creating your own miracles. I thought I got lucky. Not knowing that I would go on to see many more miracles come true."
In Honors at Appalachian, Yang served in the Honors College Vanguard. As reported on the College of Arts and Sciences commencement website, "Appalachian is the place where she found her passion in dentistry through her service experience with six nonprofit community clinics providing free dental services to the public. Sophia volunteered at the local hospital, the Hospitality House, a nonprofit restaurant and an ASE trip through the ACT office. She was the president of dental club and lead service trips to share her empowering experience. Sophia's favorite aspect of service is meeting other compassionate students who are equally passionate about helping others." To learn more, click here to read Yang's full biography from the CAS 2020 Commencement website.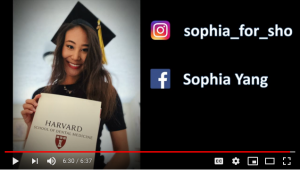 Tags: