Check out this video, Anyone Can Dance!: giving dance to the heart of the high country, by Honors junior Rachael Anne Kelley, who is majoring in English and minoring in non-profit organizations, and new media and digital cultures. Her video features Emily Sharpe, an Honors junior and elementary education major who has created Anyone Can Dance! (ACD!), a pay-what-you-can dance program for the community in Boone. In this video, Sharpe tells the story of how the Honors College service-learning experience during welcome week in August 2017 led her to establish this community accessible dance program. In addition to Sharpe and Kelly, three Honors students are working as assistant teachers with Anyone Can Dance! They include: first-year students Laura Katherine (Katie) Ballard, a dance studies major, and Katherine (Katie) Bruce, a communication sciences and disorders major, as well as sophomore Madeline (Maddie) Clark, a history major.
Click here to read an Honors College news story about how Sharpe founded this program in the spring of 2018 as a first-year student.
Click here to read a story about Sharpe and this program from the High Country Press on August 15, 2018.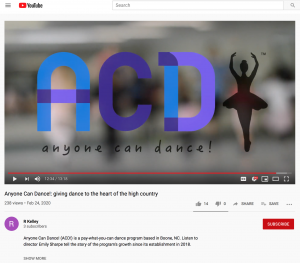 Tags: