The Honors College awarded Dr. Stephanie Smith Thomas '10 the 2022-23 Distinguished Alumni Award at the University's 2023 Alumni Awards Gala, held in the Grandview Ballroom on July 15, 2023. The Honors College presents the Distinguished Alumni Award to a former student in the College who has made a lasting impact on society and the university through their outstanding professional, philanthropic and volunteer accomplishments.
In 2010, Dr. Thomas earned a bachelor's degree in psychology with a minor in sociology, earning University and Department of Psychology Honors from App State. She was member of the Honors College Vanguard, president of AHA! (Appalachian Honors Association), and a member of Psi Chi (the national honor society in psychology). For her senior Honors thesis, Now you feel it, now you don't: Regret in real-life and hypothetical situations, she worked with Dr. Todd McElroy, associate professor in the Department of Psychology.
Dr. Thomas went on to earn her master's degree and doctorate in experimental social psychology at Ohio University with a doctoral dissertation titled Implicit theories of intelligence as a moderator of the relationship between experience-taking and performance (2017). After completing her doctorate, Dr. Thomas became a tenure-track faculty member in psychological sciences at LaGrange College in LaGrange, Georgia, working especially to develop an innovative program where every graduating senior completes a senior thesis project.
In 2021, Dr. Thomas became a User Experience (UX) researcher at TIAA in Charlotte, where she conducts research with participants, plan sponsors, associates and the general population. She uses her background in psychological research to inform design decisions and keep TIAA's clients at the forefront. Stephanie also serves TIAA as the metrics lead for the Young Professionals BRG, head of the Quality of Experience (QX) metric and is a core member of their new Behavioral Science Research Team.
To read more about Dr. Thomas and the University's Alumni Association's 2023 Alumni Awards Gala, click here to read the story by Brian Miller and Megan Bruffy.
Top photo features Dr. Stephanie Smith Thomas '10 (right), the 2023 Honors College Distinguished Alumni Award recipient, with Dr. Vicky Klima (left), interim dean of the Honors College at the 2023 Alumni Awards Gala, held in the Grandview Ballroom on July 15. Photo by Chase Reynolds.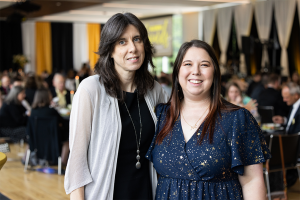 Tags: