Honors College senior Dy'Quan Kearney has been awarded the 2022-23 George Williams Garrett Memorial Scholarship. Kearney reflected on winning the scholarship: "I know this scholarship is just one step in my future. I plan to work just as hard, if not harder, to ensure that selecting me was no mistake." Kearney majors in cellular/molecular biology with a minor in chemistry. He is working with Dr. Andrew Bellemer, associate professor in the Department of Biology, as his research mentor and thesis director. Dr. Bellemer shared, "Dy'Quan is a talented undergraduate scholar. His project arises from his own interest in pain and anesthesiology, and I think that the training he is receiving here at Appalachian is going to prepare him well for further training in medicine."
Kearney has received this scholarship in support of his Honors thesis research, which is tentatively titled, "Identifying the Role of Insulin Signaling in Thermal Nociception." Dr. Bellemer explained,
"He will be using Drosophila melanogaster as a simple experimental model to understand the cellular and molecular changes that occur in sensory neurons during conditions such as diabetes and that can lead to issues such as neuropathy and chronic pain. It is an incredibly important set of research questions because chronic pain affects so many people and our current therapeutic options are often limited."
Kearney has already presented on part of his thesis research at the State of North Carolina Undergraduate Research and Creativity Symposium (SNCURCS) held on December 3, 2022 at the University of North Carolina Wilmington. Funding from the Garrett scholarship will support Kearney in attending the Society for Neuroscience Annual Meeting held in Washington, D.C. from November 11-15, 2023 where he will present his final research.
Kearney has developed his long-term professional goals through his undergraduate research experiences, which are being advanced through his Honors thesis research and made possible with this funding support. He stated "Undergraduate research allows me to explore potential career options and learn valuable skills that will transfer into my profession." Kearney is on-track to complete his Honors thesis and graduate from App State in December of 2023. After graduating, Kearney plans to attend medical school with hopes of becoming an anesthesiologist. He explained the pivotal role of undergraduate research in his professional development:
"My undergraduate research experience has aided in my decision to become an anesthesiologist. The focus of my research lab is chronic pain and pain management in humans, which is explored using Drosophila Melanogaster, the fruit fly, as a model organism. My research in pain management would be impactful to the field of anesthesiology."
Mrs. Sheila Garrett established the George Williams Garrett Memorial Scholarship in 2017 in honor of her late husband George Williams Garrett. Mr. Garrett, an Air Force veteran who served in Vietnam, was a mathematician and systems analyst. Mrs. Garrett is a medical technologist whose career spanned 45 years. The Garrett family is devoted to scientific research, especially research focused on medical applications.
The George Williams Garrett Memorial Scholarship provides $1000 support to students in the Honors College at Appalachian pursuing careers in scientific research with preference given to students who are planning to work in medicine or medical research. Honors College students in good standing and performing research in fields related to the biomedical field are eligible to apply. This scholarship supports research and related travel expenses outside of coursework.
The top photo features Dy'Quan Kearney. Photo submitted.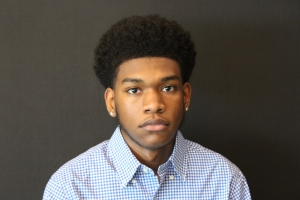 Tags: