Honors College alumna Allison Farrell '20 has successfully published her Honors thesis, Parental Impact on Child Physical Activity and Sedentary Time in Appalachian North Carolina, in the Journal of Appalachian Health. Farrell earned her Bachelor of Science degree in exercise science with a minor in psychology. She also completed departmental honors in her major. She is currently attending the Medical University of South Carolina in Charleston working on her doctorate in occupational therapy.
Farrell worked with Dr. Becki Battista, Director of the Office of Student Research and professor in the Department of Health and Exercise Science, and as her thesis director. Her second readers were Dr. Joy James, Director of Recreation Management and professor in the Department of Recreation Management and Physical Education, and Dr. Richard Christiana, assistant professor in the Department of Health and Exercise Science.
Photo above features Farrell presenting her Honors thesis defense in April 2020. Photo submitted.
About her involvement in research, Farrell shared,
"Since my freshman year, I have been a research assistant in the HOPElab (Healthy Outdoor Play and Exercise lab). Dr. Battista has been an amazing mentor and has pushed me to pursue opportunities I never knew existed! Through my research, I have been able to present posters at SEACSM and I have given an oral presentation at the National Conference of Undergraduate Research. I have also gotten the opportunity to complete a URA (Undergraduate Research Assistantship). My involvement in research has been an important part of my time at Appalachian and I'm so thankful to have had such a great mentor and thesis committee!"
During her time at Appalachian, Farrell also worked for University Tutorial Services for two years, coached for Girls on the Run of the High Country, served as a Health Professions Peer Advisor, and studied abroad in Australia over the summer of 2018 where she shadowed occupational therapists. In the Spring of 2020, Farrell was awarded the Exercise Science Leadership Award from the Beaver College of Health Science, Department of Health and Exercise Science, for her service as president of the exercise science club and leader of the occupational therapy special interest group. Farrell was also one of the speakers at the Beaver College of Health Sciences Spring 2020 Commencement.
We look forward to following Allison Farrell's continued accomplishments building on her solid foundation with research from Honors at Appalachian!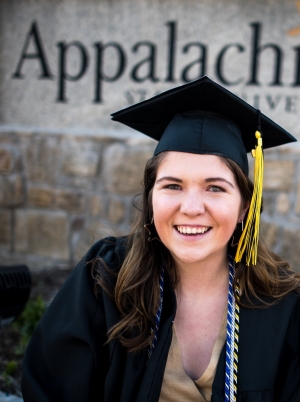 Tags: