Honors Alumnus Clark Streets is currently working towards his Master of Science in International Migration and Public Policy at the London School of Economics (LSE). Streets graduated from Honors at Appalachian in May of 2017 with a Bachelor of Science degree in political science with a minor in Spanish. He has been living in London, England, since he began this program at LSE this past Fall 2019 semester. Streets shared,
"There was an adjustment initially in my studies at LSE, but I am thankful for the Honors College at Appalachian State as I feel it aptly prepared me for this endeavor. In particular, I would like to mention the Honors thesis. While at times frustrating, writing on a topic of importance, that you've spent hours and hours researching is a highly valuable experience and one that I really appreciate now. In general, I loved my time at Appalachian and Boone is a special place. I found amazing opportunities working in the community that prepared me as much for my Master's degree as my classes at App did. In other words, I encourage you to get involved not only on campus but also in the community."
For his Honors thesis, The Millennial Generation And Their View On Terrorism: A Perspective For Policymakers, Streets worked with Dr. Aleksander Lust, then assistant professor in Appalachian's Department of Political Science, and as second reader, Dr. Kelly Thames, assistant professor of sociology.
Having demonstrated the capacity and desire to go beyond, Streets applied and was accepted the Honors College in the Spring of 2014, his second semester at Appalachian. For the Honors international education requirement, he spent his Spring 2016 semester studying abroad in Spain. After graduation, he did an internship with Democracy North Carolina, a nonpartisan organization in Durham, NC. Shortly thereafter, he
moved to Madrid to teach English at a primary school called El Olivar. He reflected,
"Moving to Madrid was an excellent decision. I made many lifelong friends and reached a level of C1-Fluency 1 'fluent Spanish in complex manner' during my two years there."
Streets is now in his second semester of graduate work at LSE. As he describes, it is challenging but rewarding. He stated,
"Everyday presents new challenges and yet overcoming them is what makes this experience so special. My classmates push me to do my best, my professors expect the most from me, and I attend as many academic talks as I can. On top of all of this, I am still studying Spanish and I even find time to teach English one day a week to fellow students who want to improve their conversational English."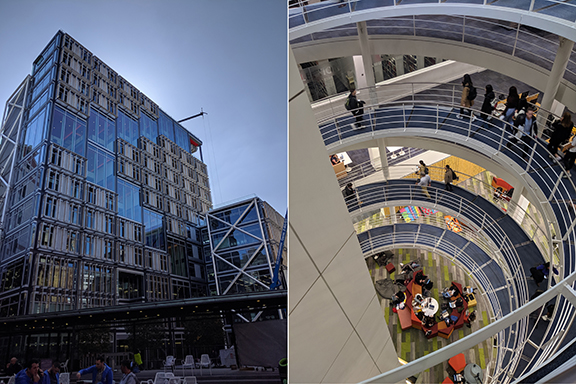 Photos above of the LSE campus submitted by Clark Streets.
After Streets graduates next December from LSE with his Master of Science, he plans to job search. He will cast a wide net looking in London, Madrid and the United States. He explained,
"As much as I love London, I can't wait to get back to the mountains. Go Neers!"
Top photos of Clark Street and wall at LSE campus submitted by Clark Streets.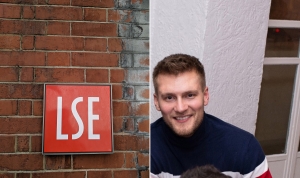 Tags: