Honors Clark Streets (May '17) has been teaching and studying language for the past year in Madrid, Spain. He taught English in a primary school called El Olivar in a city named San Fernando de Henares on the outskirts of Madrid. This position was through Spain's Ministry of Education in a program titled Cultural Ambassadors: North American Language and Culture Assistants .
In addition to that, Streets has been studying Spanish. He spent four months preparing with classes and tutors and has passed a language exam certifying him to work in a business setting where Spanish is the primary language. He will be continuing his language study and plans to attempt the next level (C1 exam) after he takes the GRE.
In Honors at Appalachian, Streets was a political science major and Spanish minor with a concentration in International and Comparative Politics. He worked with mentor Dr. Aleksander Lust, Assistant Professor of Political Science. His thesis was titled The Millennial Generation and Their View on Terrorism: A Perspective for Policymakers.
Currently Streets is home and applying for jobs all over the world. He is also considering the option of returning to the same school in Madrid. Of his experience, Streets shared,
"Living in Madrid was one of the greatest things I've ever done. I lived in the center of Madrid just a 2-minute walk from Grand Boulevard. I had the opportunity to improve my Spanish, meet a lot of new and different people, travel the world and figure out how to live in a foreign country entirely myself. I had three roommates, all Spanish, and had the opportunity to speak the language every day. I worked at the original dual-language school in Madrid, where I was able to learn a lot about teaching two languages AND two cultures simultaneously. Working there was an experience unlike any other. I was able to immerse myself in an entirely different educational system and work as an ambassador as I helped to create a genuine image of the U.S. for the young children in our school. I can't emphasize enough the positive effect that this opportunity had on me."
Top photo shows Clark Streets in the small town of Mijas in the south of Spain on a road trip with colleagues. Photo Submitted.
Story by Garrett Alexandrea McDowell, Ph.D.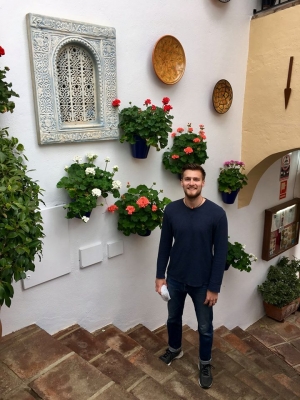 Tags: