Appalachian State University will be holding a virtual Spring 2020 commencement on Saturday, May 16, at 11 a.m. in celebration of the 3,600-plus Mountaineer graduates. The virtual commencement will be available on Appalachian's commencement website, the Appalachian State University Facebook page and the university's YouTube channel. It will also be broadcast on the university's student-run television station, AppTV. Click here for the full story by Jessica Stump in AppalchianToday.
The event's guest speaker is Stephen J. Dubner '84, who was in the first class of graduating Chancellor's Scholars and a graduate of the then Honors Program at Appalachian. Dubner is an award-winning author, journalist and radio and TV personality who is best known as co-author of the "Freakonomics" book series. He is also the 2012 recipient of the Appalachian Alumni Association's Distinguished Alumni Award.
In addition, Honors senior Olivia Gentry, of Weaverville, will be speaking in the commencement ceremony. Gentry is graduating with a B.S. in public health and a minor in social work. She successfully defended her Honors thesis, "The Impact of Peer Sexual Health Education on the Sexual Health of Appalachian State University Students" on Wednesday, April 22, 2020. For that research project, she worked under the direction of Dr. Erin Bouldin, assistant professor in the Department of Health and Exercise, and with Mr. Alex Howard, director of Wellness and Prevention Services in the Office of Student Success as her second reader.
We look forward to hearing both of these Honors representatives speak at Appalachian's Commencement. We also look forward to recognizing the extraordinary achievements of all of our Honors graduates in our very own Honors College virtual graduation ceremony, which will be held on Thursday, May 7th, from 5:00 to 7:00 p.m. During that ceremony, the Honors College will celebrate each graduate individually and present them with their Honors College medal. Each student will have the opportunity to say a word of thanks, celebration, commemoration with family, friends, faculty, staff, and fellow Honors students in attendance.
Congratulations to all graduates!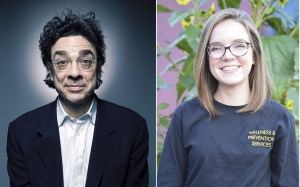 Tags: