On June 25 at the High Point Theatre, the Honors College's Karolyn Martin '22 was named Miss North Carolina 2022. Martin graduated from Appalachian State in May earning her bachelor of science degree in communication studies with a minor in marketing and successfully completed University Honors. On April 1, 2022, she defended her Honors thesis, "The Digital Dilemma: A Case Study of Social Media's Impacts on Body Image," under the directorship of Dr. Melissa Adams, assistant professor in the Department of Communication. Dr. Denise Martz, professor in the Department of Psychology, and Dr. Peaches Hash, lecturer in the Department of English also served on Martin's thesis committee.
Photo above features Karolyn Martin having successfully defended her Honors on April 1, 2022.
After spending the next year representing the state of North Carolina, Martin plans to pursue both Juris Doctor and a Master of Business Administration graduate degrees. She eventually hopes to work in business law helping to empower women to reach their entrepreneurial goals.
To learn more about Martin's successes:
Click here to read "App State's Karolyn Martin crowned Miss North Carolina 2022" from the Watauga Democrat
Click here to read "Karolyn Martin funds Honors education by competing with Miss America Organization" from the Honors College.
Click here to read "Scholarships paved the way for Karolyn Martin to thrive at App State" from AppalachianToday.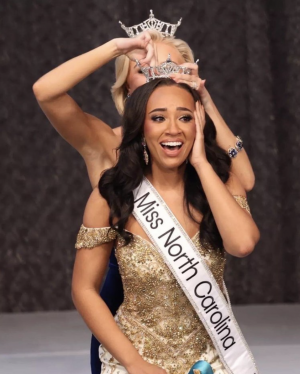 Tags: