The Honors College held a Virtual Graduation Ceremony on Thursday, December 10, 2020, to celebrate the accomplishments of those graduates who have completed the requirements to earn the distinction of University Honors. These included the following: Bailey Bossow, Toria Davenport, Jarod Fyler, Cristina Hanson, Anthony Hengst, Anne Scholz, Linds Wise, and Tucker Wulff. Please find below images from the ceremony highlighting the graduate's majors/minors, thesis title, and the faculty volunteer advisors and mentors serving on each graduate's Honors College thesis committee.
In the ceremony, Dr. Jefford Vahlbusch, Dean of the Honors College, shared details of each student's achievements while at Appalachian. Following that introduction, each student had the opportunity to speak sharing words of gratitude and celebration. Click here to watch the full recording of this Zoom ceremony.
All photos clipped from Honors College Graduation Ceremony held on Zoom, Thursday, December 10 at 5pm.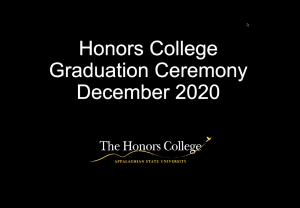 Tags: