By: Stacy Thornton
Honors College sophomore and student worker Annie Morgan has become an active student health educator through the on campus program WeCARE (We Coach, Advocate, Refer, and Educate), part of App State's Wellness and Prevention Services (WPS) and the Division of Student Affairs. The WeCARE program trains passionate and dedicated students, like Morgan, to promote the health and well-being of students by presenting on topics such as nutrition, mental health, sex education, dating and interpersonal violence awareness, bystander training and more. Morgan is a public health major on the pre-medicine track who plans to pursue a career in health advocacy. Her ultimate goal is to work with individuals who are often underrepresented in the healthcare system, and her involvement with the We CARE program provides great training.
WeCARE allows students to develop skills like group facilitation, public speaking, event planning and data analysis. While the group is focused on health-related topics, the interprofessional skills that students develop through this program are highly transferable to other fields. Student health educators are trained on various health topics where required hours are maintained through the planning of events, presentations, and external community involvement. Clubs, classes, and organizations can request a WeCARE presentation through the health and wellness pagehere.
Morgan encourages Honors students of all disciplines to get involved in WeCARE, stating,
"It doesn't matter whether or not you are a business major, in computer science, [or] in construction management, if you want to make people more aware of the resources on campus or about their bodies and minds, this is a great place to feel like an active leader on campus."
Morgan is passionate about promoting awareness and change regarding rape culture and interpersonal violence. She states, "I've learned that I don't have to be part of the problem [to be] a vessel for change…I feel empowered to garner strength in my ASU community through WeCARE and I am forever thankful for it." She initially discovered WeCARE from an announcement in the Honors Wednesday Memo and later learned more about the program from an Honors alum.
WeCARE initially existed as three separate organizations: WECAN, WECOACH, and the Red Flag Campaign. In the spring of 2022, the three were combined into WeCARE, establishing a massive campus presence. Morgan describes that one of the best aspects about the WeCARE organization is that it brings individuals who have different passions and interests together to act collaboratively in one space.
Photo features "Messages of Hope" from Suicide Remembrance Night hosted by the WeCARE program. Photo submitted.
On February 15th, the WeCARE program and office of WPS hosted a Suicide Remembrance Night in the Blue Ridge Ballroom of the Plemmons Student Union. During this event, participants received information about available mental health resources on campus, as well as how to receive help if you have been impacted by mental illness or suicide. According toKyra Patel, coordinator for student social wellness in the office of WPS, the feedback from the event was overwhelmingly positive. Nearly 40 individuals attended the event, including several student speakers who shared personal experiences about struggles with mental health and the grief process.
To learn more about WeCARE and how to get involved, students are advised to email Kyra Patel with any questions. Additionally, future events and information can be found on Facebook or Engage.
Top photo features Honors student and Honors employee, Annie Morgan. Photo submitted.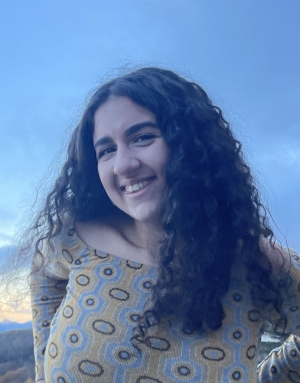 Tags: