In the Honors College Commencement ceremony held Friday, December 14, 2018, we celebrated the accomplishments of those who completed the requirements to earn the distinction of University Honors. In the ceremony, the following Honors graduates were bestowed their medals: Zacheriah Alexander, Ashlee Harvey, Victoria Haynes, Olivia Paschall, and Natalie Steinbicker. Dr. Jefford Vahlbusch, Dean of the Honors College, shared details of each student's achievements while at Appalachian. Then each graduate had the opportunity to share their own words of reflection and gratitude.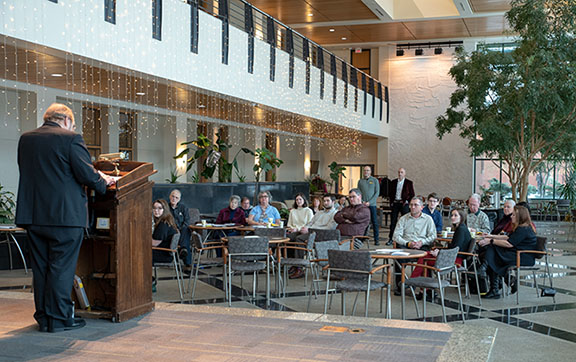 The photograph above shows Dean Vahlbusch giving opening words at the ceremony.
Below we showcase photographs from the December 2018 Commencement, and highlight the extraordinary accomplishments of each of these dedicated students.
Zacheriah Alexander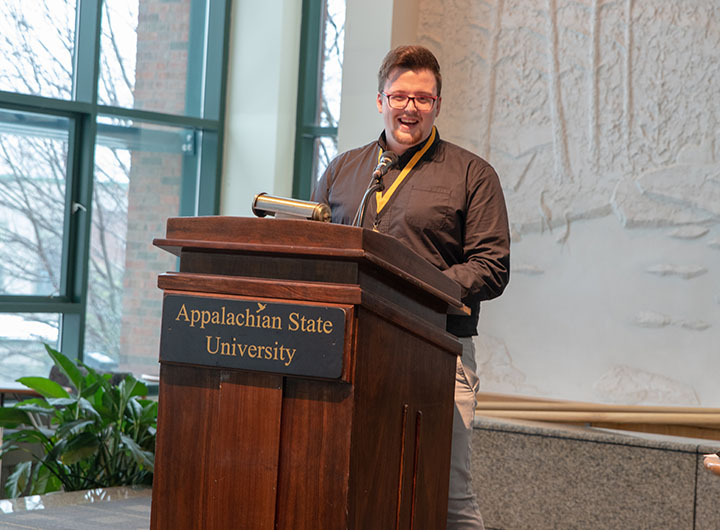 Major: Biology
Thesis title: Co-expression of Dimethyl Sulfide Monooxygenase by Single Vector Dual Promoter Strategy
Honors Thesis Director: Megen Culpepper, Ph.D., Department of Chemistr
Honors Thesis Second Reader: Ted Zerucha, Ph.D., Department of Biology
Alexander won first place in his category in the undergraduate poster session at South-Eastern Regional Meeting of the American Chemical Society (SERMACS). He was awarded both the Jake Whitaker Memorial Scholarship and the A.R. Smith Scholarship in Chemistry. He completed an international internship in Greece shadowing various physicians in order to get a closer look at the health care field. Alexander has been dreaming of being a physician since the 2nd grade and reflects,
"The trip taught me a lot. I got to see numerous procedures, both surgical and routine, and this experience helped me conclude that I did indeed want to pursue a career in health care."
Ashlee Harvey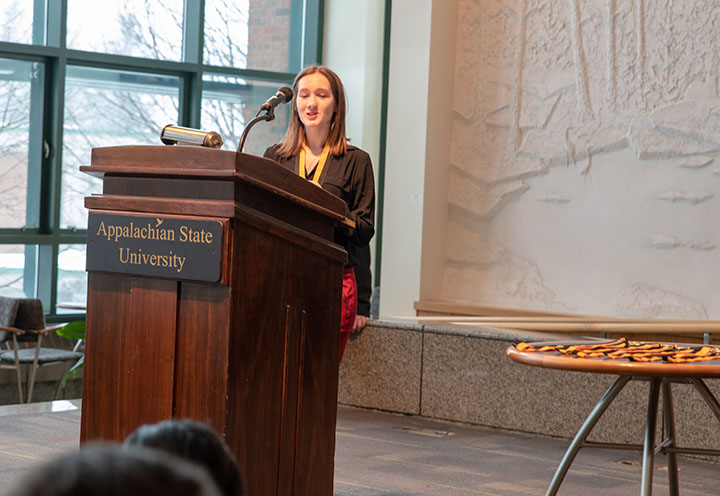 Major: Accounting
Thesis title: Fraud and Internal Controls in Non-Profit Organizations
Honors Thesis Director: Robin Romanus, Ph.D., Department of Accounting
Honors Thesis Second Reader: Stephanie Lee, Food Services Administration
Harvey joined the global leadership organization AIESEC at Appalachian State her freshman year. Since then, she has been active both locally and nationally in AIESEC serving as the Vice President of Finance, and this year, President of the App State AIESEC. She has served on the National Support Team, Conference Organizing Committees, and worked as a Facilitator at conferences. She also attended an international AIESEC conference in Mexico with 400 delegates from the Americas. In her time at Appalachian, Ashlee traveled abroad three times to four countries including: an international Appalachian service experience (iASE) to Ecuador, a faculty-led study abroad to Spain and Ireland studying Peace, Conflict and Reconciliation, and a global volunteer program with AIESEC in Morocco. Harvey also Interned at Special Olympics North Carolina and learned about the operations of a nonprofit organization.
Victoria Haynes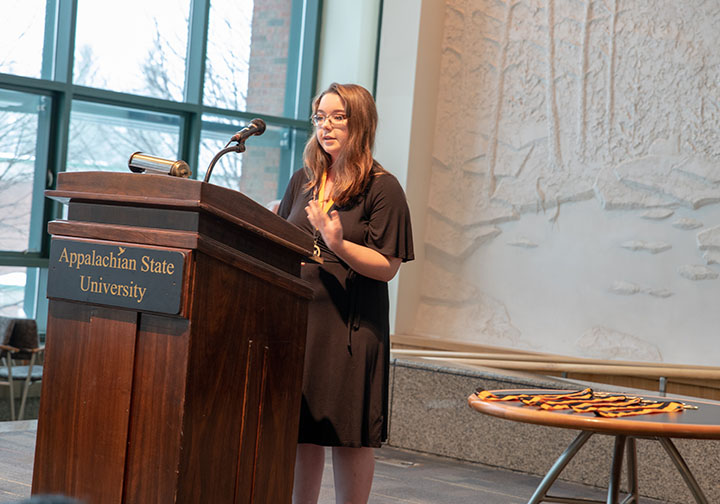 Major: Geography and English
Thesis title: Geopolitics and the Multigenerational Narratives of Gabriel Garcia Marquez and Jhumpa Lahiri
Honors Thesis Director: Christopher Meade, Ph.D., Department of English
Honors Thesis Second Reader: Kara Dempsey, Ph.D., Department of Geography and Planning
For the past four years Haynes has been part of the Appalachian student newspaper, The Appalachian. She began as a copy editor, and then became the chief copy editor, and for the past year and a half has been the managing editor. For three years Haynes was an editor for History Matters, the undergraduate journal for the Department of History, and last year, she served as editor in chief for the journal. Additionally, this past summer Haynes was an editorial intern for Our State Magazine, a monthly Greensboro-based magazine which is one of North Carolina's most famous publications about its history and geography. Victoria shares,
"I have spent so much of my time in undergrad trying to become proficient in as many things as possible because […] my love for learning knows no bounds, my interests don't
Olivia Paschall
[Olivia could not attend the Commencement Ceremony as she was in Washington, D.C. presenting her research to the American Geophysical Union meeting.]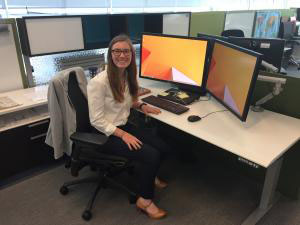 Photo above features Paschall at her ExxonMobil internship. Photo submitted.
Major: Geology
Thesis title: Exploring Late Devonian Mass Extinctions and Ocean Anoxia Events in Understudied Paleoenvironments of Asia
Honors Thesis Director: Sarah Carmichael, Ph.D., Department of Geology
Honors Thesis Second Reader: Bob Swarthout, Ph.D., Department of Chemistry
Paschall was the 2016 NASA/NC Space Grant Scholarship recipient. She was a member and served as president of Mountaineer Organization for Student Scientists (MOSS) club. During the summer of 2016, she was an Incorporated Research Institutions for Seismology (IRIS) intern at Los Alamos National Laboratory. Summer 2017, she was an ExxonMobil geoscience intern. Olivia conducted research with Dr. Johnny Waters, now emeritus professor of geology, which culminated in a published paper in Geological Journal. She has also conducted research with Dr. Sarah Carmichael and the Devonian Anoxia Geochemistry Geochronology and Extinction Research (DAGGER) international research team. She traveled and conducted research with the DAGGER research team in the Khovd Province of Mongolia receiving an Explorers Club Youth Activity Fund Grant to cover her expenses. The overall expedition was funded by National Geographic. She is the first author on an article under review at an international peer-reviewed scientific journal. She reports,
"When published, the paper will be a landmark study in one of the most interesting times in the last 500,000,000 years of earth history."
Natalie Steinbicker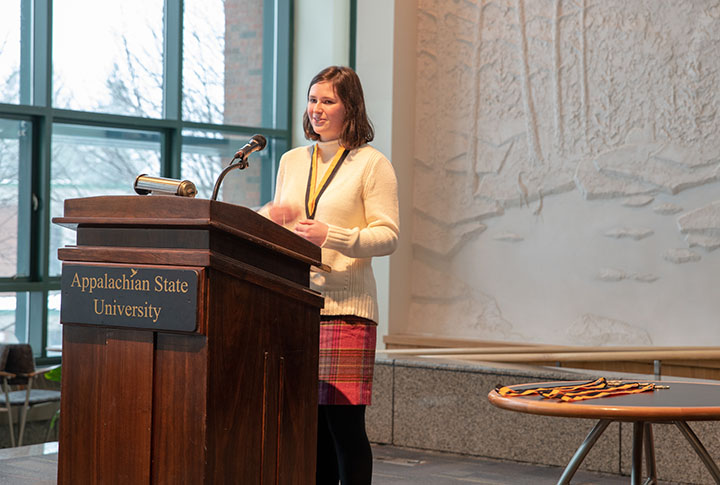 Major: Psychology
Thesis title: Age Differences in Emotional Response to Future Events
Honors Thesis Director: Lisa Emery, Ph.D., Department of Psychology
Honors Thesis Second Reader: Edward Folts, Ph.D., Department of Sociology
While at Appalachian, Steinbicker has served as Vice President of the Neuroscience Club, IMPULSE, the premier undergraduate neuroscience journal. She has worked as the manager of the Chemistry tutoring lab. She volunteered in the ICU at Watauga Medical Center and at the Hospitality House. She studied abroad in Vienna, Austria. Natalie studied developmental psychology with specific interests in cognitive and emotional self-regulation in adulthood. She shared,
"My lab's latest research projects examine how adult lifespan differences in emotion regulation and working memory capacity influence the construction and elaboration of autobiographical memories and episodic future thought."
We wish all these extraordinary graduates success in all their future endeavors. We will follow their bright futures with pride and great interest. Please keep us posted!
Top photograph features Dean Vahbusch introducing Honors graduate Victoria Haynes.
Photos by: Garrett Alexandrea McDowell, Ph.D.
Story by: Jefford Vahlbusch, Ph.D., and Garrett Alexandrea McDowell, Ph.D.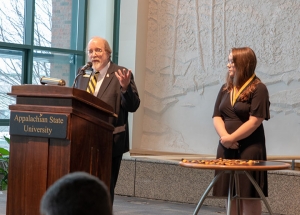 Tags: