Honors Juliet Irving '19 joins the first cohort in the MFA in Dance: Embodied Interdisciplinary Praxis program at the Rubenstein Art Center at Duke University. Click here to read the full announcement about this new program and its first cohort, including Irving. In this program which seeks to "develop dance as a transformative social force," Irving plans to focus on her choreographic work.
In Honors at Appalachian, Irving double majored in graphic design and dance studies and was a member of the 2014 cohort of Wilson's Scholars. For her Honors thesis, Black American Spirit: Ridge Spring, South Carolina, she worked with Cara Hagan Gelber, associate professor of dance studies as her mentor and Clifton Meador, professor of art as her second reader. For her Honors international experience, she studied visual art in Bendigo, Australia during the Fall 2016 semester.
Before beginning her first year in Honors at Appalachian, Irving attended the globally recognized American Dance Festival, a six-week program in Durham, North Carolina. In 2015, along with Honors Sarah Aldridge '17, Irving received a Clinton Global Initiative University Grant and created the City to Mountains program, which brought inner-city middle-school students to Boone annually for hiking and leadership development. She spent the summer of 2018 interning with the Piccolo Spoleto Festival in Charleston, SC.
At Appalachian, Irving produced and shared her work through the Departments of Theatre and Dance and Art. She produced work for several group art exhibitions and choreographed for the Momentum Dance Club Showcase and the Department of Theatre and Dance's Mainstage productions. In 2015, Irving conducted student research translating two-dimensional visuals into movement using Carrie Mae Weems' Kitchen Table Series. In 2017, she presented her choreographic work from the 2016 Spring Appalachian Dance Ensemble, From Here I Saw What Happened and I Cried, for adjudication at American Dance College Association. That piece was selected and performed at the regional gala concert. In 2018, her work Glimpses was published in the Peel Literature Arts and Review. Her work BLACK was featured in the Department of Art's 2019 Art and Design Expo, a juried student competition. The Plemmons Student Union purchased that work for display as part of the Appalachian Artists Collection.
Top photo features Irving at the Honors College Commencement Ceremony on May 10, 2019.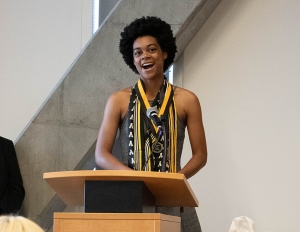 Tags: