Honors Nora Smith presented at Appalachian State University's December 2019 Commencement held on Friday, December 13, 2019 in the Holmes Convocation Center. As a communication major, Smith spoke representing both the Honors College and College of Fine and Applied Arts. As reported in the AppalachianToday,
Nora Smith, of Spartanburg, South Carolina, is graduating from the Honors College at Appalachian with a B.S. in communication, journalism, and a minor in graphic arts and imaging technology. During their time at the university, they served as editor-in-chief and graphics editor of The Appalachian, the campus student-run newspaper. In 2019, Smith was selected as a Dow Jones News Fund multiplatform editing intern and worked on the copy desk at the Charleston Gazette-Mail in West Virginia. They were also awarded the David L. Adams Apple Award for Copy Editing from the College Media Association. As a student, Smith was also a member of The Peel literary arts review, worked on The Appalachian Weekly News for AppTV, was an officer for the Appalachian Honors Association and served on the Student Affairs Leadership Advisory Council.
Within the Honors College, Nora served as the first-year and sophomore AHA! representative (Appalachian Honors Association), helping to create community-building events for Honors students. And they recently defended their honors thesis, Who, What, When, Where, and Why? A New Story of Journalism, as told by Nonprofit News Organizations, which applied Kenneth Burke's dramatistic pentad—a theory of human and character motivation—to the literature of nonprofit news organizations. In their thesis, Smith was guided by Dr. Scott Welsh, associate professor in the Department of Communication, as their director, and Dr. Bret Zawilski, formerly assistant professor in the Department of Rhetoric and Composition and now at Maynooth University just outside of Dublin, Ireland as their second reader.
Chancellor Sheri Everts also reported all the accomplishments on Appalachian's December graduates including Smith in her December 2019 issue of InsideAppalachian found here.
After graduation, Smith will be working on the copy desk as a page designer, copy editor, and web producer for the Pittsburgh Post-Gazette. Congratulations, Nora!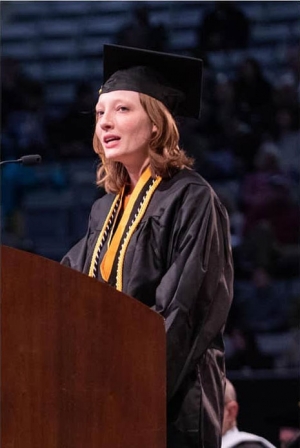 Tags: