Honors senior Katie Feeny, a psychology major and pre-OT student from Apex, served as chair of the January 20, 2020, MLK Day Challenge, sponsored by the Appalachian and Community Together office, a Division of Student Affairs. Honors students are typically some of the most involved in this annual service day event. Feeny stated,
"Essentially, the whole day is notable because it gives students an opportunity to help our community outside of Appalachian."
To learn more about click here to read "Students contribute 1,350 service hours in App State's 21st MLK Challenge" by Megan Buffy in AppalachianToday.
Top photo: Student volunteers in Appalachian State University's 21st annual MLK Challenge, held Jan. 20, work at Helping Hands Woodlot Ministry, located beside the Hospitality House in Boone. Overall, challenge participants contributed 1,350 hours of service to 16 local organizations. Photo by Chase Reynolds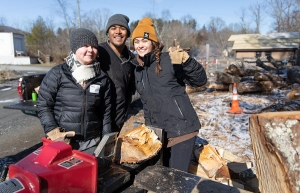 Tags: